---
By Richard H. Cracroft
A goodly number of you Book Nook readers, while understanding his generalization, would probably amend novelist John Steinbeck's assertion that "books are somehow sacred" to read, "at least, some books become sacred." Only occasionally, amidst our lifelong winnowing and sifting the 1,500 or so books we alumni will read (at an estimated rate of 30 books per year x 50), do we find that special book which turns out to be . . . a Book. Now and again, while seeking soul-nourishment to still intellectual and spiritual hunger pangs unsatisfied by most of our reading and television fare, we run across a book which bursts upon our souls with refreshing insight and revelation.
After experiencing such a "sacred book," we are never quite the same. Our privately canonized text may be War and Peace, Walden, King Lear, or The Death of a Salesman; Faust, Moby Dick, The Poetry of Robert Frost, Les Misérables, or, my son's favorite, To Kill a Mockingbird (how that list varies!). These vital, rare books, in combination with the holy scriptures and personal revelation, become our personal course-correctors, perspective-restorers, vision-lifters, thought-provokers, and good-works-inciters–as spiritually dear to us as the Waters of Mormon were to Alma and his little band of converts. So we return to them often, if only in spirit, for refreshment and nourishment, and for a gauge as to whether we are continuing to grow wiser even as we are wizening.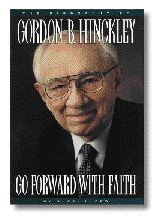 In addition to the perspective and insights we gain by sifting through, sampling, and learning from others' experiences, we are often moved to action by such books, stirred to become "anxiously engaged in a good cause, and do many things of [our] own free will, and bring to pass much righteousness." Reading such sacred works well helps us realize that, as exemplified in lives of noble men and women, "the power is in [us], wherein [we] are agents unto [our]selves" (D&C 58:27–28). A lifetime of such readings, building upon the power generated by the holy scriptures, and guided by the Holy Spirit, enables the virtue, vision, faith, and works which make our "confidence wax strong in the presence of God"–and our fellowmen (D&C 121:45).
Most of us have on our shelf of canonized "sacred books" a number of Latter-day Saint personal narratives, conversion accounts, missionary memoirs, journals, biographies, histories, doctrinal treatises, scriptural commentaries, and imaginative works which have become (or will yet become) important Liahonas in the lives of individual Latter-day Saints. The discovery and selection of such uplifting works is entirely personal and incremental–by which I mean that we continue to add new "sacred works" to our canons without displacing those already in place.
As with so many of his sparkling spiritual treatises, I sense, for example, an enduring, classical, "sacred book" quality in Elder Neal A. Maxwell's latest book, If Thou Endure It Well (Bookcraft 1996). In his characteristic, attractive prose, Elder Maxwell–whose life beckons us as sweetly as his writing–bids us to press forward in our "serious discipleship" by meeting the challenge of enduring to the end.
I sense a similar "sacred book" potential in Elder John H. Groberg's The Fire of Faith (Bookcraft 1996), about a mission president's remarkable encounters with faith and works and the micromanagement of the Lord in Tonga. This compelling mission president's/regional representative's/member of the Seventy's memoir of more than 15 years' association with the Tongan and other peoples of the Pacific, will loom large on many bookshelves for many years to come. Packed with moving tales of faith rewarded, The Fire of Faith should be read in tandem with Elder Groberg's already-classic In the Eye of the Storm, his account of his extraordinary first mission to Tonga, 1954–1957. Both of these missionary memoirs, in the tradition of Elder Parley P. Pratt's Autobiography and the Polynesian adventures of Elder Cowley in Matthew Cowley Speaks, show the living faith and power manifest daily on the Lord's front line, sacred territory for those "anxiously engaged" in "proclaiming the gospel" among the nations.
Such powerful accounts as Elder Groberg's suggest that we should have a burgeoning shelf of missionary memoirs from a missionary church which, since 1830, has sent more than a half-million harvesters into the field.
No Unhallowed Hand (Bookcraft 1996), volume 7 in Gerald N. Lund's landmark series, The Work and the Glory, continues to follow the fortunes of the Steed family from 1844 to 1846, through the aftermath of the Prophet's martyrdom to the Saints' departure from Nauvoo–and the drowning of family patriarch Benjamin Steed while saving the life of his granddaughter Savannah. Lund had once fondly hoped to conclude his series of historical novels with this volume. Clearly there must be, however, another volume (8) on crossing the plains, and still another volume (9) for the settlement of the Territory of Deseret/Utah–and, I have urged him privately, only he could write a final volume (10), showing the Restoration still underway and reverberating in the lives and modern times of the Steeds' descendants near the beginning of the 21st century.
Regardless of where Lund finally calls "halt," these faithful, imaginative, and well-told recastings of the era of gospel restoration will become "sacred" touchstones for thousands of Latter-day Saints who will get their chance, through this series, to "know Brother Joseph [and Brigham] again."
Among the many splendid biographies of prominent Latter-day Saints, it seems to me that Go Forward with Faith: The Biography of Gordon B. Hinckley (Deseret Book 1996), by Sheri L. Dew (who also authored the excellent Ezra Taft Benson: A Biography), is destined to earn a place on the "sacred writ" shelf of many Latter-day Saints. Taking its place alongside Spencer W. Kimball, by Edward L. Kimball and Andrew E. Kimball Jr., and Brigham Young: American Moses, by Leonard J. Arrington, Go Forward with Faith is a work in which the life and contributions of the subject, Gordon Bitner Hinckley, speak for themselves in illustrating how to confront and overcome the obstacles on the rugged pathway from Mormon commonplace to uncommon Latter-day Sainthood.
Drawing upon an rich array of resources, Dew has collected and woven a mass of detail into what becomes, essentially, a book which is at once the story of a life as well as an insider's history of the rise and progress of the restored Church through two-thirds of the 20th century. From 1935, when he joined the Church Office Building staff as executive secretary of the Church Radio, Publicity, and Mission Literature Committee, through the 1950s when he served as executive secretary of the General Missionary Committee, through 23 years (1958–1981) as Assistant to the Twelve (1958) and Apostle (1961), and for 14 years (1981–1995) as counselor to Presidents Spencer W. Kimball, Ezra Taft Benson, and Howard W. Hunter, Gordon B. Hinckley has served over 60 years at the vital center of the Church. He has been a co-planner, doer, and expediter of most of the events, developments, changes, and innovations in LDS Church governance, practices, and policies across, I repeat, six decades of Church history.
On March 12, 1995, this man who knows the Lord's Church so intimately, whom Elder David B. Haight called "a man for all seasons–[and] for all the world," one prepared for his holy calling from before the foundations of the world, as well as by every possible preparation in this world, was ordained the 15th President of the Church. And the story continues.
Sheri Dew's formidable task in this fine biography was, as a friend told her, "to write a portrait, but," he paused, "you're dealing with a landscape." Daunted in her behalf, he added, "I can't imagine how you'll pull it off." But "pull it off" she did, by showing day by month by year Gordon B. Hinckley's inextricable, task-by-task involvement in and importance to the flourishing of the Church in its second century. Following President Hinckley's dictum, "I don't want you to make more out of my life than is there," Dew lets the sheer accumulation of his ministry speak for itself; thus an extraordinary man who sees himself as "just a common, ordinary man" who did not want to be depicted as larger than life allows Dew to tell what he has done in his ministry.
What emerges is the story of a man whose biography will become for most who read it our latest "sacred book," exemplifying as it does for us all how the Lord goes about "spiritually sculpturing" (Elder Neal A. Maxwell) His prophets. Go Forward with Faith is the fascinating account of a man who has for 60 years loomed on each of our latter-day horizons as one who is . . . well, (I'm sorry, President Hinckley) larger than life–because he is. Bless you, President Gordon B. Hinckley. Bless you, Sheri L. Dew.
Next Time: A miscellany of recent novels, humor, works on Joseph Smith, Church history, the LDS woman, and educating the Saints.
---
Richard H. Cracroft is a professor of English at BYU and director of the Center for the Study of Christian Values in Literature.