Exploring potential career paths, deepening their résumés, and expanding their horizons, thousands of BYU students take on internships each year.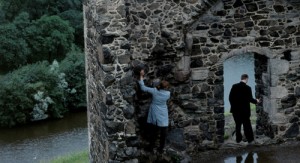 The capabilities of this lab are incredible. Researchers here can do pretty much anything they want," says Nyall London as he stands in a room of gleaming metallic tanks marked "NITROGEN" and countless flasks and vials. The state-of-the-art facility, a cancer research center called the Edwin L. Steele Laboratory for Tumor Biology, rests within the serene surroundings of Boston's Charlestown Navy Yard.
The Navy Yard's Building 149, where the lab is housed, has the feel of a shopping mall. Workers sip drinks at tables in an atrium bathed in sunlight from the windowed ceiling high overhead. Originally a naval warehouse, the building has massive concrete columns peeking from behind potted plants, and the eight floors of laboratories are accessible only to those who possess ID cards that render the elevators operative.
London's third-floor lab, part of a joint effort between Massachusetts General Hospital and Harvard Medical School, teems with the activity of researchers. Beginning his day of research, London pulls on a pair of white latex gloves, flips the switch to a fume hood, and sterilizes the interior with ethanol.
"What I'm doing now is kind of boring scientifically," he says matter-of-factly as he replenishes the media—a pink liquid that contains the nutrients necessary for a cell to grow—in a flask of brain cells riddled with cancer. Magnified 100 times under a microscope, the malignant cells look like miniscule daggers, reminiscent of the ferocity of a disease that claims thousands a year.
Careful not to pass his hand over the open container as he injects new media into the flask—"We have to make sure they don't get contaminated"—London quickly moves beyond the mundane science of changing media to explaining one of the projects he's working on, that of trying to get the cancerous brain cells to express a certain protein.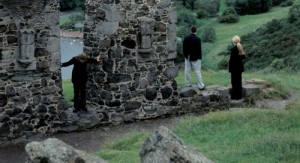 "The problem with fighting cancer right now is that it's hard to target the cancer cells and not damage others in the body," says London. He hopes his experiment, which should last two to three months, will open windows of understanding on the deadly disease.
Dressed in grey Vans, khaki cargo pants, and a red "Rusty" T-shirt, London contrasts curiously with his coworkers, men and women who pass by in long white coats and whose names come attached with letters like MD and PhD. Besides the white jacket, London also lacks those luminous letters of academia. No MD. No PhD. In fact, his name doesn't even bear the initials of a bachelor's degree yet.
A relative sapling amongst mature oaks of medicine, Nyall R. London Jr., '05, is a microbiology undergrad from BYU. He will spend the next year as a paid intern at the Edwin L. Steele Lab, performing valuable research alongside medical doctors and postdocs before returning to BYU, where he will graduate in April 2005.
Still vacillating between a future in clinical medicine or medical research, London saw the internship as a chance to get an inside look at a research career before deciding what type of graduate degree to pursue.
"It gives me a very in-depth look at research," London says. "Even if I don't choose research as a career, as a doctor you read lots of scientific papers, so I'll be familiar with a lot of the different methods and what it takes to prove that something works."
London is just one of the thousands of BYU students who test-drive a career via an internship each year. Between fall 2003 and summer 2004, 3,626 BYU students, approximately 11 percent of the student body, completed academic internships throughout the United States and across the globe. While the internships vary—from location to pay to profession—they share the theme of helping students decide if a certain career track is right for them. "An internship gives you an idea of what it's actually like working in the field that you want to work in," London says. "It gives you good insight into what the real world is like."
Win-Win Scenarios
Where the rubber meets the road. The tread on the educational tire. The bridge between academia and industry. Call it what you will, in the eyes of academics and professionals, internships are seen as an increasingly vital facet of college education. They offer students invaluable experience as they prepare to step off campus seeking full-time employment. On average, only 30 percent of college graduates have job offers upon graduation, but for those who have completed internships, that number increases to 58 percent.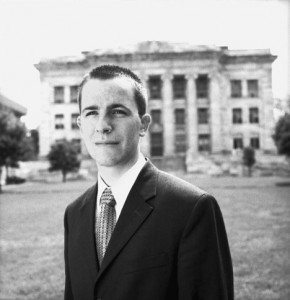 "An internship is an investment in your education. It's just like paying tuition," says Laurie J. Wilson, '79, director of the Office of Academic Internships at BYU. "If you work at an internship where you're not paid or you're paid minimally but that contributes to your lifelong career, you have made an investment in your education that will pay big benefits throughout your life."
To assist undergrads in seeing the value of experiential learning and to help them obtain viable opportunities, President Dallin H. Oaks, '54, established the Office of Academic Internships in 1974. The office works with faculty members assigned as internship coordinators in 90 campus departments. Some disciplines at BYU require internships as part of their curriculum, including nursing, communications, and industrial design; some offer elective credits for internships; students in other disciplines are left to decide for themselves whether to pursue an internship.
Despite BYU's large number of interns, faculty and administrators wish even more students took advantage of internship opportunities. Some students fail to see how a summer of unpaid or low-pay work will play into their future. Tuition, rent, and other bills can present more immediate problems.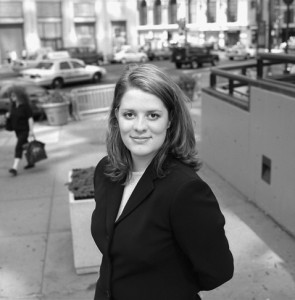 But for the thousands who do take on internships, a variety of companies and organizations await. National Geographic, Pricewaterhouse Coopers, and Goldman Sachs are just a few that hire from BYU. And the jobs? They're typically more than the clichéd coffee-and-photocopy-maker positions. But even if interns do little more than menial tasks, such experiences provide them with exposure to a professional setting and allow them to make contacts in the job market.
And students aren't the only ones benefiting—employers appreciate the skills BYU interns bring to the office.
Emmanuelle diTomaso, a researcher at the Edwin L. Steele Lab and London's supervisor, says that the five BYU interns she has had, including London, have all been "excellent." More importantly, she says, "they have all shown a great maturity in their approach as well as complete dedication to their project."
According to Aimee Barrett, an account supervisor at Alan Taylor Communications in New York City, which has had several BYU interns over the years, "BYU interns have always been top-notch in my opinion. They show up, they're eager to learn, they're excited about public relations, and they're highly skilled. Everyone that I've worked with here that's been from BYU has been really confident, which is such a great trait in PR."
Such confidence and skill help some interns return to campus with job offers. At the very least, interns return with new perspective and wisdom. Because of this value, Wilson would like to see more students pursue an internship, where, she says, they can "marry their college experience with practical internship and professional experiences."
A Slice of Real Life
Alexis L. Allen, '05, gets to work via the "9" train on the upper-west side of Manhattan. Transferring to the "2, 3" train at 96th Street, she eventually emerges from Penn Station onto the cacophonous streets of midtown. Within a block of New York meccas Macy's and Madison Square Garden, she arrives at Alan Taylor Communications, a public relations firm with sports and leisure clients like NASCAR, Spalding, and the AVP Pro Beach Volleyball Tour.
A PR major from Snohomish, Wash., Allen has dreamed of interning in New York since she got to BYU. After countless hours crafting her résumé, building her portfolio, gaining leadership experience, and making sure she got good grades, Allen found out she was going to New York, a moment she says she'll never forget. Even though the experience has practically drained her bank account, she says her unpaid internship has been more than worth it. "Internships open doors, and finances weren't going to get in the way of my dreams," Allen says. "You can't put a price tag on the confidence I've gained, the friends I've made, and the strength I've discovered in myself."
Seated at her cramped hallway desk, Allen starts her day by scanning the news and going over media lists—a "phone book" of journalists—for the clients she's been assigned. Among her intern responsibilities, she pitches stories to various media entities, helps brainstorm with company execs, and lends a hand at media events.
Lately she's been pitching an SMT—satellite media tour—with basketball great Bill Walton for a History Channel special he's worked on about fellow Hall of Famers Red Auerbach and Bill Russell. And she and another BYU intern, Lisa L. Millett, '04, are working on a project about the new media phenomenon of Web logs, or blogs as they're known. Blogs are journals available on the Internet and are a burgeoning source of information. Allen and Millett are preparing a presentation for the VPs of the firm about how they can use blogs as another media outlet.
"We're providing the agency with another tool to reach a public. So that's exciting, because we get to be authorities," Allen says, "and we've just been working here four weeks."
Allen says the strong sales aspect of her job—pitching stories—wasn't something she expected, but she's feeling more comfortable with it as time goes by. She tells how she's developed a relationship with a morning show producer who liked a segment she arranged and with a journalist who enjoyed the interview she set up. Both told Allen to call back if something else came up.
"That is really rewarding," Allen says, "because I know that they've come to respect me as a professional. They have no idea that I'm an intern; they think of me as someone who is a trusted resource instead of someone who's harassing them."
And Allen's diligent efforts have not gone unnoticed. As one of seven interns at Alan Taylor over the summer, her confidence and proactive nature have helped separate her from the crowd. "Lexi has been extremely enthusiastic and energetic the entire time she has been here," says Allen's supervisor Aimee Barrett, who, coincidentally, was an intern at Alan Taylor Communications herself before being hired on full-time. "And her PR skills—it's fair to say that she's one of the best interns we've had walk through our door."
Besides the fulfillment from doing her job and from her employer's recognition of her efforts, Allen can appreciate the value of seeing all sides of the job. She says her internship has helped open her eyes to the real world of public relations. "It's shown me the good things and the bad things and kind of how I fit into this world," she says.
For many students, internships serve as confirmation that they're on the right track. Angela K Anderson, '04, a fitness and wellness major, is spending her summer in Los Angeles as an intern at Neutrogena Corporation in the Health and Wellness Department.
At Neutrogena Anderson is responsible to help reach management's goal of having 80 percent of employees be physically active. She helps perform quarterly health activities, including a "stretch session," where she instructs employees on the benefits of regular stretching. She also helps with a quarterly fitness assessment. Anderson's internship has solidified her desire to pursue a career in fitness. "I love it. It's been really good for me," she says. "It's exactly what I want to do."
Working only 12 hours a week at the unpaid internship, Anderson has had to make sacrifices. Luckily, she's been able to live with relatives, and she's picked up part-time work as an aerobics instructor. Still, while finding comfort in knowing she's doing what's important to her, finances are tight.
"I am just going to have to work twice as hard," Anderson says about making up for her lost income. But "an internship is definitely worth it. I am gaining valuable experience in the health and wellness field, as well as getting my foot in the door to help with my career search after I graduate."
Hitting the Ground Running
A 2000 exit survey of BYU students who completed internships reveals that 90 percent felt their internship created an advantage when looking for a job. In a time when more and more employers are looking to streamline companies, college graduates must face the daunting realities of a tight economy. An internship can be the golden ticket into the real world.
"It has to do with initiative," Laurie Wilson says. "If students take the initiative to get some experiences in the field they want to work in, they may be the kind of person employers want to hire because they went beyond the mark. They went beyond just getting an education."
Among the many benefits of interning, students make contacts to use down the road. And then there's the ideal—the chance that an internship will turn into a full-time position.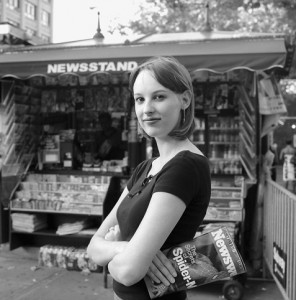 Before heading to Newsweek for an internship in fall 2001, Elise Christenson Soukup, '02, had already had two internships, but interning at Newsweek, she says, "literally got me my job." After spending a semester sorting mail, editing, and writing captions and headlines, Soukup's internship was extended before she was offered a full-time position in the Periscope section of the magazine. While she still does much the same thing as she did as an intern, she's now doing so with a salary. "I don't know a better way to get a job than through an internship," she says.
Soukup says the key to turning her internship into a career was making herself indispensable. She took on the menial tasks around the office that nobody else wanted to do. She also took the initiative to find a specialty. Since Newsweek didn't have a religion writer, she tried to focus on writing about religious subjects and, specifically, on Latter-day Saints. She interviewed Donny Osmond and wrote about LDS comedy films. In the midst of this, she found she really enjoyed her work environment. "I think I fit in really easily with the office culture and with the work. It was just a nice fit for me."
Marcus Mabry, chief of correspondents at Newsweek, says that while they hire very few interns for full-time positions, Soukup was hired because she went beyond just being honest and hard working. She showed creativity, intelligence, and initiative. Not to mention the question of fit. "She was a font of ideas; she showed she can write and report stories and conceive them. And finally, the X-factor was her personality, the fact that she fit in really well with the Periscope crew and there's a camaraderie there; that's really important to us."
New Horizons
The Scottish parliament offices are far from spacious. Waiting for a new, dynamically styled, and much debated, parliament building, MSPs—members of Scottish parliament—get by in makeshift offices. A blocky, utilitarian, and obviously 20th-century structure, the temporary quarters of the parliament include four small floors of office space for 129 members of parliament. Large rooms are divided up into rows of cubicles, each row housing an MSP and his or her assistants. For James A. Burkart, '05, a political science major, this arrangement means that he and four other BYU student interns spend much of their time here rubbing elbows—literally—with elected members of Scotland's governing body.
Burkart, the leading scorer on BYU's hockey team last year, and the others are living in Edinburgh, Scotland, as part of the Political Science Department's Scottish Parliament Internship Program. The program pairs BYU students with members of the Scottish parliament, a local governing body in the United Kingdom comparable to a state legislature in the United States. The parliament's small size and evolving structure—after a roller coaster history, the parliament took on its current form in 1999—allows interns access to politicians and insight into not only the machinations of a different system of government but also a different way of life.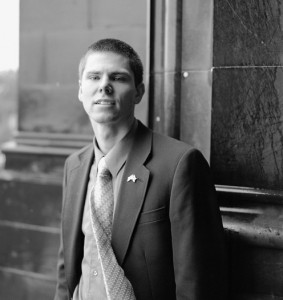 Since coming to Scotland, Burkart has worked with Brian Adam, the representative of the Scottish National Party for Aberdeen North and a member of The Church of Jesus Christ of Latter-day Saints. Burkart not only shares a desk with Adam in the office, he's also Adam's only staff member in Edinburgh.
"You're learning by doing instead of by just reading because of the experiences you get. When you talk about change of leadership in a party, you can read about that in the United States in a book, but here I can actually put people that I know and have talked to into those situations," says Burkart. He witnessed the jockeying for position when the leader of the Scottish National Party announced that he would not seek reelection.
One Thursday afternoon Adam stands at a podium in the parliament's main debating chamber. Attendance is sparse, a couple dozen representatives populating the blond-wood desks, but more are watching on the TVs back in the parliament offices. Adam delivers a passionate five-minute speech opposing a bill proposed by the ruling Labour Party, arguing the bill is a waste of the parliament's time. It is a piece of legislation that grants unnecessary authority to one of the cabinet ministers, he claims, like "using a sledgehammer to crack a nut." As he delivers the speech, Burkart sits in one of the blue theater seats in the balcony. He leans forward attentively, anticipating quotes and arguments and high points, like a sports enthusiast watching a rerun of his favorite game for the 40th time.
As Adam concludes his speech, another MSP rises to offer a concurring opinion and prefaces his remarks by referring to Adam and saying, "I cannot but feel the force of his words." As Burkart leaves the chamber, his face radiates the rush of success, as if he had just scored the winning goal in a hockey game. Burkart penned Adam's speech, and the complimentary words of the other MSP brought great satisfaction to the anonymous author in the balcony. This wasn't the first speech Burkart has written for Adam. A few weeks earlier he adapted a ghostwritten editorial on smoking into a speech, which Adam delivered in parliament. "Brian presented it a lot better than I wrote it. He made me look good," Burkart jokes. "That was a great experience; I don't know if I would be able to get that in another internship."
For Burkart and the other BYU students with him in Edinburgh, these internships won't turn into jobs. But the students have become friends with the politicians. They've gotten an inside look at the election process and the campaign trail during European Union elections. They've taken in European media and seen U.S. politics through a foreign lens. They've devoured a new culture between bites of haggis and glimpses of "football" on TV. And somewhere in between, they've come to see the world more clearly.
"It's given me a new perspective; I've come out here and realized that different people have different ideas about government and politics," says Adam R. Thayne, '04, who's interning with MSP Alex Neil of the National Party, representing central Scotland. Thayne has been able to spend hours in casual conversation with MSPs, talking about, among other issues, the war in Iraq. "I've learned that there are different perspectives out there and that a healthy debate is necessary in all types of democracy."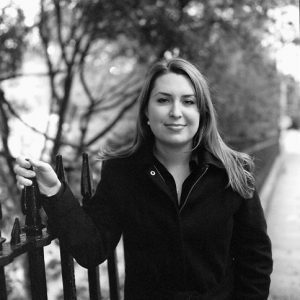 Deborah Wells, '04, is the lone BYU intern with the Liberal Democrat Party, called the "Lib Dems," and she's gained the corresponding nickname "Lib Deb." For Wells, her work in Scotland has further solidified her conviction to actively try to make a difference. "Our personal progression is closely connected to our daily interactions, especially in how we affect others' lives," says Wells.
Because of her research, Wells believes the bureaucracy of international human-rights organizations leads to attempts at cure-alls, when what people really need is individual attention. That's something Scotland's grass-roots approach has helped her realize. For international organizations to make a real difference, their influence must spread to local and, ultimately, individual levels, says Wells. They want to do something big, she says. "Well, the way to do something big is to affect individuals in a real way in their personal lives."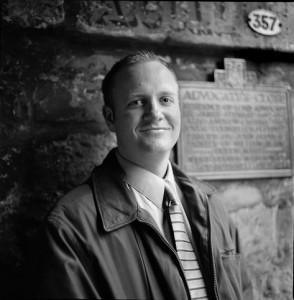 Wells can count the cost of the plane ticket and living expenses for her internship, but the value of the perspective she's gained? Priceless. For students seeking enlightening experiences, internships go even deeper than the potential dollars and cents. Just beneath the surface of the vast body of benefits—the skills, the contacts, the job offers, the real-world experience—lies an even greater good: a changed perspective. Their worldviews are molded, their outlooks are changed, and their horizons are broadened. As BYU student interns continue to travel the country and the globe, internships add layers of depth and understanding unavailable in a textbook.
"The gestalt, the 'aha,' that students get, when it finally dawns on them what we've been trying to teach them for the last four years, comes when they have an opportunity to put their hands to the work. They understand better the world around them," says Laurie Wilson. "That 'aha' experience comes when you apply knowledge to practice—and that's when it begins to become wisdom."
Credits: Photos by Bradley H. Slade, '94, and Seth O. Smoot, '00; Jeffrey S. McClellan, '94, contributed to the research for this article.
Feedback: Send comments on this article to magazine@byu.edu.
Related Articles: 5 Tips for Potential Interns and 5 Reasons to Hire Interns
5 Tips for Potential Interns
How does a student go from sitting in classroom lectures to participating in boardroom brainstorming as an intern? It's easier than one might think. Sometimes there are more opportunities available than there are students, says Laurie J. Wilson, '79, director of BYU's Office of Academic Internships. Landing an internship requires effort and a little luck, but the payoffs, now and in the future, can prove invaluable. Following are five internship tips for students:
1. Prime the pump early. Consider early on how an internship will best fit in your academic schedule. Internships can be completed at any time of the year, not just spring or summer. And it's good to have obtained a little classroom knowledge first. "Your learning experience takes place better after you have a few classes under your belt," Wilson says. "You can't apply anything if you haven't learned it yet."
2. Put yourself in job-hunt mode. Landing an internship, like finding a job, is an involved process. It requires letters, résumés, and phone calls. To get started, students can visit BYU's Office of Academic Internships or its Web site (webpub.byu.edu/internships-byu/), speak with a department internship coordinator, check with Career Placement Services, or talk to faculty members. There are also numerous books listing internship opportunities.
3. Network, network, network. "The number one way to get a job or an internship is through networking, through people that you know," says Beverly B. Zimmerman, '67, the English Department's internship coordinator. Ask yourself where you want to work, in what part of the country and in what industry. Then talk to anyone you know, starting with immediate family, relatives, and friends—you never know where an opportunity will pop up.
4. Go for seconds. You don't have to stop after just one internship. "Once you have zeroed in on the field you are interested in," Wilson says, "you ought to take advantage of as many opportunities as you possibly can to get experience in that field—not only because that experience will get you the job but because that experience will help your learning. You will gain more from college if you do that."
5. Get the inside scoop. Students who have interned have a better idea of what they want to do after college. "You really don't know if you want to do something until you've been in the environment," says Jennifer Romney Moore, '04, an English graduate who had a technical-writing internship before landing a full-time job. Interns should take the opportunity to soak up the office culture, probe coworkers about their jobs, and track down a mentor—someone who can give them an inside look at their dream job.
5 Reasons to Hire Interns
While some employers might worry that interns equal extra work, the reality is interns can bring value to a company. And an internship provider doesn't have to have 800 employees in a New York City headquarters—with a little thought, nearly any size company can accommodate the extra help. Following are five reasons for employers to consider having an intern:
1. Get a shot in the arm. What could a couple of bright, enthusiastic 20-somethings do for your office? Not only do interns come hungry to impress, they bring fresh ideas and new ways of looking at things.
2. Take the talent. Integrity, intelligence, creativity, stability, maturity, solid work ethics—all are traits found among the BYU student body, say professionals who regularly reel in interns from BYU's pool of students. "We've had a great track record with our BYU interns," says Marcus Mabry, chief of correspondents at Newsweek. As Newsweek interns have moved from smaller assignments to working on projects with more responsibility, "we've seen talent and we've seen initiative," Mabry says.
3. Have a contributor. Interns provide great value at a low cost. And they can make an impact—if you let them. Andrew T. Wagstaff, '91, a credit manager at Novell, says interns typically earn decent student wages, but the cost is minimal when compared to the value they produce. Finance interns have a major impact at Novell by helping to increase cash flow. "That's something that the shareholders are carefully watching," Wagstaff says. "The amount of value an intern brings is incredible."
4. Find the fit. Aimee Barrett, an account supervisor with Alan Taylor Communications, a PR firm that regularly avails itself of internship help, says, "Internships are a great way to get a feel for somebody's PR skills and abilities and to see if their personality fits within our agency." Consider the question of fit. Does the student enjoy the job? Does he or she mesh with other employees and the office culture? If you've provided a student with an internship, you're more likely to have the answers to those questions when considering that person for a full-time job.
5. Save on training. Providing an internship outfits a student with the skills to be an instant contributor to your company if you decide to make a full-time job offer. New employees who have had internships can hit the ground running.