Mormon culture, Relief Society, and the Book of Mormon.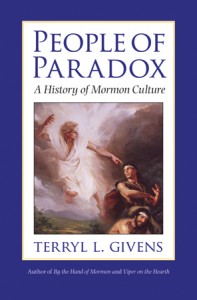 Recent political prominence has focused a searing national searchlight on Mormons and highlighted a long-standing LDS identity paradox: Are Latter-day Saints acceptable, mainstream Christians? Or are they strange, anomalous outsiders who see themselves as "a chosen generation, a royal priesthood, an holy nation" (l Peter 2:9)?
People of Paradox: A History of Mormon Culture (Oxford University Press; 414 pp.; $29.95), by Terryl L. Givens (BA '81), is a brilliant study of several such Mormon paradoxes. It examines the origins, rise, history, and development of a distinctive Mormon subculture—a unique and complex people possessed of a character the 21st-century Church is struggling to preserve. Beginning with Joseph Smith's famous dictum, "By proving [i.e. testing] contraries, truth is made manifest," Givens, who is a professor of literature and religion and chair of English at the University of Richmond carefully identifies four dynamic and seemingly unresolvable "contraries"—contradictions, paradoxes, polarities, tensions—at the core of the Mormon experience: (1) hierarchical authority vs. individual freedom; (2) spiritual certitude vs. an unending quest for truth; (3) the sacred vs. the banal (LDS doctrine/culture "sacralizes and exalts the mundane even as it naturalizes and domesticates the sacred" [p. 42]); (4) elect/peculiar vs. integrated/mainstream people.
Dividing LDS history into two periods—Joseph Smith to the Manifesto of 1890 and the Manifesto to recent internationalization—Givens traces, chapter by chapter, the effect of these four paradoxes on the development of LDS culture. In thoroughly researched, incisive chapters, Givens spans 175 years of LDS intellectual and cultural history in expansive yet focused surveys of LDS education, architecture, city planning, temple building, literature, music, dance, theater, film, and visual arts. Givens is an LDS bishop and stake leader who speaks persuasively as one having authority and as a highly respected scribe and earns the respect and the ear of both Latter-day Saints and those of other faiths and cultures. He adds this landmark book to his two earlier Mormon works, also published by Oxford University Press, The Viper on the Hearth: Mormons, Myths, and the Construction of Heresy (1997), a revealing study of anti-Mormon expression in literature; and By the Hand of Mormon: The American Scripture that Launched a New World Religion (2002), the best comprehensive treatment to date of the Book of Mormon—and required reading for any informed defenders of the faith or gospel doctrine teachers worth their chalk dust.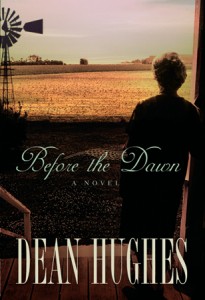 Before the Dawn, A Novel (Deseret Book; 297 pp.; $22.95) is Dean Hughes' love song to the LDS Relief Society. He fondly dedicates the novel to the Relief Society general presidency (2002–07), president Bonnie D. Parkin and counselors Anne C. Pingree and Kathleen H. Hughes (Dean's wife), and their husbands.
Fiction founded on fact, Before the Dawn is set in Utah's Uintah Basin in the fictional town Richards during the leanest years of the Great Depression. As is his pattern, Hughes did his homework for this novel by studying histories of the Great Depression, Latter-day Saints, and the Relief Society and handbooks from and about the era; and he delved into the content-rich, much-lamented (by Saints of the right age), and never-equaled Relief Society Magazine (1915–70)—of which I was a devoted closet reader through my youth until its demise. The novel tells the ageless gospel story of the transformation of Leah Sorensen, a toiling, farmwork-hardened, opinionated widow in her late 30s. Leah's only goal is to save enough money to secure college educations for her daughter and son and escape from their hardscrabble life. She has little time for, patience with, or understanding of others. In the midst of Leah's cheerless struggle, Bishop Keith Bowen calls her as ward Relief Society president. Reluctantly, she accepts, chooses two wise counselors, and goes to work—promptly offending and alienating a number of the sisters. Soon realizing the greater needs of many sisters in the ward, Leah soldiers on, losing herself in ministering to them and their families. Thereby begins the gospel-centered journey of transformation based in the timeless formula: service + sacrifice + love = change and joy. Leah learns en route that "men [and women] are, that they might have joy" (2 Nephi 2:25) and that losing oneself in service of one's fellow beings is the doorway to such joy.
Leah's is a story that every Relief Society sister will thoroughly enjoy—and every bishop and many (refrigerator-moving) elders and (snow-shoveling-for-widows) high priests (secreted in their respective closets, of course). Hughes is the distinguished and prolific author of more than 90 books, including his two first-rate and best-selling historical fiction series, Children of the Promise and Hearts of the Children.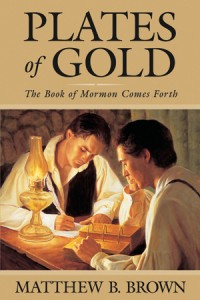 Matthew B. Brown's (BA '98) Plates of Gold: The Book of Mormon Comes Forth (Covenant Communications; 217 pp.; $18.95) is the most complete narrative to date on the translation and publication of the Book of Mormon. Brown gathers "scattered and neglected historical fragments [about the Book of Mormon] and combines them with their more familiar counterparts" (p. 1) in a fascinating, very readable volume fraught with many well-known, little-known, and generally unknown details about the events that prepared an obscure young man, Joseph Smith Jr., to translate and publish the book. Brown describes the physical details of the record and objects associated with the plates; examines the translation process; chronicles the publication of the first edition of the Book of Mormon; and discusses the several individuals who were permitted to handle the sacred engravings before the Eight Witnesses did. He gives the reader some spiritual "sense of what it is like to stand in the presence of beings from beyond the veil—to gaze upon their shining countenances; to hear their heaven-sent words" (p. 2). From such transcendent moments, Brown describes the opposition to Joseph's work, detailing an encounter with virulent anti-Mormon Abner Cole who "tried to start a fistfight with Joseph Smith because the Prophet wouldn't allow him to illegally reproduce portions of the Book of Mormon" (p. 2). In one of his four appendices Brown outlines and refutes the Spalding-Rigdon theory of the book's authorship.
Brown weaves all of this into a well-written and engaging narrative, well-anchored in historical sources and supplied with readable footnotes and appendices which are as intriguing as each of the nine chapters. It's an inspiring book about a divine work. Such excellence is to be expected from the author of Symbols in Stone: Symbolism on the Early Temples of the Restoration; The Gate of Heaven: Insights on the Doctrines and Symbols of the Temple; and The Plan of Salvation: Doctrinal Notes and Commentary. 4
Richard H. Cracroft is BYU's Nan Osmond Grass Professor in English, emeritus. Before retiring in 2001, he had served as English Department chair and dean of the College of Humanities.
Cracroft's Picks: Setting the Record Straight

Millennial Press (Orem, Utah) is publishing a series of volumes Setting the Record Straight (2007). In brief (75–125 pp.), inexpensive ($9.95), well-written, and scholarly volumes, respected LDS scholars treat Mormon topics often deemed controversial and more often misunderstood. Typically, the author of a volume in the series outlines the chronology of relative events, introduces the subject, and presents the history of the topic, citing the charges most frequently leveled against the Church respective to the subject. In each volume several chapters are devoted to providing solid, well-founded, forthright answers to frequently asked questions, often in a succinct question-and-answer format, clarifying and affirming the LDS standpoints on the matter. While the books clearly take the LDS viewpoint and affirm the strength of LDS positions, they represent opposing views candidly and fairly and even assert here and there that we don't know the answers to some questions. Here are the 10 attempts to date at Setting the Record Straight:
• Susan Easton Black (BA '66), Emma Smith, An Elect Lady
• Susan Easton Black, Joseph Smith the Mormon Prophet
• Jack R. Christianson (MEd '85 ), The Book of Mormon
• Jessie L. Embry (BS '73 ), Mormons and Polygamy
• Arnold K. Garr (PhD '86 ), Joseph Smith: Presidential Candidate
• Steven C. Harper (BA '94 ), The Word of Wisdom
• Dean L. Larsen, Mormon Temples
• Marcus H. Martins (BS '92 ), Blacks and the Mormon Priesthood. (Martins is "the first Latter-day Saint with Black African ancestry in the 20th century to serve a full-time mission" [p. 87].)
• Gilbert W. Scharffs (D '69), Mormons and Masons
• Richard E. Turley Jr. (BA '92 ), The Mountain Meadow Massacre