Student funds and schedules prompt some curious culinary solutions.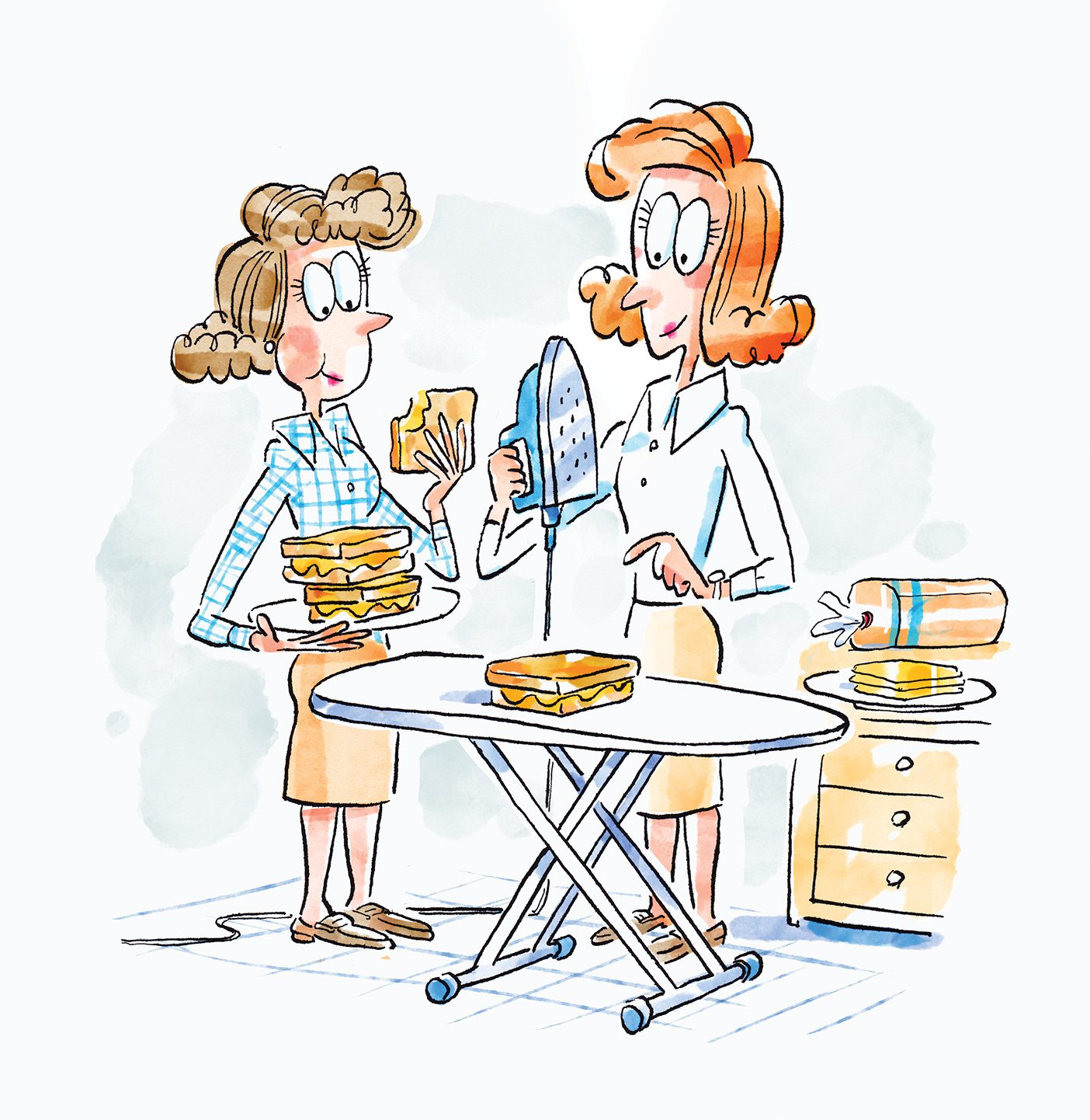 Iron Chefs
By Nancy McCormack Schaalje ('60), AB, Canada
It was Easter weekend of 1957, and our dorm, Knight Mangum Hall, was all but empty except for my roommate from New York, me from Canada, and a few others. The scarcity of students on campus resulted in the closing of many of the cafeterias, including the one attached to our dorm.
On Saturday we surveyed our cache for lunch and improvised a way to make "grilled" cheese sandwiches. We enjoyed our lunch and had enough to share with the hard-working fellow student who was polishing the hall floors. He was curious about how we grilled the sandwiches. We confessed to using our clothes irons. They were a great substitute if care was taken to not press cheese into the steam vents. I later became a home economics teacher, and I don't think I ever shared this cooking method with my students.
There Is Such a Thing
By Edwin R. Blackham (BA '92), Eagle Mountain, UT
As with many poor college students, finding a way to eat lunch as cheaply as possible became an art to me. Brown-bag lunches or a quick trip back to the apartment for ramen or mac and cheese were the norm. It wasn't the quality of the lunch; it was just anything to help me make it to dinner without starving. One day during Homecoming I was walking by the Bookstore, and they were looking for volunteers for a pie-eating contest. Free food! I ate a whole banana cream pie, winning the contest and a $10 gift certificate that I used to buy candy at the Bookstore. Best of all, lunch didn't cost anything.
PB&J al Dente
By R. Mark Melville (BA '14), North Salt Lake, UT
I started at BYU during winter semester, and, after walking to my apartment through the January cold, I was always hungry. One night I came home craving a peanut butter and jelly sandwich, but I was all out of bread. I'm not sure I knew where the closest store was yet, and I didn't feel like going anyway. So I looked through my cupboard to find another form of carbs. My only option was spaghetti noodles. So I cooked them up, then dolloped peanut butter and grape jelly on top. It wasn't very good, but I did finish the whole plate!
Family Dinner at the JKB
By Brette Hawks (BS '18), Orem, UT
As a freshman at BYU I typically resorted to quesadillas or peanut butter sandwiches for Sunday dinners. The problem was half minimal funds, half my still dicey level of expertise as a home chef.
One Sunday evening I was preparing for a nice bowl of ramen noodles when I got a surprise campus visit from my five younger siblings and my parents. I met them in the lobby of the Jesse Knight Building by the vending machines. They pushed a couple of tables together and laid out dishes of mashed potatoes, steaming vegetables, and a delicious pot roast. I sat down with my family to a lovely home-cooked Sunday meal. We talked and laughed and ate while passersby glanced over at the odd family having dinner by the light of the soda machine.
Crushing It
By Melissa Merrell McOmber (BS '95), Boise, ID
My three roommates and I went way over our grocery budget because we had invited some boys over for Sunday dinner. We wanted to impress them with lasagna, garlic bread, Caesar salad, and the best part: my mom's peppermint Oreo dessert. After church as we began to prepare our feast, I found that I had failed to buy the most important ingredient: peppermint candy.
After searching everywhere and asking around, one of my roommates found a 2-inch-thick peppermint stick left over from Christmas.
First we put it in a bag and tried pounding it on the counter. Nothing. We hit it with a rolling pin. Again, nothing. We then borrowed a hammer and hit the candy with all our might. Still nothing, not even a chip. I suddenly had a bright idea. After wrapping the peppermint stick in several plastic bags, we put it behind my car tire, then backed over it several times. The bag was soon filled with perfect peppermint dust. We finished the dessert and really impressed those boys.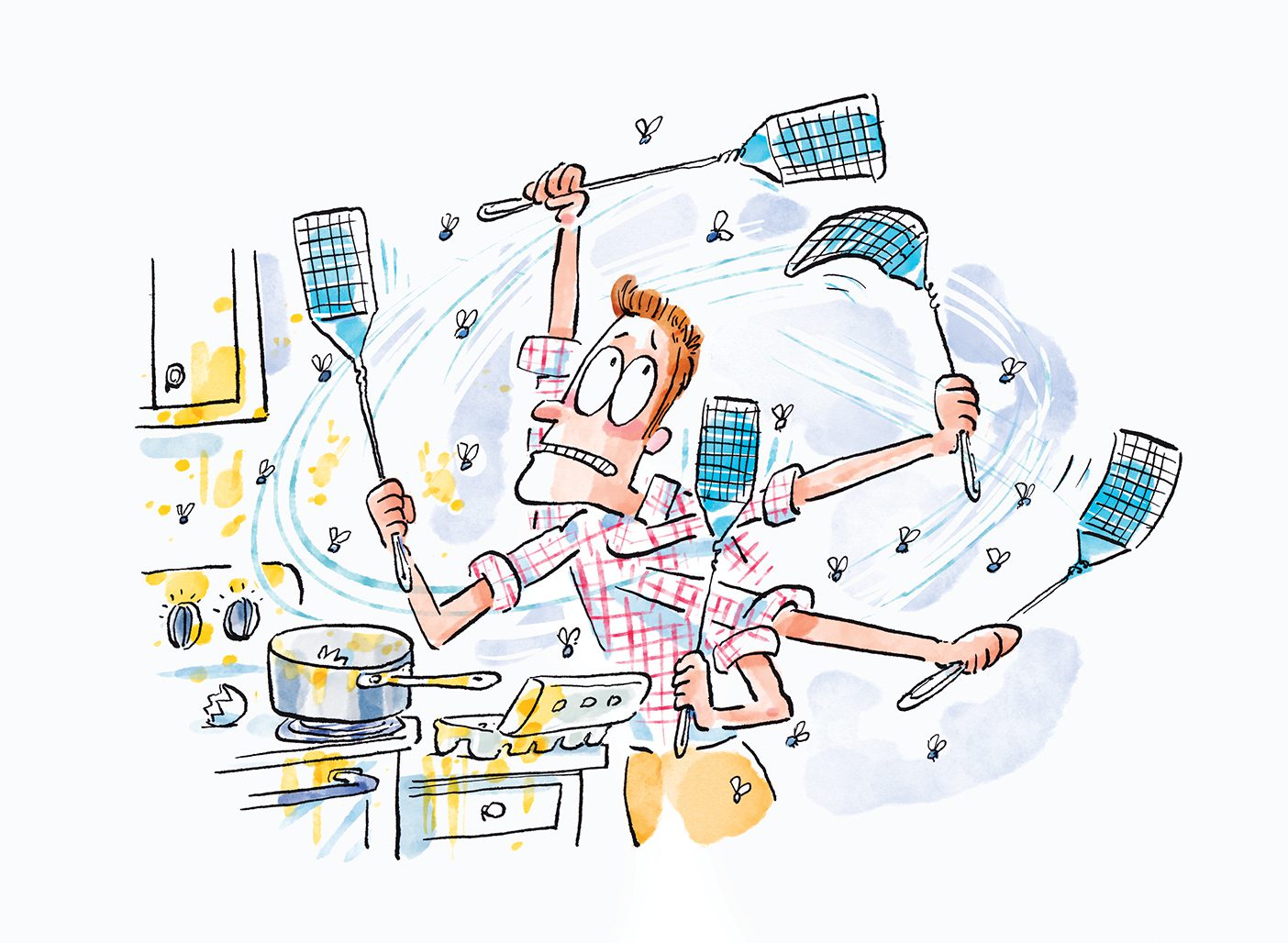 A Soupy Smell
By Ashley Dalrymple Hansen (BS '05, MS '07), Sandy, UT
After I was volunteered to provide lunch for the Geology Club, I decided my roommate's taco soup recipe would be perfect. All I had to do was multiply it by 15.
Early one morning, while my roommates still slept, I chopped onions until my eyes burned and tears streamed down my cheeks. Then I cooked the onions with the meat. The apartment smelled like a restaurant, but my clothes smelled more like a locker room.
I left the soup to simmer and headed to minerology class. I could smell the oniony aroma wafting off of me and tried to stay far away from everyone, but it didn't help. At the end of the class, the professor called me aside. "Ashley, is everything okay?"
My face reddened. He'd smelled the onions and probably thought it was something much less savory. "I can explain—"
The professor shook his head, concern in his eyes. "You look like you've been crying." I laughed, relieved that he wasn't calling me out for bad hygiene. "It's just the onions."
Later, everyone praised the soup, although I was so sick of smelling it, I didn't eat a single bite. And despite washing my hands dozens of times, I could smell onions on them for a week.
Eggs over Everything
By Bruce R. Troxell (BFA '89), Bonney Lake, WA
Going to BYU in the early '80s, I had four roommates. Money was tight, and food was always in short supply. One roomie lived almost exclusively on hard-boiled eggs. One day he woke up late and put a pot of eggs on the stove while he got ready for school. However, he left for class and forgot about the eggs. He was the last one out the door.
Later in the day, I returned to the apartment. When I went inside I was horrified. All the water in the pot had evaporated and the eggs had exploded all over the kitchen. It was on the ceiling, walls, cabinets, and floor. But, that wasn't the worst of it. The entire kitchen and dining area was covered with hundreds and hundreds of flies.
I found a flyswatter and just started swinging. I couldn't miss. Flies fell to the floor in bunches. I swatted for 20 minutes, then vacuumed them up. Then it took two hours to clean the eggs off of everything.
Later when my roommate came home, he said, "Wow, the apartment looks great! How was your day?" If looks could kill, he would have been buried on the spot. Needless to say, that was our last semester as roommates.
Call for Stories: Best Worst Firsts
BYU Magazine pays $50 for stories published in First Person. Send anecdotes of up to 300 words to firstperson@byu.edu. Submissions may be edited for length, grammar, appropriateness, and clarity.
Sometimes it becomes clear when a first date is likely going to be the last. Did your date show up dressed as a superhero or treat you to a hospital-cafeteria dinner? Ever have a roommate try to pull a move on your date right in front of you? Whether your first date involved a series of awful vocal impressions, a premature marriage proposal, or other awkward antics, we want to hear about it. Deadline: Sept. 5.