---
By Grant R. Madsen, '98
Every time the National Hockey League–champion Colorado Avalanche scored a goal or won a game in their 2000–01 quest for the Stanley Cup, David O. Draper, '84, enjoyed the satisfaction of knowing he played a small part in getting them there.

A year ago Draper, a physical education professor, took a sabbatical from his BYU teaching responsibilities to work as an Avalanche athletic trainer. When six-time all-star, former rookie of the year, and Swedish Olympian Peter Forsberg reported to training camp with an inflamed ankle injury suffered in a celebrity soccer tournament, Draper applied sports therapy techniques he'd spent his career developing to get the center back on the ice. Draper's work not only contributed to the Avalanche's success, in June it also scored him an award for his innovative methods.

"This was my first-ever sabbatical," says Draper. "I wanted to get in the trenches and get my hands dirty treating world-class athletes."

Draper came in contact with Pat Karns, the Avalanche's head athletic trainer, who invited Draper to preseason training last fall. For six weeks Draper treated players' injuries three times daily, sometimes working 16-hour days.

"It was an honor for me to work with him," says Karns, "for him to share his experience with me, my staff, and the players. Dr. Draper is probably the best clinician, the best educator I've had the chance to work with."

For Forsberg, one of the NHL's best all-around talents, having Draper around proved advantageous. Although Forsberg had been treated in Sweden, chronic swelling in his ankle made it impossible to lace up his skates.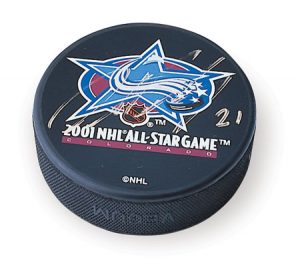 "Hockey skates are so tight that they're almost molded to the shape of the player's foot. So you can imagine Peter's discomfort," says Draper. "The ankle injury had also affected his ability to balance—the kiss of death to a hockey player."

With Karns' blessing Draper used a therapeutic technique he and other BYU professors had theorized could "jump-start" the healing process in such an injury.

"We've bounced the idea around for a few years that maybe when an injury isn't healing correctly it's because it hasn't been allowed to go through the full stages of repair," says Draper. "Somehow an injury gets stuck in the inflammatory phase, so to speak. So we stimulate the area to get things moving in the right direction."

For a decade Draper has researched the use of therapeutic modalities, or treatments that employ ultrasound, electricity, and variations in temperature to improve healing. His research has appeared in the Journal of Orthopedic and Sports Physical Therapy and the Journal of Athletic Training.

With this expertise and with Forsberg's ankle in hand, Draper took a few days to heat and soften the star's injured tissues with ultrasound. Then he vigorously massaged the injured area to activate natural inflammatory processes. Finally, Draper started Forsberg on a series of balancing and strengthening activities. Forsberg's response to the treatment allowed him to get back on the ice in a matter of days.

"That was an incredible sight," says Draper, who also helped treat Forsberg's back pain. "Even though he makes millions a year, Peter really plays the game for fun. He just really loves the sport, and when he couldn't play he was depressed. When he finally could get back on the ice, I saw a big smile come across his face."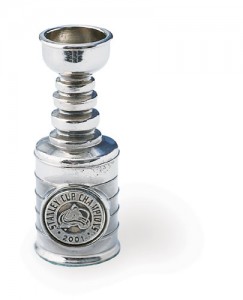 Forsberg went on to lead the Avalanche to the NHL's best regular-season record, a first-round play-off sweep, and a seventh-game victory in the Western Conference semifinals before an injury requiring the removal of his ruptured spleen eliminated him from further postseason play.

Draper and Karns presented papers on the technique at the annual meeting of the National Athletic Trainers Association (NATA) in Los Angeles. At the meetingNATA awarded Draper the William G. Clancy Jr. Medal for Distinguished Athletic Training Research for his 12 years of research on ultrasound and diathermy—deep-heating techniques.

"I'm honored and humbled by the award," says Draper. "I consider myself an average researcher, but I'm a very curious person and will keep poking away at a problem until I find the answer."

NATA officials are less reserved in describing Draper's research acumen. "David has done a tremendous job in the systematic defining of the parameters, the usefulness, and the effectiveness of ultrasound to treat injuries," says Chris Ingersol, president of NATA research and education foundation. "His work with ultrasound has formed the basis for most of the research currently taking place in this area."

During his time in Denver with the team, Draper was immersed in hockey culture, quickly building an interest in the game and friendships with the players. "They treated me like a regular member of the team—with a lot of respect," he says. Before returning to Provo, team members showered him with memorabilia—expressions of thanks scrawled on souvenir photographs, a framed jersey, baseball hats, and trading cards—that now grace the walls and shelves of his campus office. Draper still maintains contact with Forsberg.

"Every one of the players treated me well, but I sort of hit it off with Peter Forsberg. It's been exciting to see him score a goal or have a good game," says Draper. "One night I was watching a game on TV, and he scored a goal, but the official said it didn't actually go in. I called him right after the game and told him I thought he was robbed. He agreed."

Even though Forsberg could not play with his team for the championship, Draper is happy his research helped Forsberg and the Avalanche have a remarkable season.

"That's why I do research—I want to find out if there's a better way of doing something. And when I saw that what we had experimented with in our lab at BYUactually worked on a world-class athlete, that was very fulfilling."


---
Grant Madsen is the features editor for BYU University Communications.