---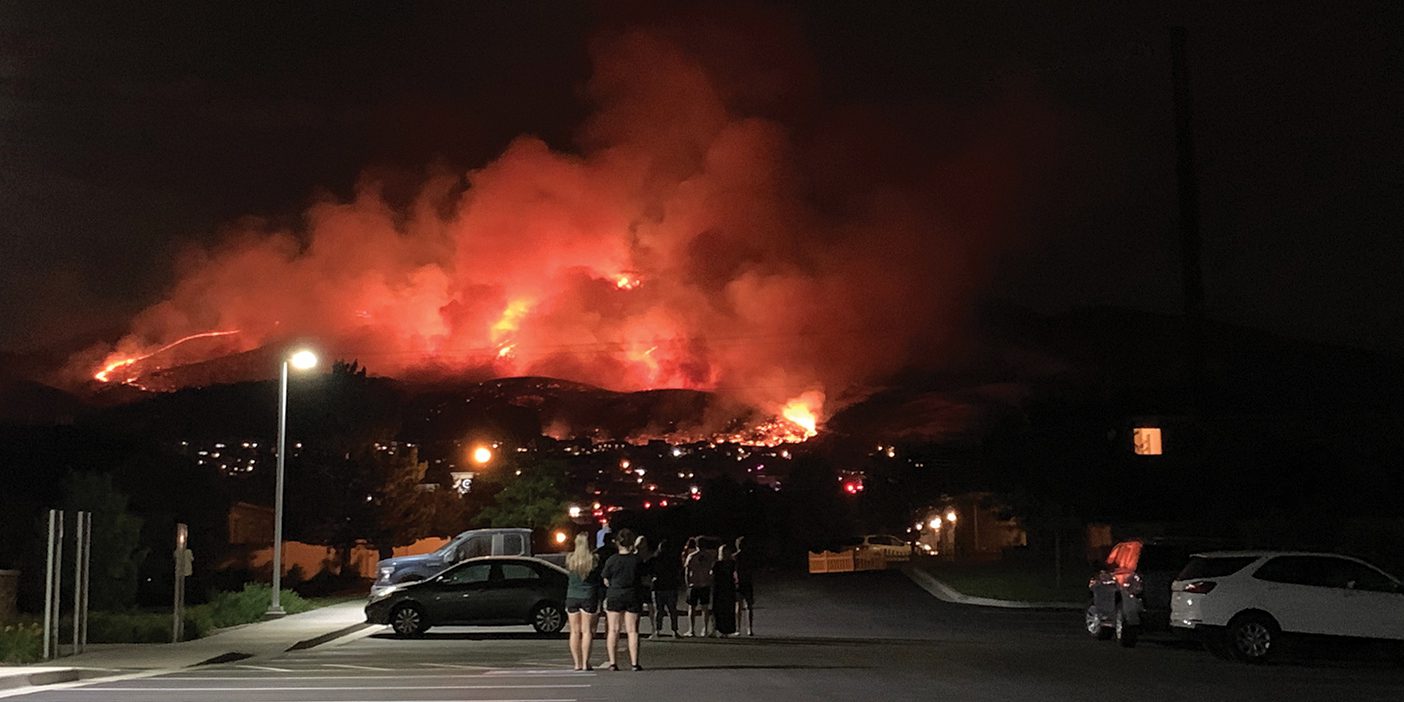 In 2018 all eyes were on Paradise, California, as in just four hours a wildfire took 85 lives and caused $16.5 billion in damage. In 2019 and early 2020 the world's attention turned to a series of bushfires in Australia that raged for seven months, killing more than 450 people. With these fires and the devastating West Coast fires of 2020, every minute matters. A group of BYU students from the Ira A. Fulton College of Engineering has created a system to pinpoint the location of wildfires before a plume of smoke even rises.
The students teamed up with Utah-based internet connectivity provider UTOPIA Fiber to create a new early-detection tool that could save communities millions of dollars and, more important, lives.
EDWIN, which stands for Early-Detection Wildfire Imaging Network, uses thermal-imaging cameras atop buildings and fire poles to detect temperature that would indicate potential wildfires. When one of the cameras picks up a hotspot—anything exceeding 300 degrees Fahrenheit—the system automatically sends an alert through UTOPIA fiber lines to the local fire department.
Instead of relying on community members to see smoke and call 911, the new system can note hotspots before smoke is visible. "The EDWIN Project thermal-imaging cameras are so advanced, they can detect a hotspot down to a pixel," explains Roger E. Timmerman (BS '04, MS '09), executive director of UTOPIA Fiber.
And that quick detection will reduce response time and potential fire damage. UTOPIA estimates that EDWIN could save between $44,000 and $215,000 in economic loss for each minute of reduced response time due to the new system. The system is currently being used in Layton, Murray, and Woodland Hills, Utah.
The students involved in the project, all seniors from the information technology and cybersecurity program, first tested the product with the Woodland Hills Fire Department, which set up controlled fires. The BYU team measured optimal camera distances and the accuracy of their system, while the fire department received the heat signature of each fire along with live video of the blaze via the fiber network.
"Being able to build something we know would actually help people and then watching it come to fruition was very fulfilling," says Benjamin C. Dorton (BS '20), a recent graduate who worked on the project. "It was cool to see the real-world impact of what we were building."
Two other recent grads on the team, W. Charles "Chaz" Nelson III (BS '20) and Hayden M. Redford (BS '20), have since been hired as part of UTOPIA Fiber's Smart Cities team. They are beta testing EDWIN and helping expand the program to other cities in the West.