---
As the Mormon Tabernacle Choir sang "Come Sing to the Lord" at the April 1978 general conference, the song's composer, Gerrit de Jong Jr., watched from his Provo home with tears running down his cheeks.
"The choir didn't know he was dying of cancer and wouldn't live to see another conference," says Carma de Jong Anderson (BA '76), the youngest of de Jong's three daughters and one of two surviving children. "We found it incredibly touching. We still do."
De Jong was known for his many talents and interests: music, language, scholarship, leadership, theology, and even part-time carpentry. But for his daughters, he was so much more.
"Oh, Daddy was a genius," says Anderson. "Our grandmother knew that too. She was a praying woman, and she entreated the Lord for years about what to do with her brilliant son."
Even as a child living in Amsterdam at the turn of the century, he demonstrated an aptitude for multiple subjects as well as a passion for study. When he turned 11 in 1903, for example, he received a piano for his birthday present instead of an anticipated bicycle. Swallowing any disappointment, he began a lifelong love affair with music that grew as he heard choirs sing mass and organs play hymns in gigantic Dutch cathedrals. He eventually became an accomplished musician, composer, and conductor.
"Our grandmother believed Daddy was meant to do something more than work in the family's fabric store," says Nola de Jong Sullivan ('46), de Jong's second daughter. "So when their building burned down one night, she accepted that as her answer: they weren't going to rebuild. In 1906 they headed to Salt Lake City to see our Aunt Marie, who had joined the Church and was the only person they knew in America."
Though the de Jongs had not joined the Church in Holland, they had been friendly to the missionaries, often serving them meals, Anderson says. "The de Jongs were really surprised when the first person they saw after the train stopped in Salt Lake City was Nicholas G. Smith, a missionary to whom they had sold stiff collars and cuffs." The former missionary was also surprised, saying that the de Jongs were the last people he ever expected to meet in Utah.
The family was welcomed warmly into the close-knit community, and young de Jong accepted several Church callings even before converting to The Church of Jesus Christ of Latter-day Saints, which he did at age 15.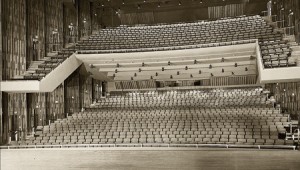 De Jong's desire for perfection continually inspired him to hone his talents and abilities. As a teenager living in Salt Lake City, he was asked to play the organ for a special priesthood meeting. When he asked for a key to the church so he could practice, the bishop dismissed the idea, insisting that with his talent he didn't need to practice. Undeterred, de Jong went to the church and, upon finding the doors and windows locked, went down an opening in the coal chute. After brushing himself off, he took his music and practiced until he felt he had mastered the composition. After the performance, several people praised de Jong, including the bishop, who told the young musician he knew he had not needed to practice.
When de Jong later became a husband and father, he shared his passions with his family. "Life with Daddy was wonderful," Sullivan says. "I always knew there was something special about him. He would take us by the hand and show us great artworks in museums. We all lived for the arts, and we represent seven generations of artists. Daddy became especially well-known for languages, and he liked to say that language was his business but music was his profession."
Tragedy struck the family in 1940, when Rosabelle, de Jong's wife, died from a car accident on an icy highway.
"Daddy was heartbroken," Sullivan says. "Our parents were mad about each other, and after she died, Daddy was so distraught. He would pound out Bach on the piano all night and weep."
"He did remarry, but not until 1951, when all three of us were out of the house," Anderson says. "That was wise. I don't know anyone who could have handled the de Jong sisters."
Only 9 when her mother died, Anderson worked alongside her father, learning many of his skills, including cement work and carpentry. "Daddy loved everything from manual labor to academics, and he was on the go continually. To grab a 'nap,' was to work in the garden a few minutes before returning to his office."
De Jong's oldest daughter, the late Belle de Jong Van Wagenen ('40), said at his funeral, "He was a man of refinement."
Sullivan says her father learned something new every day of his life—on purpose. "And when he learned something, he continued to focus on it, such as learning Chinese," Sullivan says. "He had just finished printing the parts for a string quartet, out of some piano dances by Cesar Cui, the week he died. Nothing short of excellence was acceptable. He was a darling man who was productive to the end."