---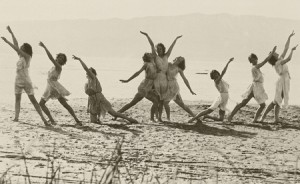 Before one of his annual Mt. Timpanogos hikes in the mid-1920s, BYU athletic director Eugene Roberts (AB '16) saw young Aline Coleman (BS '33) dancing around a bonfire in Provo Canyon. He liked her style and approached her with a job offer to teach modern dance at the university.
Only 15, she accepted, but her training was in ballet, and both she and Roberts believed she needed intense training in modern dance. When Coleman turned 16, she boarded a train and traveled across the country to study at the Denishawn School of Dancing in Connecticut and New York. Many early dance pioneers, including Martha Graham, studied at Denishawn schools.
"I had lived in Provo all my life," she says, "and this was a big adventure."
For several months Coleman learned modern dance, music visualization, and ethnic dance. Dance theory preceded dinner, and instruction in Hawaiian dance often finished the evening. She later studied dance at the University of Wisconsin–Madison in 1933 under modern dance educator Margaret H'Doubler.
Returning from New York, Coleman began her BYU teaching career as an 18-year-old during the Great Depression. In lieu of a salary, she accepted tuition and worked on her bachelor's degree while she taught classes. She purchased any necessary music and equipment with her own money. Her students sewed their own costumes, and her younger sister, Martha Coleman Miner ('38), played the piano. Her students practiced and performed at College Hall on lower campus. Its wood floor was full of splinters—a nightmare for bare feet—and they shared the space with the drama and dance departments and the men's basketball team.
Students flocked to her class, however, and her favorite memories include having 40 of her dancers perform scarf, hoop, balloon, and garland dances as the finale of an ambitious "circus" staged in the old BYU Stadium.
Smith says a few eyebrows were raised when her students danced without shoes and wore relatively flimsy costumes. "BYU's president, Franklin S. Harris, was a huge help," she says. "He really loved the arts and was fully supportive of my efforts. When you have the president behind you, it goes a long way to being accepted, so people stopped being 'shocked.'"
She earned her bachelor's degree in 1933, married Virgil J. Smith (BS '34) later that year, and worked as full-time faculty until 1938 when her son was born. She worked part-time for two more years and then left Provo when her husband secured a job in the Boise, Idaho, area. "I really hated not being able to sign that last contract," she says. Still passionate about dancing, she taught dance and fitness classes at the local Young Women's Christian Organization (YWCA) and will be recognized this fall when the YWCA celebrates its 100th anniversary in Idaho.
At 100, Smith looks young enough to be her own daughter, and she walks with a dancer's grace. She attributes her longevity to good genes and a healthy lifestyle.
"I've always been active," she explains. "I do 500 steps on the elliptical machine five days a week, I make expansive leg and arm movements from my chair to the strains of Liszt's 'Liebesträume,' and I walk."
She also keeps tabs on Cougar sports. "Yes, I do know who Jimmer is," she says.
Pamela Swenson Musil (BS '78), director of administration for BYU's contemporary dance division, says Smith has enduring influence at BYU. "Like most 16-year-olds, Aline Coleman Smith may not have envisioned the far-reaching impact her pioneering efforts would have when she was appointed to teach dance classes at BYU," says Musil. "It seems almost unfathomable that Aline's study of modern dance is rooted with our earliest, most illustrious dance pioneers. Her work with [these dancers] formed an important foundation and grounding for what would eventually become the BYU Department of Dance."
Watch Smith tell her story at more.byu.edu/stilldancing.