---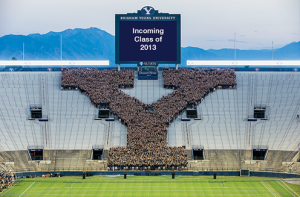 The font of the human Y created at this year's New Student Orientation was a bit leaner than that of last year's letter. In the first school year following President Thomas S. Monson's October 2012 announcement lowering the missionary age, many current and future BYU students have responded to the call to serve.
President Cecil O. Samuelson outlined some of the effects and benefits of the change at BYU's Annual University Conference in August. This fall BYU's overall enrollment is down approximately 10 percent, with most of that decrease in two demographics: freshmen males and continuing female students in the 19–21 age group. President Samuelson offered three reasons for maintaining traditional admission numbers even with a larger portion of students deferring enrollment.
 "While our numbers are down a little, we fully anticipate that those who have been studying here or those who have been admitted but have deferred enrolling until after missionary service will return to campus in large numbers starting in fall 2015," he said. "We will need to accommodate them and are preparing to do so." To avoid going over BYU's enrollment cap in 2015, university officials admitted roughly the same number of students this year as in past years.
President Samuelson also remarked that other colleges and universities with large numbers of LDS students are experiencing similar enrollment challenges. Being sensitive to the situation of neighboring institutions, university administrators have chosen not to alter BYU's admissions standards.
Third, BYU has assisted the missionary efforts more directly by supporting the Provo Missionary Training Center. To help house the influx of missionaries, BYU has loaned some of its student housing on a temporary basis.
Though BYU leaders don't have all the answers on what the lasting impact of this historic announcement might be on the university, President Samuelson sees great benefits.
"A mission contributes not only to the growth and vitality of the Church but also to the maturation and development of the missionary. Thus, in a couple of years, many of our entering students and those who will be returning will come with more highly developed study skills, increased self-discipline, and increased clarity about their life and academic goals," he said. "Our already impressive student body will become even more so with an earlier mission experience."
— M. Todd Hollingshead (BA '04, MA '12)