---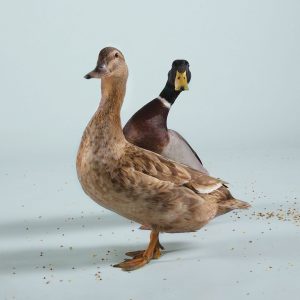 It's tricky business, catching a duck, says BYU director of grounds Glenl A. Wear Jr. (BS '95, MPA '09). "We've been having people work odd shifts to try to catch them when they're sleeping," he says. The reason: the Botany Pond at the south end of campus has seen an increase in waddling wildlife, with the duck population more than doubling in the last two years, according to Wear.
Hoping to preserve the landscape and prevent invasive species of hybrid ducks from crossbreeding with mallards, BYU grounds has teamed up with the Utah Division of Wildlife Resources to humanely transport some of the BYU ducks to the waterfronts of Utah Lake and beyond. While most ducks are migratory, these ones seem to like campus too much to leave—either because the stream-fed pond never freezes or because visitors are always feeding them.
"Incorporating wildlife into our landscape settings is a very attractive concept," Wear says. That means that for now, the grounds crew is doubling their efforts to keep campus clean and safe, washing what they affectionately refer to as the "poop deck" two to three times a day this spring and summer.
—Jessica Jarman Reschke ('14)