---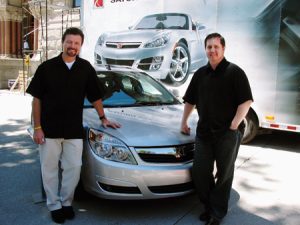 To Kenneth K. Parkinson (BFA '89) and Clay A. Dean (BFA '02), designing vehicles is no less a fine art than painting, sculpture, or music. "I see automobile forms as emotional motivators—they have texture, color, movement, and shape," Dean says.
"Vehicles that are the most appealing combine beauty and simplicity in a way that touches a nerve," adds Parkinson.
Parkinson and Dean, both graduates of BYU's industrial design program, now apply their artistic sensibilities to car designs at General Motors (GM). Parkinson is an executive director of design, body on frame; Dean is design director of small and mid-size vehicles.
Each says his passion for cars started early. "I was only two or three when I watched my dad build and paint a model of a '63 Corvette," recalls Dean. "That left an impression on me that is still strong today."
Parkinson remembers as a teenager wanting to improve the design of his mother's Buick. "I looked at its forms and lines and thought I could improve it. So I drew up a concept, thinking, 'This is what it should be.'" At the time Parkinson had no idea the field of vehicle design existed. It wasn't until he was attending the University of Utah that he would find out.
"My mother came for a visit and handed me a BYU Today magazine. There was an article about students working with a car manufacturer on a project. She asked, 'Is this what you want to do?' I said, 'That's it!'" Parkinson transferred to BYU.
Soon after Dean was hired at GM, he found himself designing Corvettes. But Dean says another project would turn out to be even more satisfying. "Our vice president of design pulled me into his office, shut the door, and said, 'I need you to work on a confidential project at home. You cannot tell your coworkers, family, or friends about this.'" The end result was the development of the Hummer H2, which surprised nearly everyone when it was unveiled at a Detroit Auto Show.
Parkinson's design skills have been applied to such vehicles as the Sierra Pickup, Denali, and Cadillac Escalade.
As artists, they are always ready to draw. "I find myself sketching car designs while talking on the phone or watching sci-fi movies," Parkinson says. Dean says he likes to keep a notebook journal handy. "When the thought or impression comes, you have to capture it."