---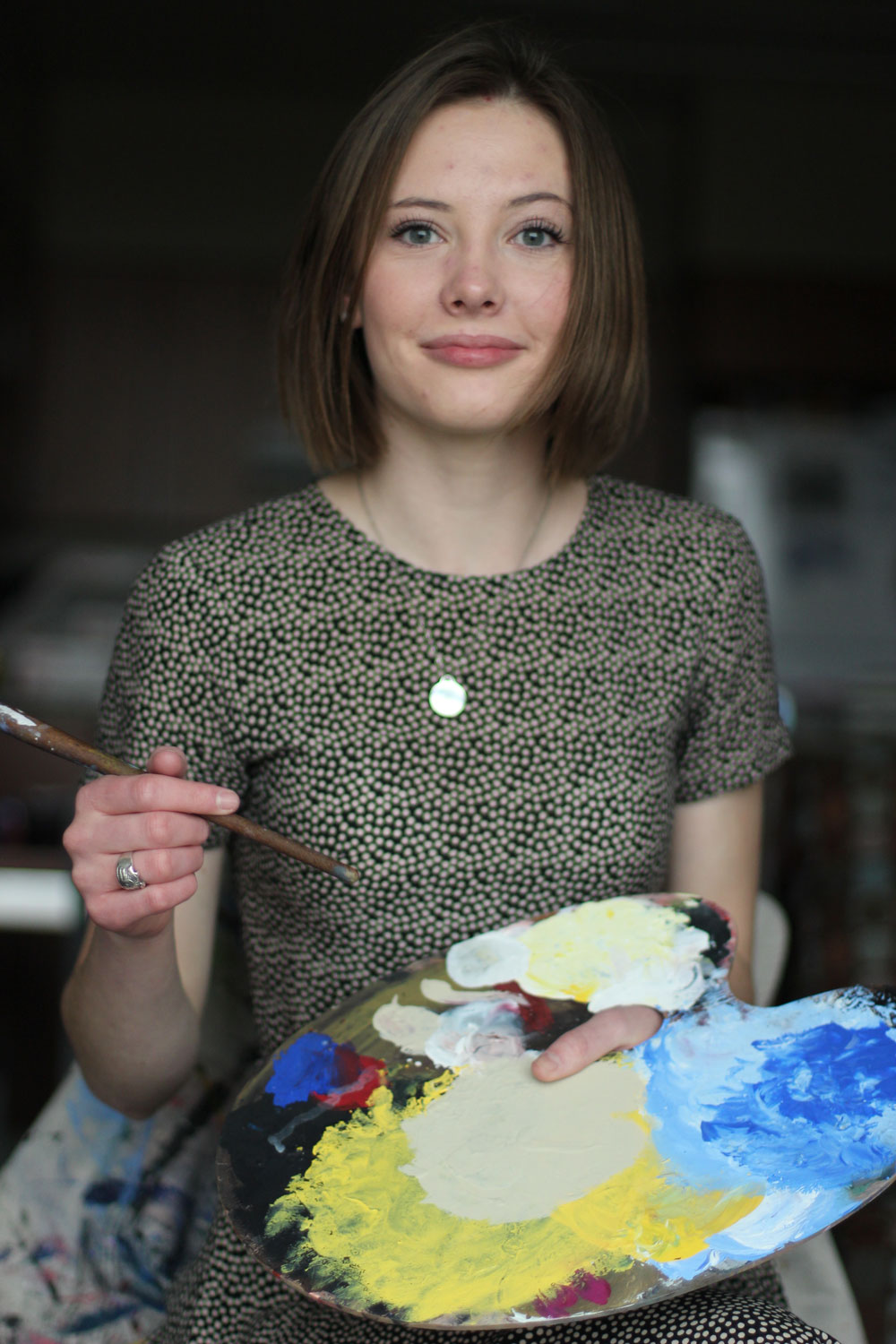 Every Tuesday thousands of students jot down devotional insights with pen and paper. Sophomore Amber L. Ellis ('19) prefers paint. Following a particularly meaningful address, she will return to her apartment, shake out a tarp on her bedroom floor, and splay an acrylic palette. "I take away either a word that they said, or a phrase, or some question that popped into my mind, and I go and do a painting."
So far Ellis's devotional art comprises of four pieces and counting, characterized by intense, motley hues and spiritual themes. In her piece He Will Lift, a hand grasps the serene, red-and-blue-marbled face of a girl. She derived the image from Psalms 3:3, quoted in the devotional by Elder Marcus B. Nash of the Quorum of the Seventy. The passage reads as follows: "Thou, O Lord, art a shield for me; my glory, and the lifter up of mine head."
"Our hard days won't dissolve," she captions the painting on Instagram, where she posts photos of her work. "But Christ will help us bear them."
It makes sense that Ellis, a studio-arts major, would choose to synthesize her spiritual takeaways on canvas. In high school she joined the track team because her family always joked she did nothing but paint. After only a week of "dreadful running," she chose to just change into her track clothes, take role, and then escape to the art room to paint until practice was over. "I kept it quiet from my parents and brothers just to keep my pride," she admits.
She got into BYU early, applying during her junior year of high school back home in Heber City, Utah. Shortly after arriving at the Y, Ellis got the idea of creating art inspired by devotionals. It was August—her first month as a Cougar—and she was struggling to finish a painting of Christ.
"I'm ready to paint over it and start again," Ellis recalls. Fuming, she took a time-out and walked over to the devotional, where music professor Claudine Bigelow (MM '94, BM '91) was speaking. Fittingly, the topic was creativity.
Creativity, Bigelow emphasized, requires asking God for assistance. "That was for me!" Ellis remembers thinking. "I went back into the HFAC, looked at my painting again, and I was like, 'Alright, if Heavenly Father wants me to do this, then He's going to help me do this.'"
"That's when I realized that the devotionals are for us," Ellis says. "They are given for the students so that they can come closer to God."
Since then she has added to and developed her devotional pieces through her art courses and even submitted the series as part of her studio-arts portfolio. She has also scanned each artwork and printed postcards to be gifted to missionaries or friends.
"I have felt divinely inspired through my paintings," says Ellis, who likes to begin every painting with a heartfelt prayer. "It's built my relationship with Heavenly Father."
See the painting that started it all, as well as three other works Amber has worked on after devotionals, below.