A worldwide pandemic calls for creative solutions.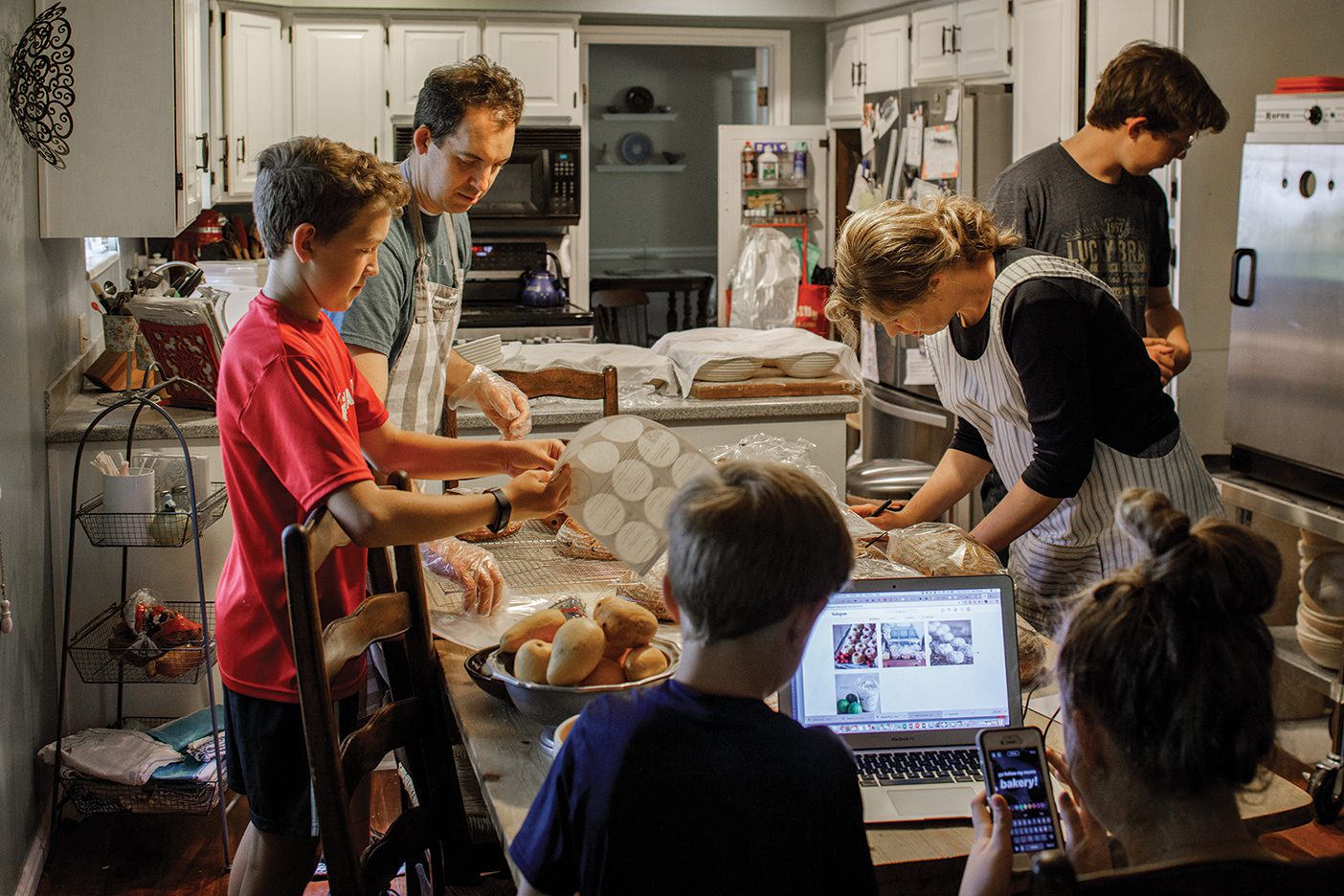 Flour in her hair, Natalie Thompson Nielson (BA '01, MA '04) casts a tired but contented look at her husband, Rex P. Nielson (BA '02, MA '04), while they package another dozen caramel pecan cinnamon rolls, the take-and-bake option. "We had to have something to do," she says. "We have five kids, spring in Provo was cold, I didn't want to watch TV, and we don't have many puzzles."
Thus began Ginger and Rye, a home industry at the intersection of Natalie's passion for baking and keeping the kids busy and focused in a trying time. Rex and Natalie—who both teach humanities at BYU—make, bake, package, and deliver everything from sourdough bread to key lime pudding several days a week. It's a huge job, but every kid helps: their 16-year-old son delivers; their 14-year-old daughter designed and maintains their website; and their 12-year-old son manages all the money. Their two youngest, at 10 and 6, make neighborhood deliveries, help measure ingredients, and shape cookies.
Like the Nielsons, most BYU alumni have had to innovate and adapt during the COVID-19 pandemic to manage kids being at home, online school, working remotely, and high stress levels. For some, the upheaval has required creativity. For others, it's necessitated careful organization. For all, there's been a good dose of patience and flexibility.
"This demands a galactic shift in effort and patience," says Jason Harris-Boundy (BS '90, MBA '93), a management lecturer at San Francisco State. The move to online classes gave him the flexibility to move out of state to be with 93- and 91-year-old parents still living independently despite serious health challenges. Helping manage food, doctor appointments, and virus safety has caused him to reflect. "None of us is independent," says Harris-Boundy. "We are all connected in a deep web of assisted living."
Katy Shill Bastow (BS '04) lives on a military base with her husband, Landon B. Bastow (BS '04), in Albuquerque, New Mexico. They've had to be organized because she's a law student and mother to three children ages 7, 11, and 14, the oldest of which has Down syndrome. "I've adapted by planning. That's what keeps me sane," she says. "There is enough time in the day if I prioritize." She says the emotional burden mothers carry as they care for themselves and their families is heavier in the thick of quarantine isolation. "Some days it's hard to do even the small things, but with a lot—and I mean a lot—of prayer and help from my family, things don't seem so bad at the end of the day."
For teachers, like Martha Haymond Döbler (BA '98) of Ontario, California, adapting to the pandemic means helping others adapt. Having a special-education resource class in a Title 1 school makes her a vital link to struggling kids and families. It has been challenging and rewarding, Döbler says. "I have a student with no internet, another who is babysitting siblings, and others with no support at all," she explains. "My students really couldn't forge through the work, but I've found real joy in finding ways to stay in touch, modify their work, and help them complete the assignments and be successful." On her birthday she invited her students to join her for a virtual party. She says, "It was the sweetest thing to provide a small refuge and invite them into my home and heart."
For the Nielsons, starting a new baking business (while also reroofing their house and replacing their AC) in the midst of a pandemic was nothing if not crazy. "Madness," says Natalie. "It's been utter madness—but oh-so-memorable and so much fun."