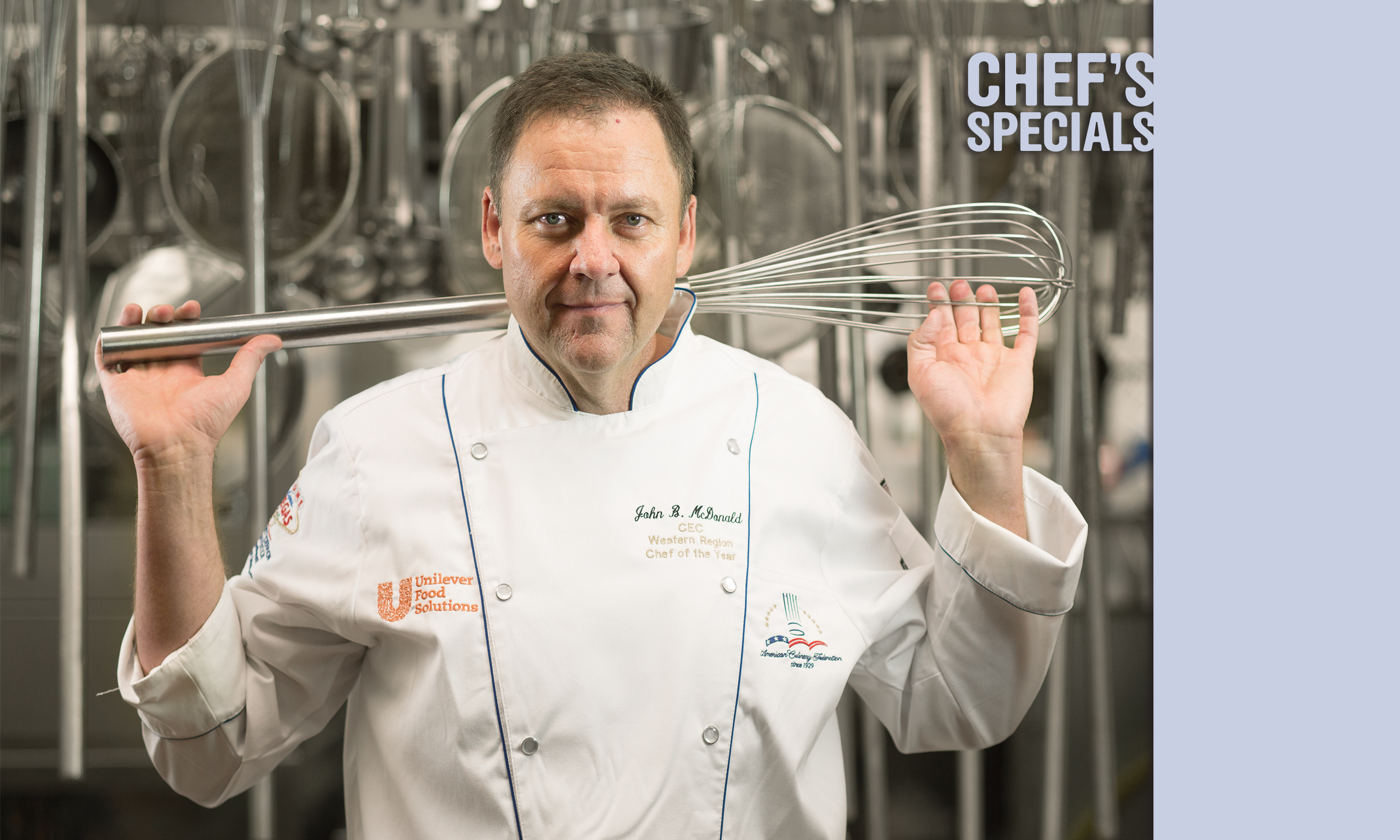 This summer he competed for National Chef of the Year. Now he's back in BYU's kitchens, and with fresh fall ingredients, he's whipped up four autumn recipes for you to try at home.
---
By Amanda K. Fronk (BA '10, MA '14) in the Fall 2013 Issue
Photography by Bradley H. Slade (BFA '94)
It's go time in the July showdown for National Chef of the Year, which means one hour, four dishes, and a whole lotta duck—2013's star ingredient. Time starts now. The four finalists—two of them members of the 2012 U.S. culinary Olympic team—immediately begin chopping, stewing, peeling, and roasting in their competition kitchens. Among them, dressed in his double-breasted white jacket, a chef from BYU shreds duck liver into a ­rillette, just one component of some 35 he must churn out. Every second counts.
BYU executive chef John ­McDonald feels a bit out of place. "I'm not a ­seasoned competition chef," he says. His unexpected journey to this Vegas ­convention hall began when he won Utah Chef of the Year back in October 2012 and later the Western Region Chef of the Year from the American Culinary Federation (ACF).
In a frenzy, McDonald grinds meat and spices for a duck sausage and vacuum-packs chopped duck confit. Duck bones simmer with an assortment of vegetables for a stock; duck skin ­provides crackling and rendered fat to fry up the sausage. "There wasn't one piece of the duck when I was done," he says. "The duck was gone."
Long before McDonald was braising duck leg in Vegas, he was learning the basics from Mom. "She cooked everything from scratch," he says. When Mom was at work, "my sister was supposed to be tending me," he jokes. That's when he'd experiment, whipping up his first meals. After attending the Western Culinary Institute in Portland, Ore., he worked at Utah State University before making his way to BYU in 2006.
As BYU's executive chef, McDonald oversees 24 campus dining locations and supervises the daily preparation of 31,000 meals. He helped create new eateries like the New York–style Blue Line Deli and the fully rebuilt ­Cannon Center, which features six stations ­serving up international dishes. "He really is the final signature on the food that we serve at BYU. "His palate is excellent," says Dean A. Wright (BS '74), director of Dining Services. "He's certainly not out for his own glory," Wright adds, ­nodding to McDonald's competition success. "Here's a guy that hasn't let it go to his head."
As the final minutes of the competition flick by, McDonald plates his four works of culinary duck art. The judges taste the dishes, but he must wait overnight for the results. "I start having the worst nightmares," says McDonald, replaying each step—and possible error—of his duck rumaki in his dreams. The next day, the win goes to one of the Olympians and his foie gras almond cake.
"To be identified as one of the four finalists to be the national chef of the year is a tremendous honor for [McDonald], BYU, and all of Utah," says Peter Sproul, ACF judge. "People don't realize the amount of work that it takes to make something look easy, and John did it. That's really the measure of a true professional."
Here at BYU, McDonald is back to work—home just in time to open a new kitchen at the Provo Missionary Training Center and kick off BYU's annual LaVell Edwards Stadium Farmers Market, where he demonstrates new culinary concoctions each week.
"John could open his own restaurant and have more recognition," says Wright. "We are so fortunate to have a person of this caliber at the university."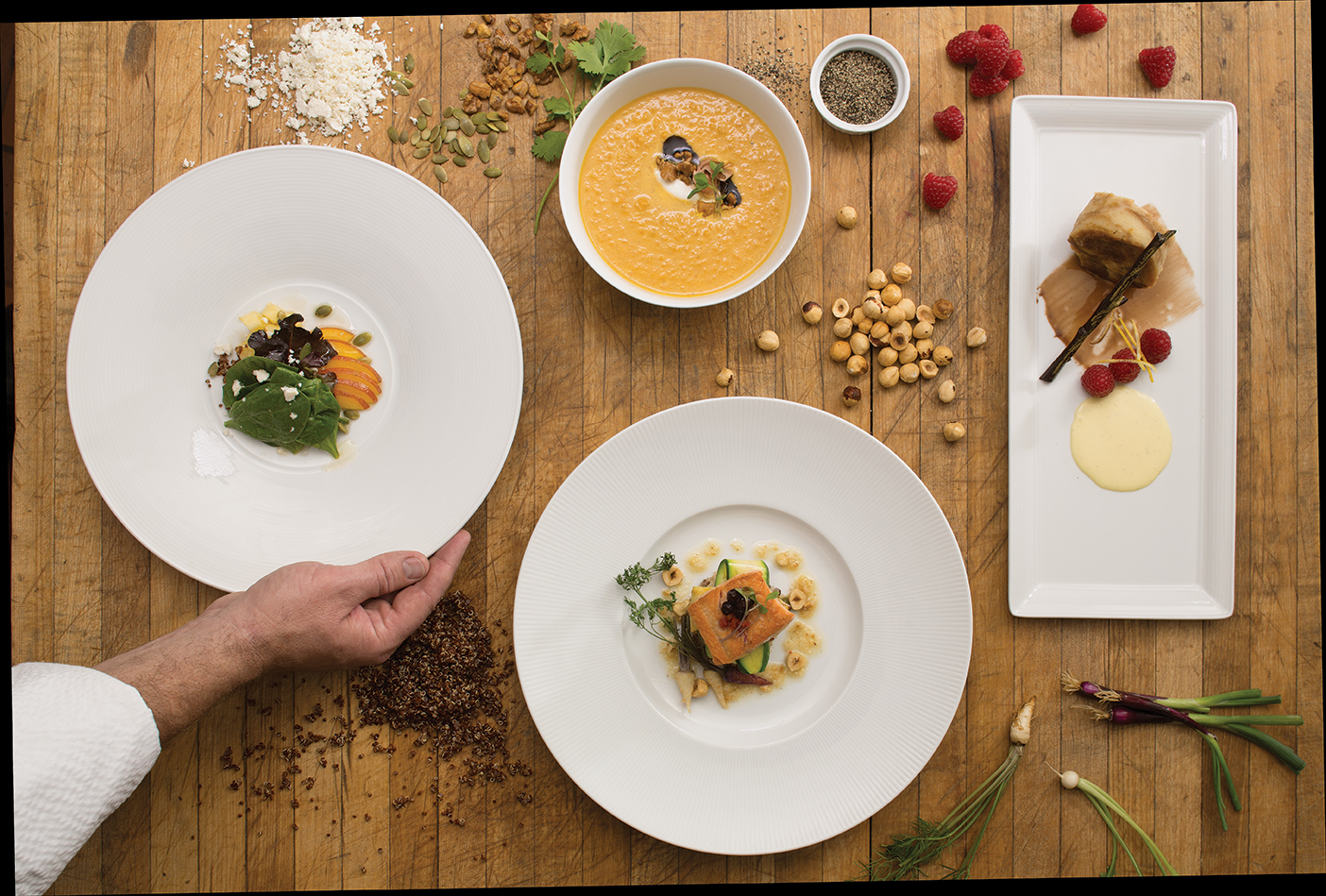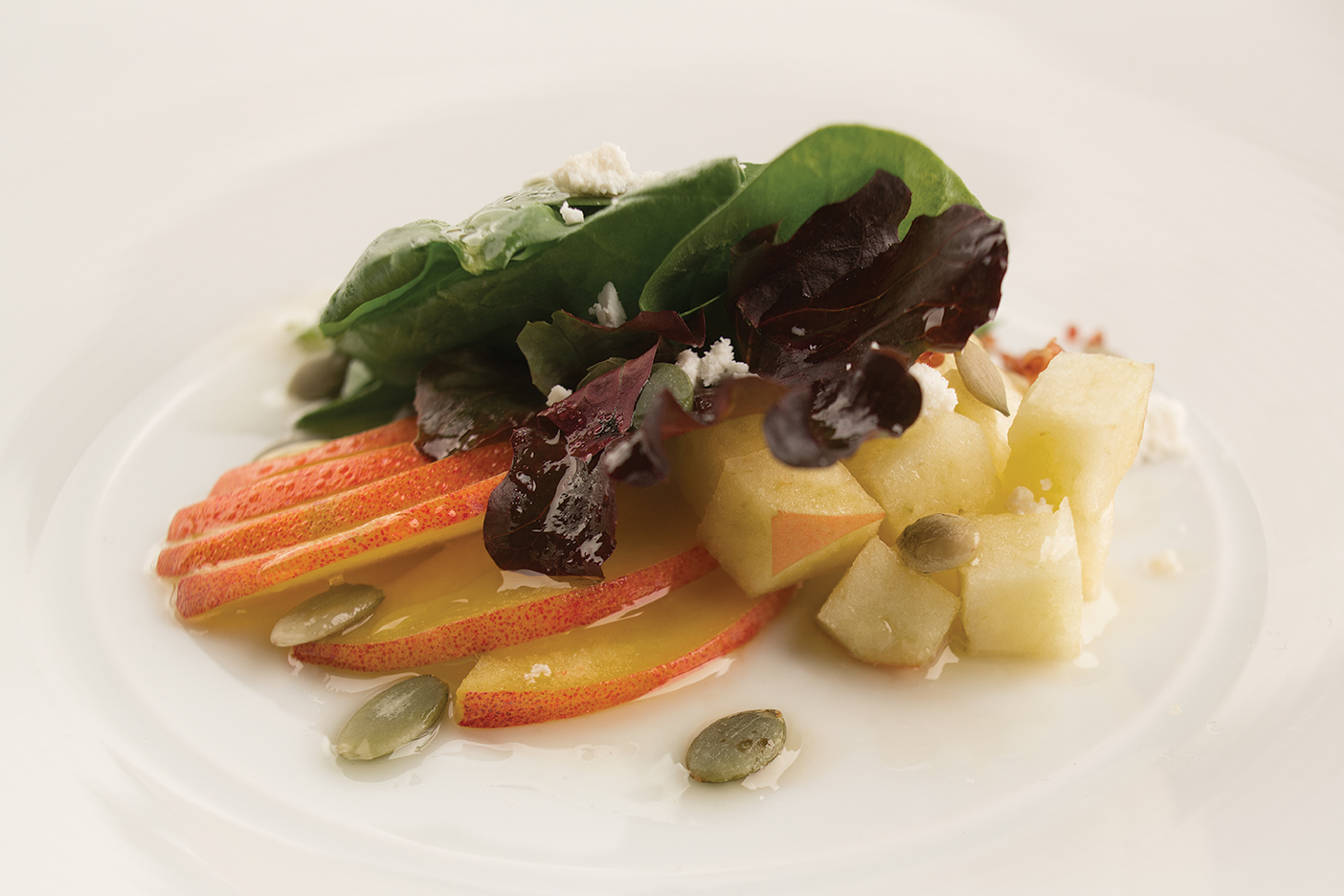 Peach and Apple Salad with Cinnamon Honey Vinaigrette
Serves 4
1/2 cup quinoa
2/3 cup water
1 tsp kosher salt or to taste
3 peaches, pitted and diced
2 apples, cored and diced
1/4 cup shredded sharp white cheddar cheese
1/4 cup pumpkin seeds, toasted
5 oz fresh spinach
Cinnamon Honey Vinaigrette
1/4 cup olive oil
1/4 cup white balsamic vinegar
5 Tbsp honey
2 Tbsp Dijon mustard
2 tsp ground cinnamon
1 tsp ground nutmeg
1/4 tsp ground clove
1/2 tsp salt
1/2 tsp ground pepper
1 tsp lemon zest
Soak quinoa for 5 minutes, then drain and rinse. In saucepan, combine quinoa with water and 1 teaspoon salt. Bring to a simmer. Cover and cook on low for 15 minutes. Remove from heat and let stand for 5 minutes. Fluff with a fork and chill.
For the vinaigrette, combine ingredients and blend with a hand blender until well mixed.
In a chilled bowl, combine peaches, apples, chilled quinoa, and cheese. Toss with the cinnamon honey vinaigrette. Mix with spinach and serve on a chilled bowl or plate and top with toasted pumpkin seeds.
---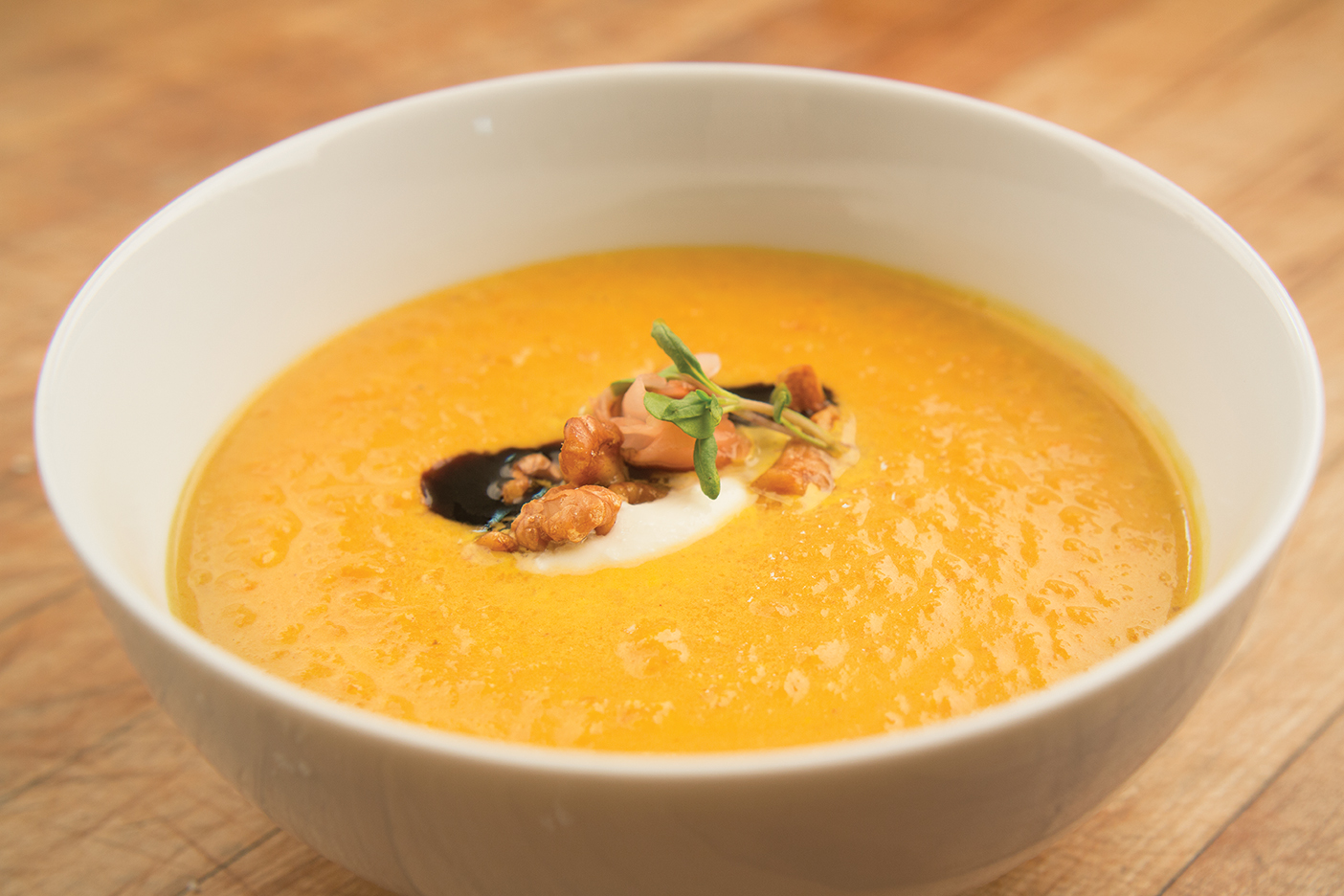 Autumn Spice Pumpkin Soup
Serves 10
5 lbs fresh sugar pumpkin meat or 1 29-oz can pumpkin
2 Tbsp olive oil
1 cup onion, diced
3 Tbsp minced fresh ginger
40 oz chicken broth
1/4 cup frozen apple juice concentrate
1 tart apple, diced
1/4 cup maple syrup
2 bay leaves
1 tsp ground thyme
1 Tbsp ground cinnamon
1/2 tsp black pepper
1 tsp pure vanilla
1/2 tsp ground clove
1/2 tsp ground nutmeg
1 cup cream
If using fresh pumpkin, preheat oven to 350 degrees. Cut pumpkin into wedges and remove seeds. Cover with foil and roast in oven about an hour or until tender and the pumpkin meat can be scooped away from the skin.
In a soup pot, add olive oil, onion, and ginger. Sauté until onions are translucent. Add remaining ingredients including pumpkin but excluding cream, and bring to a simmer. Cover and simmer the soup for approximately 1 hour. Remove bay leaves. Pour soup into a blender and puree with the cream.
---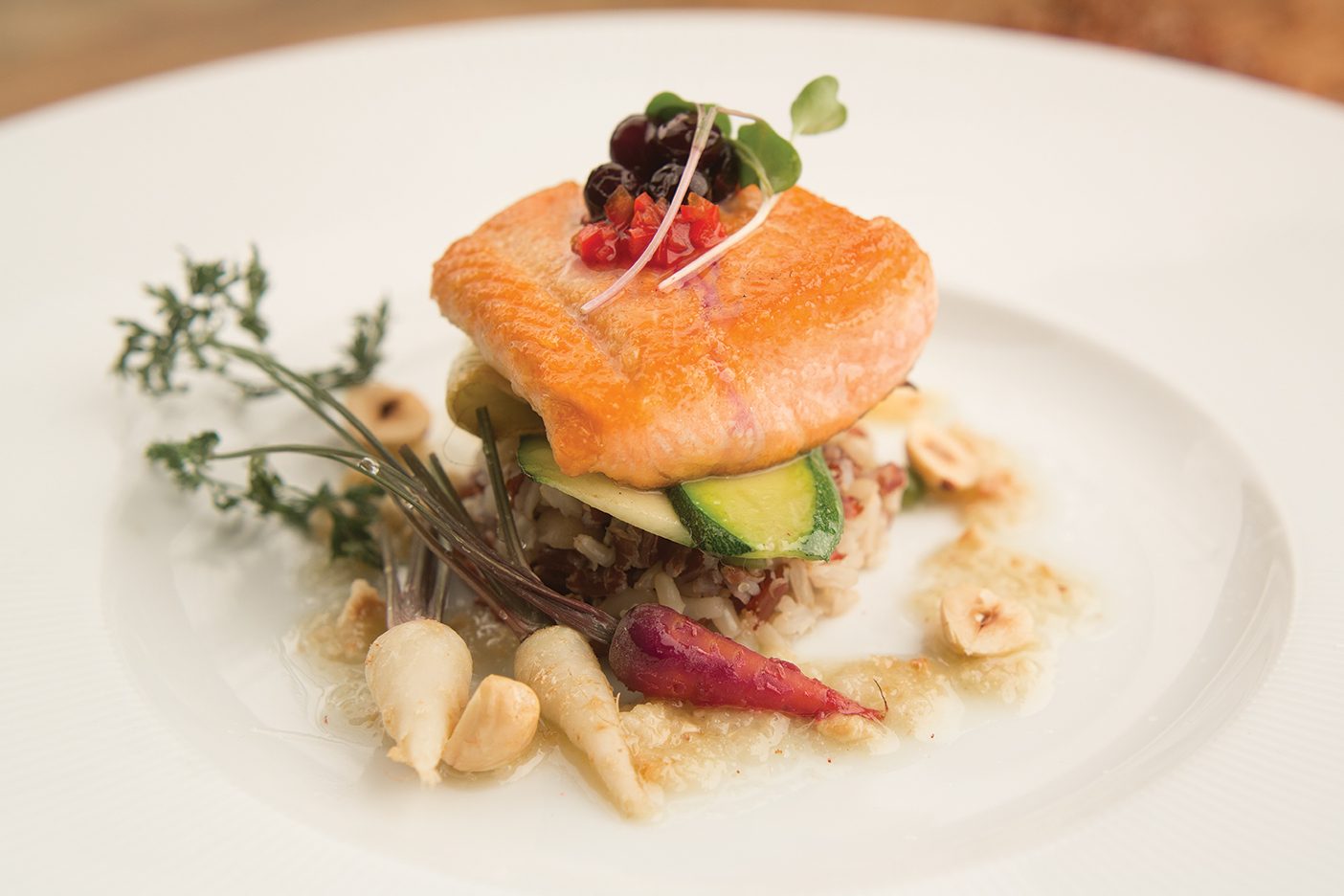 Smoked Salmon with Aztec Rice Pilaf
Serves 4
1 lb smoked or cooked salmon
2 fresh pears, peeled and thinly sliced
4 oz huckleberries or seasonal berries
1 oz chopped hazelnuts, roasted
Aztec Rice Pilaf
3 Tbsp olive oil
1/2 cup onion, diced
1 Tbsp minced garlic
1 cup Aztec or wild rice blend
2 cups chicken broth
1 Tbsp dried thyme
Hazelnut Balsamic Vinaigrette
6 Tbsp olive oil
3 Tbsp hazelnut (or other nut) oil
5 Tbsp balsamic vinegar
1 tsp orange zest
1 tsp lime juice
1 Tbsp honey
2 tsp Dijon mustard
For rice, sauté onions and garlic in olive oil over medium-high heat until translucent. Add rice and mix until coated with olive oil. Add chicken broth and thyme. Bring to a simmer. Cover and turn heat to low. Cook for about 30-45 minutes or until rice is tender.
For the vinaigrette, combine ingredients in a container and whisk.
Serve salmon over rice with pears, berries, hazelnuts, and vinaigrette.
---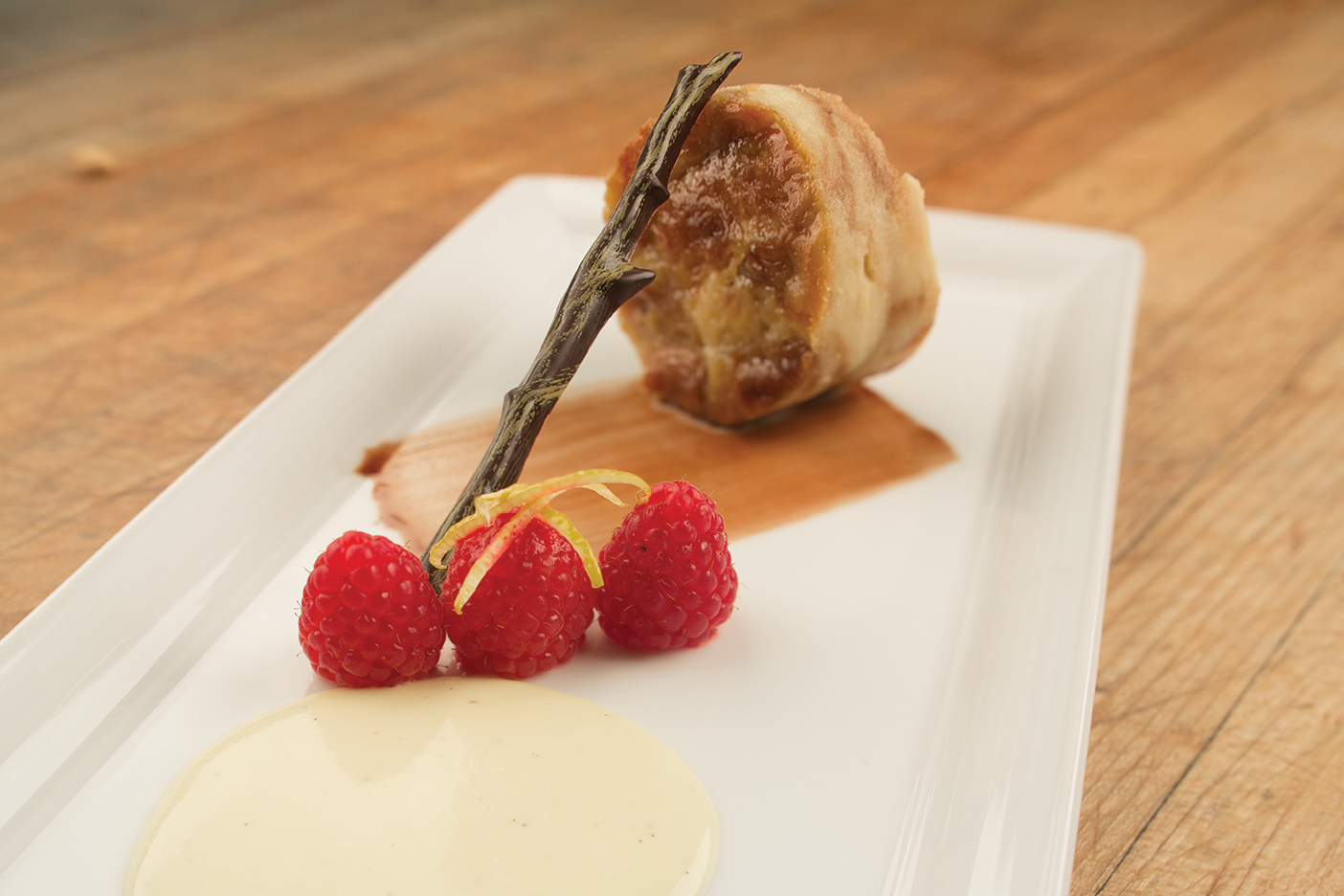 Bread Pudding with Apple Caramel Sauce
Serves 12
3 cups milk
3 cups cream
1 cup sugar
6 eggs
2 Tbsp pure vanilla
1 Tbsp cinnamon
12 croissants
Preheat oven to 350 degrees. Combine milk, cream, sugar, eggs, vanilla, and cinnamon; whisk together until well mixed and frothy.
Tear croissants into quarter-size pieces. Place croissant pieces loosely in a greased 9-by-13 pan. Pour cream-and-sugar custard mixture over croissant pieces and stir slightly to soak the croissant pieces completely.
Cover pan with plastic wrap and then aluminum foil. Bake for one hour. Check bread pudding by uncovering and then inserting a knife in the center, looking for liquid custard. Re-cover and check every 10 minutes until the center shows no liquid custard. Serve with apple caramel sauce and whipped cream.
Apple Caramel Sauce
1 cup sugar
1 Tbsp cold water
1 cup cream
10 tart apples, diced
Pour sugar into a thick-bottomed pan with high sides and cook until sugar melts. Continuously swirl pan so the sugar cooks evenly.
Once the sugar turns a deep amber color, take the pan off heat and add cold water. It will foam up. Stir until completely mixed into the sugar.
Pour in the cream. Again, it will foam up. Whisk until the sugar is dissolved and the sauce is mostly smooth. Add diced apples and return to low heat. Cook apples slowly in order to release moisture into the caramel sauce but not evaporate. Keep warm and serve over bread pudding.
---
---
Feedback: Send your comments on this article to magazine@byu.edu.