Arguably the coolest car on campus, Hawkes Poulter's tricked-out Acura RSX is a homage to all his childhood loves, from Pikachu to Gandalf.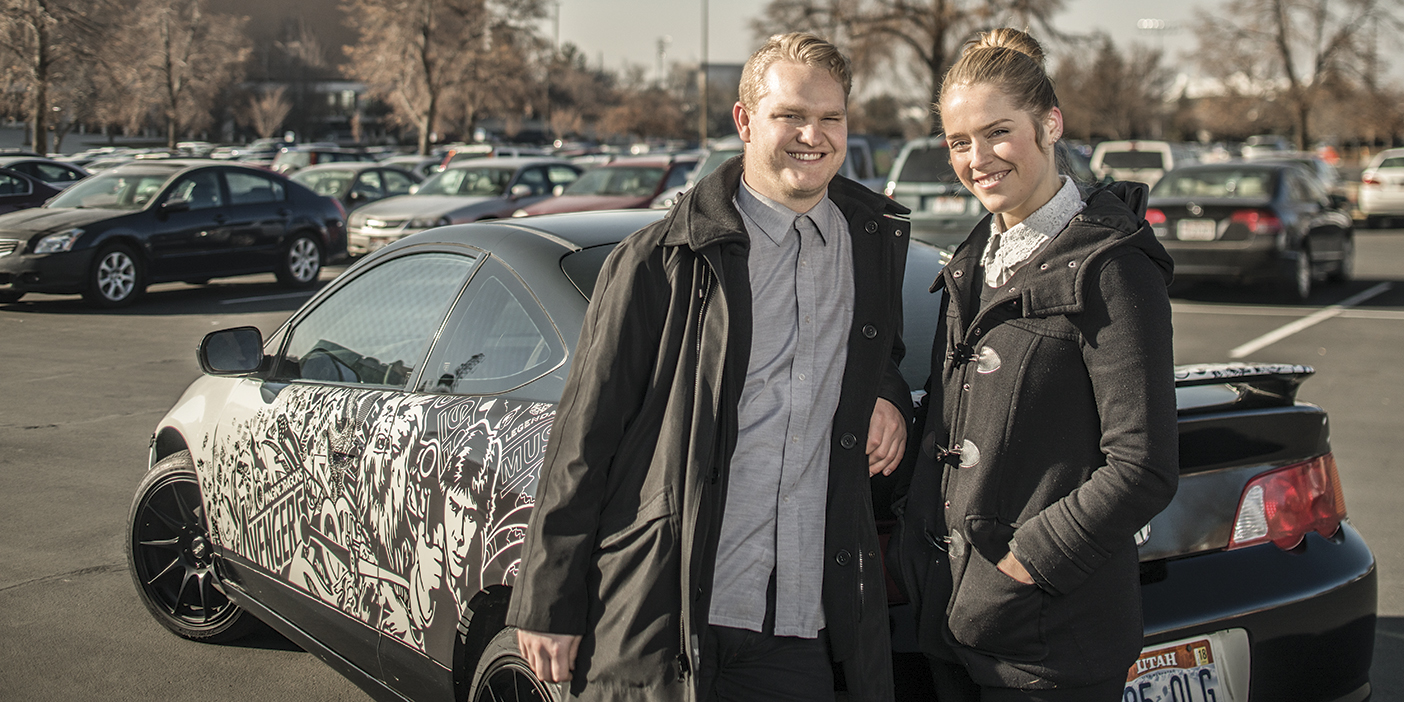 BYU freshman Hawkes T. Poulter ('22) has become accustomed to the roadside stares, the people taking pictures, the regular not-ticket notes left under the wiper. It's the sort of attention that comes with driving a Poulter vehicle—in this case, Hawkes's student ride, a thoroughly tattooed Acura RSX.
Family cars have always been canvases for the Poulters. There was the van sporting a dinosaur, the beater with giant Band-Aids covering the dings, and Grandpa's old truck with the crunched driver's door. Instead of replacing the door, they wrapped it with a vinyl image of Grandpa's legs and torso sitting inside a doorless vehicle. (When the Poulters' cousin inherited the car, you'd see the body of an old man and the head of a high schooler.)
A pre-animation student, Hawkes enlisted the help of his illustration-major sister, Normandy ('20), to trick out the RSX. She calls their creation "a visual conglomeration of our childhood nostalgias." They incorporated band logos and comic strips and a fellow of the ring and a Wookiee and Pikachu and everything in between. "We went all out—no geekiness left behind," she says.
They trace the inspiration and know-how back to their dad, Zachery B. Poulter (BFA '92), owner of a garage-based Woodland Hills, Utah, sign shop and a lively sense of humor. "He brought us in on his fun projects, and if we wanted to build anything of our own, he would take us into the garage and help us figure out how to do it," says Normandy. "You'd be amazed what you can do with vinyl and a little imagination."
After designing and printing their wrap, Hawkes, Normandy, and a friend wielded heat guns, X-Acto knives, and burnishers to affix the artwork—with only a little help from Dad on tough spots, like that tricky spoiler.
Hawkes's ride has been a hit on campus and around town. He and Normandy got a laugh when their sister received a text from a friend who had snapped a blurry pic of "the coolest car" on the road. "You would have loved it," she wrote. Sure enough, it was the Poulters' work of art.
Check out more photos of the car: