---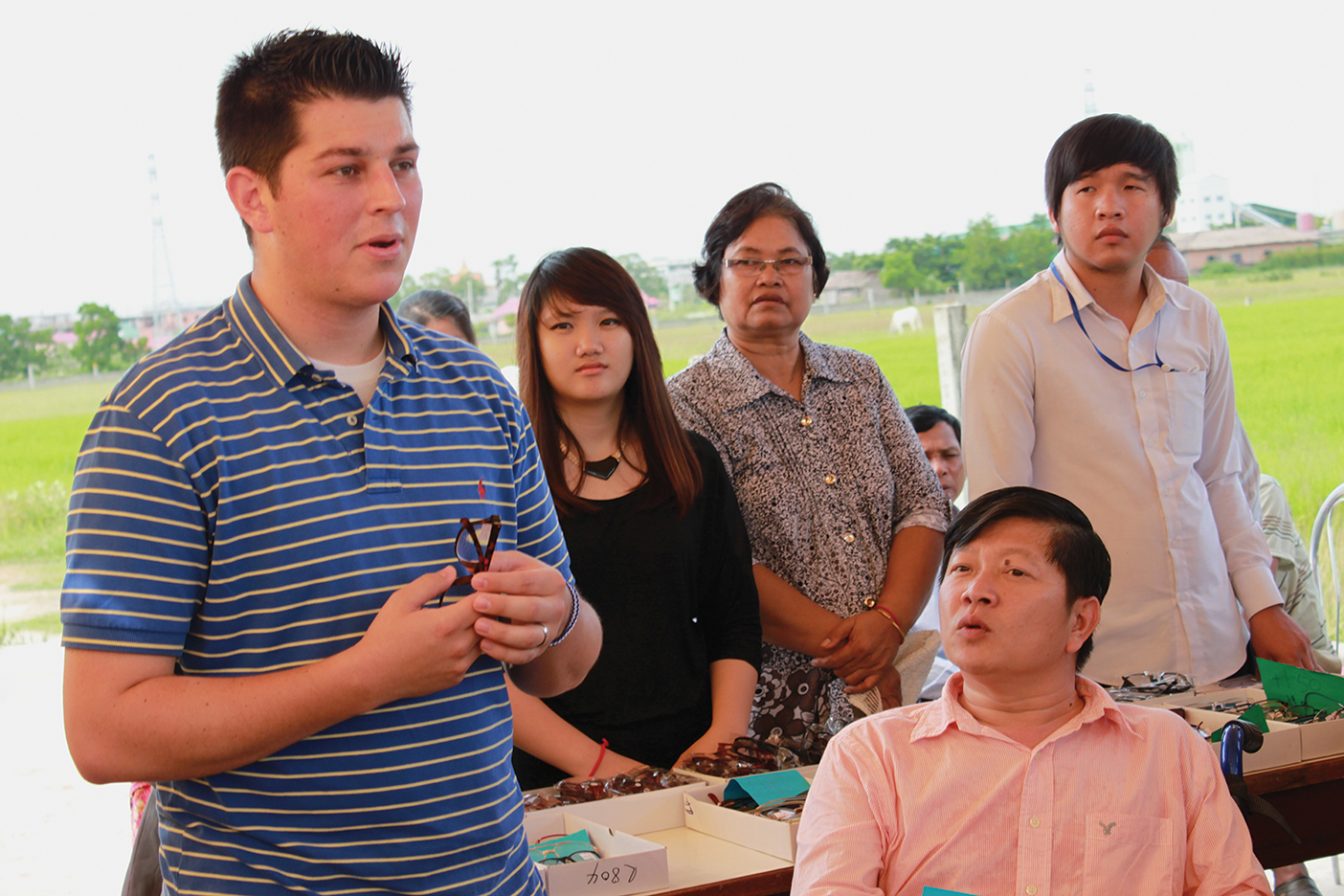 While serving an LDS mission to Cambodia in 2010, C. Trammell Cox (BS '13), came to the realization that when investigators told him they couldn't read the scriptures, often it was not because they couldn't read, but because they couldn't see the words. As Cox wrote home about these experiences, his younger brother, Parker ('17), felt inspired to do something about it. "He's always worn glasses," Trammell says, "so that kind of touched him."
The Cox family had plans to meet Trammell in Cambodia at the end of his mission, and Parker decided to raise money and collect glasses to distribute there as part of his Eagle Scout project. The family spent an entire day distributing glasses at an orphanage run by a Church member in the area. "That's when we first saw how a little bit of work can provide such a tremendous blessing to someone else," Trammell says. Many children around the world don't have access to good eye care, he explains. As a result, they may struggle to get an education, find a job, drive, or engage in other basic activities.
The experience inspired him, upon returning home, to continue providing glasses to children in need. As he resumed his studies at BYU, Trammell planned to distribute more glasses in Cambodia every few years. But he soon realized that a more consistent, ongoing effort was required to make a real impact. And so in 2012 Parker, Trammell, and his wife, Jen Kerr Cox (BA '11), started an official nonprofit organization, Seeing Is Believing. "It was . . . [Trammell's] passion for it and some of my plain, old-fashioned organization that got us to that point where we could make it a success," says Jen.
Seeing Is Believing teams up with local optometrists to provide vision screenings in schools and orphanages in poor areas of Cambodia. The organization then provides the funds to make a pair of glasses, usually costing about $5, for each child who needs them. It also collects and distributes used glasses. Local groups determine the prescription of each pair of donated glasses and then match them with a child who fits that prescription.
Early on, nearly everyone involved was a BYU student, from the board of directors to the volunteers. "It really wouldn't have gotten anywhere without the help of some of the BYU students who were so willing to volunteer their time," Trammell says.
Though busy in his third year of medical school, Trammell expanded the project to Laos in August 2016 and plans to reach another five or six countries by 2020. To date, Seeing Is Believing has provided 20,000 pairs of glasses to both children and adults in Cambodia and Laos.
Trammell, members of his family, and other volunteers continue to distribute glasses to orphanages every year, and the effort can be both difficult and rewarding. "Just last year, we were particularly exhausted with the preparations," Trammell says. "We got to the first place, and my wife just looked at me as we got out of the car. Everyone was shouting hello in English and waving, and she just said, 'With everything that's going on, I forgot how much I love this.' . . . It just reminds you how important vision is and how grateful people are to have that back."