With countless SWELL classes to choose from, BYU students are free to find their fitness element.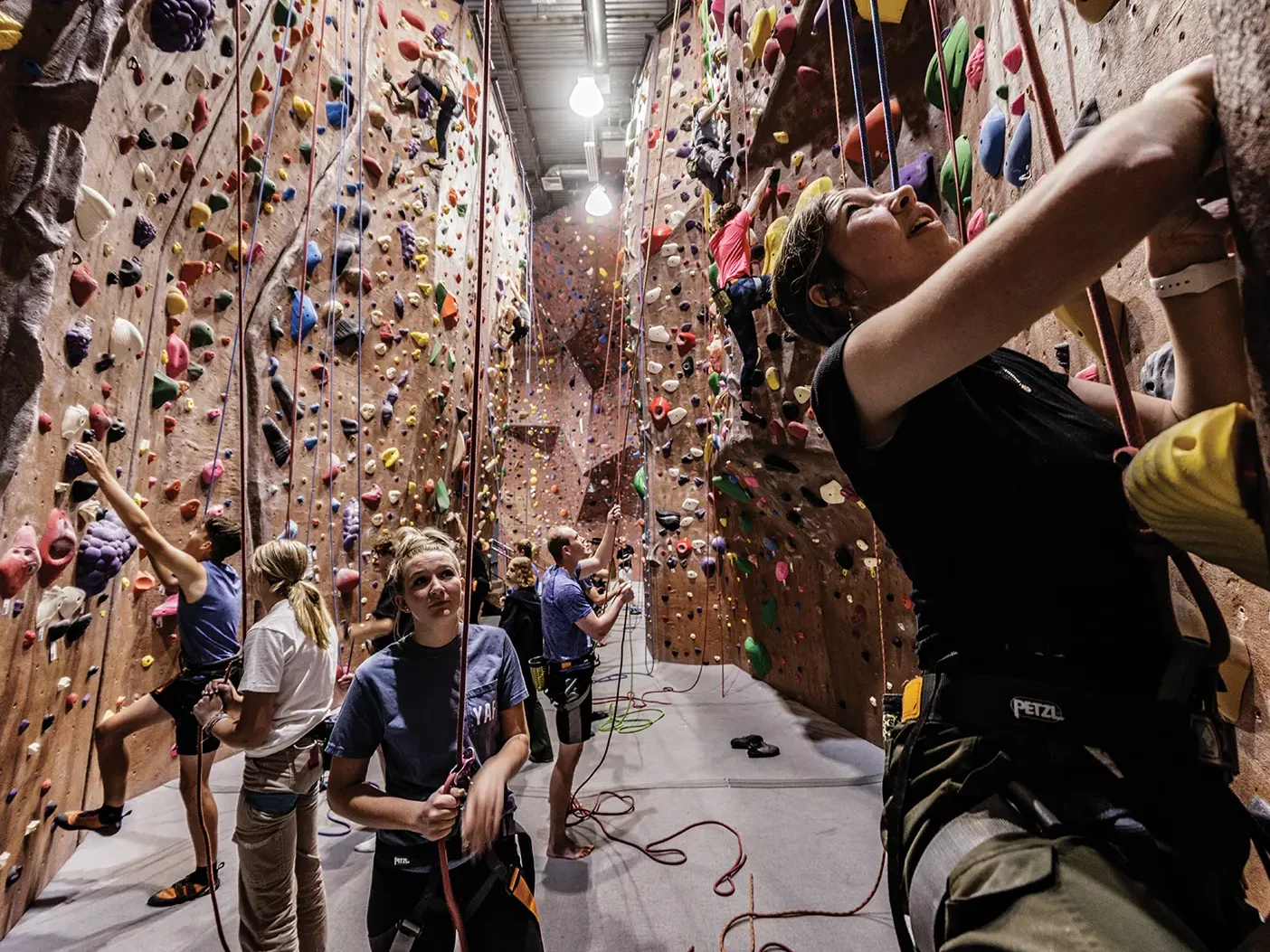 Outside of packed lecture halls and bustling science labs, you can also find BYU students earning credit as they splash through swimming pools, cycle in indoor studios, and race across racquetball courts.
"Wellness is the active pursuit of your best self," says student wellness (SWELL) coordinator Emily Andrews (BS '00, MPA '11). And for her team that means mind, body, and spirit.
To fit student interests, SWELL staff are always exploring new class ideas—like a bicycling-basics course taught last winter or a lawn-games class planned for next spring. "We don't want to feel like we're getting stagnant," says Jamal Willis (BS '99), student wellness assistant director. "I'm always thinking of that one student that none of this is working for." Then Willis asks how they can reach such students.
With fresh offerings like online meditation and running; trendy picks like ultimate frisbee and rock climbing; and classics like volleyball, basketball, and tennis, there's a SWELL class for everyone. Here are just a few:
Breathe In, Breathe Out . . .
Seated comfortably on a dance-studio floor with the lights dimmed, students in SWELL 102: Meditation learn to calm their minds and bodies through breathing. "The nerve that controls the breath [also] controls the heart and the gut," teaches instructor Maria Luz Jenson (BS '02, MPA '06), who focuses on movement, mantra, and mindfulness. "Which means if you can control the breath, you can begin to [slow down] the stress response within your body."
Focused on Strength
Students begins with the fundamentals—from breathing and bracing to barbell squats—in weightlifting, one of BYU's most popular SWELL courses. With the guidance of instructors like Kimberly Jaye Lindstrom (MS '21), they then build on that foundation. It's "really satisfying," says Lindstrom, "when students come up to me and say, 'I was terrified of the gym, but I now feel comfortable and confident.'"
On the Court
Pickleball is trending up in popularity—and is a hot new wellness-course pick. Players at all levels "can play together and have fun" in the class, says instructor Carmelle Smedley Kelemen (BS '88). And since the nature of the game is inclusive, "people are really good about inviting you in and rotating." For Kelemen this is one of the best things about the sport—seeing the students work together to support and encourage one another.