---
When linguistic anthropologist Becky L. Schulthies (BA '96, MA '00) traveled to Morocco for a field assignment, she was hooked on the North African country, excited about the possibilities for ethnographic research. One thing that struck Schulthies, now a Rutgers professor, was the food. "I lived with families most of the time that I was doing field work," says Schulthies, who later married a Moroccan. "I watched them in the kitchen and learned from them." A lot of her recipes come from her mother-in-law, and Schulthies enjoys sharing the traditional food with her family. Here Schulthies shares a taste of Morocco through two flavorful favorite recipes. 
Harira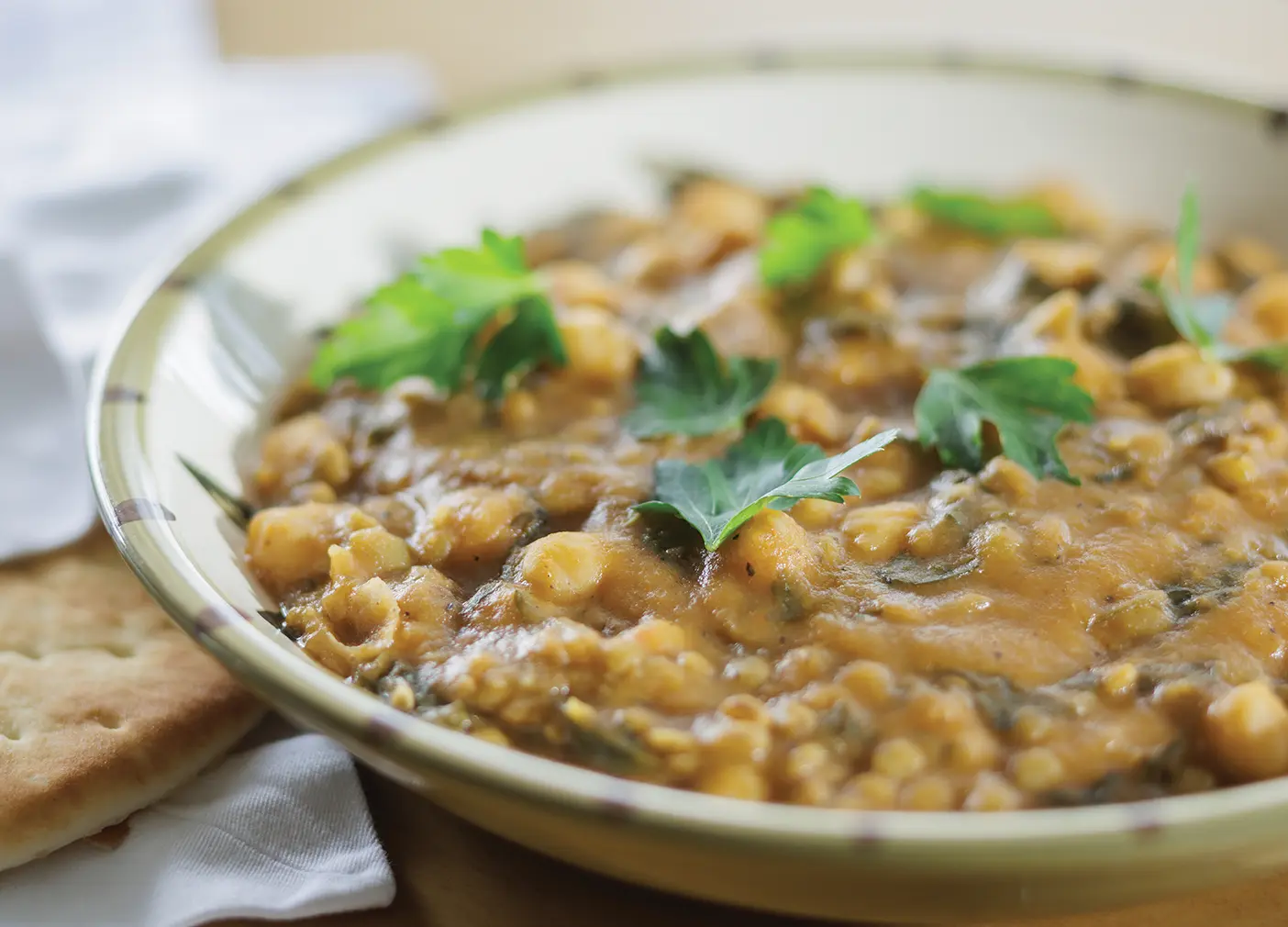 This delicious Moroccan soup is often used to break the fast during Ramadan. It can be stored in the fridge for two to three days or frozen and thawed for eating later.
2 c. chickpeas, soaked the night before in water
2 beef bones or 1/4 lb. small beef chunks
1 small onion
1 c. chopped Chinese celery or regular celery
4 large tomatoes, peeled and seeds removed
1 1/2 Tbsp. ground ginger
I Tbsp. pepper
2 Tbsp. salt
4 c. water
1 large carrot, peeled
2 medium potatoes, peeled
1 tsp. lemon juice
1 Tbsp. flour
1 c. brown lentils
1 bunch flat-leaf parsley, chopped
1 bunch cilantro, chopped
1 Tbsp. tomato paste
Puree onion, celery, and tomatoes. Pour into large pressure cooker with chickpeas, beef bones/chunks, ginger, salt, and pepper. Add 4 c. water. Close pressure cooker and cook on medium-low heat for 1 hour. Release the pressure.
In a separate pot, boil carrot and potatoes in water with 1 tsp. salt and 1 tsp. lemon juice until tender. Drain and then puree mixture with flour.
Soak 1 c. of brown lentils in boiling hot water for 30 minutes. Rinse, then add to pressure cooker. Add parsley and cilantro. Cook uncovered for 15–20 minutes until lentils are soft. Add pureed vegetables and tomato paste. Cook for another 5 minutes, stirring constantly.
Serve warm with bread.
---
Vegetable Tagine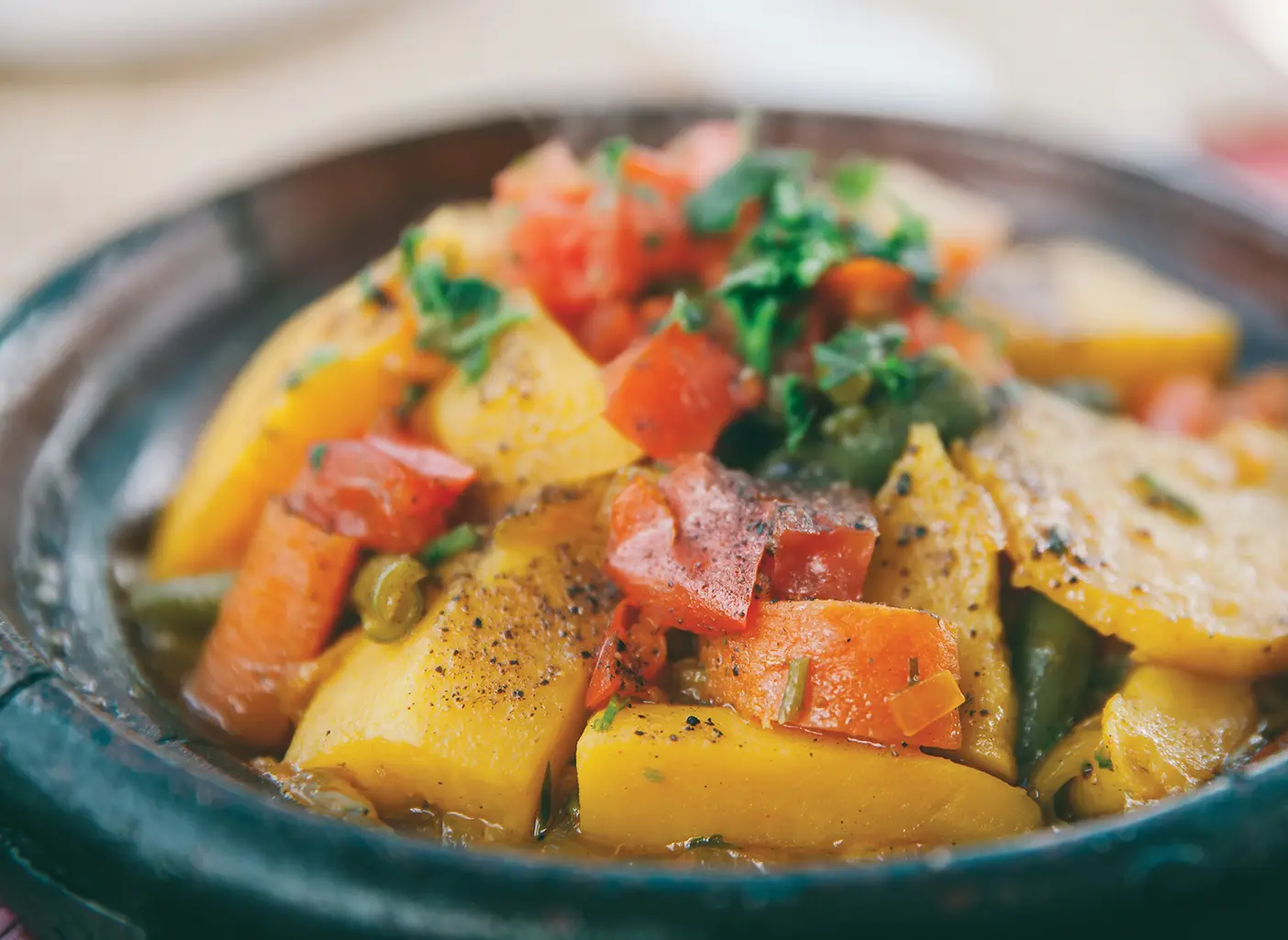 This savory dish is best made in a clay tagine pot, but it can also be made in a stainless-steel skillet with a lid. Moroccans eat tagines with bread as the utensil (and to soak up the spice/onion mix at the bottom), but a fork can also be used.
1 large onion, skinned and cut into quarter-inch rounds
1 red bell pepper, sliced into quarter-inch rounds
1 tomato, peeled and sliced into quarter-inch rounds
2 large potatoes, peeled and sliced lengthwise into four quarters
2 large carrots, peeled and cut lengthwise in half
1 small zucchini, quartered lengthwise
1 small hot pepper (optional)
1 bay leaf
1 tsp. lemon juice, half a sliced lemon, or half a pickled lemon
1/2 tsp. salt, divided
1/4 tsp. pepper
1/8 c. finely chopped flat-leaf parsley
1 tsp. ground ginger
1/4 tsp. paprika
1/4–1/3 c. water
Green or red olives (optional)
Drizzle 2 tsp. olive oil in the bottom of a clay tagine pot or stainless-steel skillet. Lay down onion rounds first, then layer bell peppers and tomato rounds on top. Layer potatoes in a radial/conical shape, inserting carrots and zucchini between them. Add hot pepper (if using) and bay leaf on the sides. If using fresh lemon slices, place on top of the vegetables. Sprinkle with 1/4 tsp. salt.
In a small bowl, mix the rest of spices, including remaining 1/4 tsp. salt, together with the remaining olive oil, parsley, and lemon juice (if using). Spoon spice/oil mix over the vegetables. Pour water into the outside edge of the tagine/skillet until you can see water peeking up through the vegetables.
Cover and cook on low heat for 35 minutes. Add water as needed. If using pickled lemon and olives, add once you turn off the heat. Let cool for 15 minutes.