In a humble BYU classroom, one of fantasy fiction's most prodigious writers mentors generations of professional authors.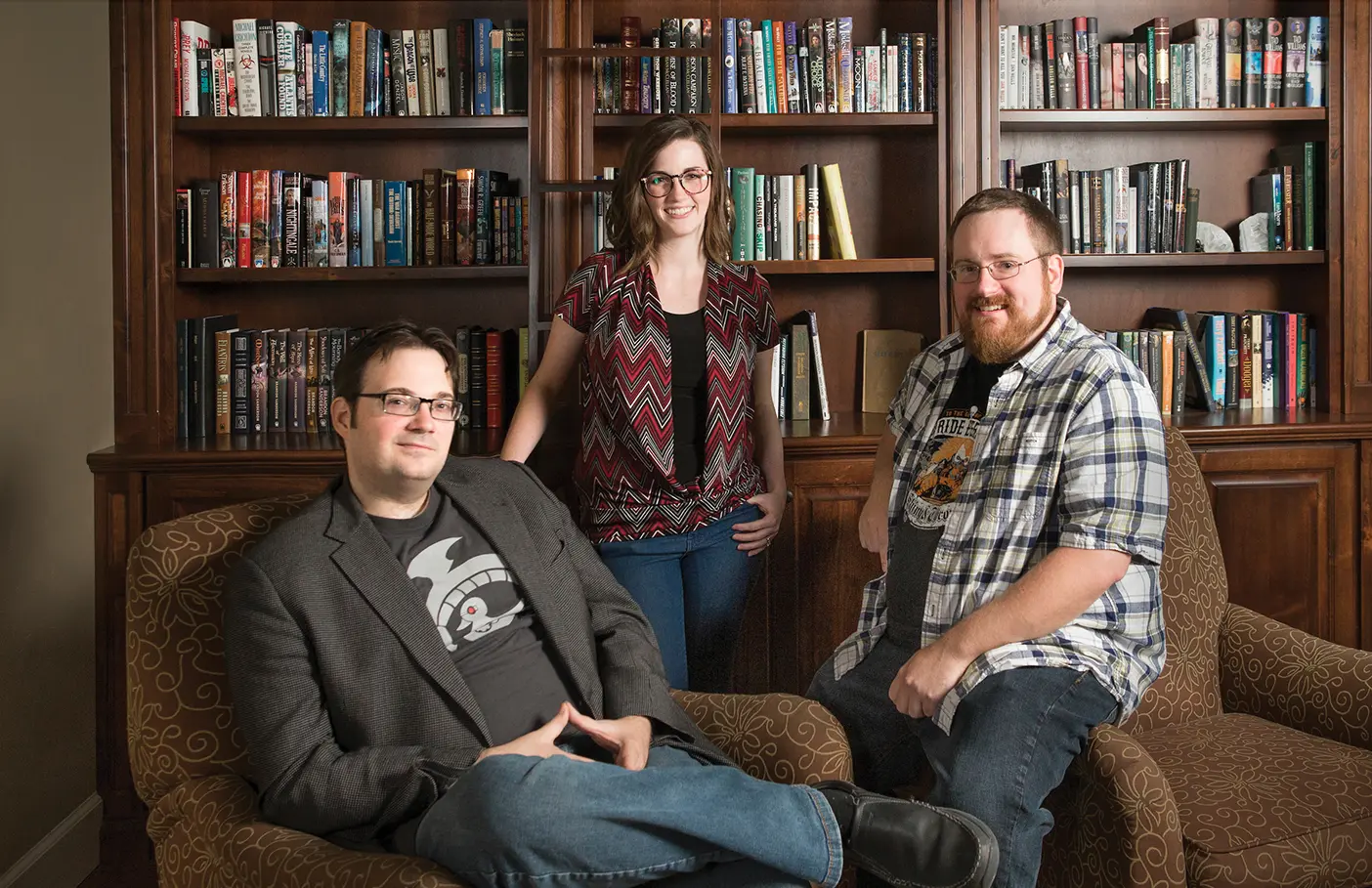 Most nights, lecture hall 1170 in the Talmage Building sits dark and unused. But around 5 p.m. on winter-semester Thursday evenings, students begin streaming in. Soon, finding an open chair means navigating a maze of backpacks and bodies.
By 5:30 the hall takes on a festive atmosphere. Some chat loudly while others type feverishly on laptops. A group of five or six students sits on the wide carpeted stage playing card games.
The boisterous crowd quiets as a tall man in a brown sports coat, jeans, a graphic tee, and glasses takes the stage. After a gulp of water, Brandon W. Sanderson (BA '00, MA '05) spreads his arms: "Welcome to class!"
The assembled students cheer.
It's not the response an adjunct professor typically receives at the start of a night-class lecture, but this isn't your typical class. And Sanderson isn't your typical lecturer.
Since publishing his first novel, Elantris, in 2005, Sanderson has soared to fantasy-writer fame. To date he's published 61 novels and works of short fiction, many of them bestsellers. His work has been translated into 35 languages, and he's sold millions of books worldwide. Only a year ago Sanderson launched the most successful Kickstarter fundraising campaign in history, promising four extra "secret novels" published and distributed by Dragonsteel, his own company. At its close the campaign had earned $41.7 million. He's also a leading voice in the industry, standing up to publishing heavyweights Amazon and Audible and advocating for authors' rights. 
Yet, despite success and a whirlwind schedule, Sanderson still teaches English 318R: Writing Science Fiction and Fantasy at BYU.
After all, Sanderson credits his own authorial beginnings to the class, which he attended in 2000, when inveterate writer John David Wolverton ('87) helmed the course. Over his career Wolverton also mentored the likes of Stephenie Morgan Meyer (BA '97), Brandon L. Mull (BA '00), and Jessica Day George (BA '99). 
"When I heard that there was an actual professional writer teaching a class, I was really excited," Sanderson recounts in an opening lecture recorded in 2020 (he offers all his lectures for free on YouTube). "The idea of being able to go and listen to a pro in the field was really interesting to me. I didn't know the half of it. That class was the single-most valuable class I took my entire career at BYU." 
In 2004 Sanderson returned to the classroom—this time as the professor, replacing Wolverton after he retired. "As a younger writer," Sanderson writes in his blog, "I made good use of creative writing education. . . . [I hope that] I can help other new writers the same way I was helped." 
Since beginning to teach the class, he's helped his own share of talented students find their professional footing as writers. Charlie N. Holmberg (BA '10), author of the Paper Magician series and other romance and fantasy novels, says she benefited from Sanderson's focus on her genre. "In his class [he says]: 'Let's talk about magic systems. Let's talk about world-building.'"
Holmberg also appreciated Sanderson's industry expertise. Much of his class focuses on what Holmberg calls the "nitty-gritty": how to get an agent, negotiate deals with publishers, and navigate the economics of traditional and indie publishing.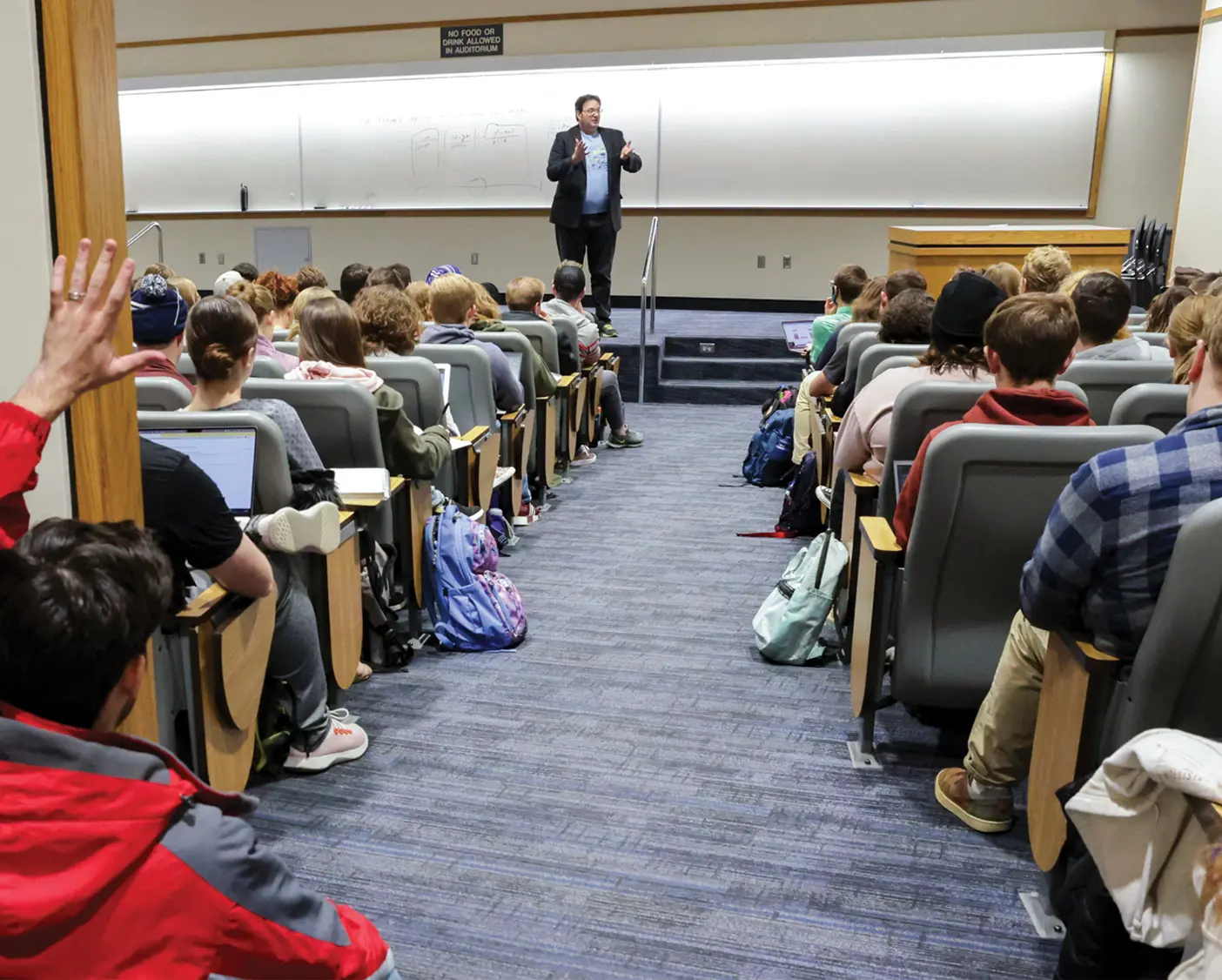 Stephen B. Tuttle, an associate professor of creative writing at BYU, says the approach strengthens the department.
"What Brandon's doing is a different kind of focus. A lot of us work on foundational principles for how to write creatively, while Brandon's working on an end product," Tuttle says.
Having a front-row seat to a working professional also left an impression on Brian McClellan (BA '09), a high-fantasy author who, like Sanderson, embraces expansive worlds and door-stopping word counts. "It was really cool to have him share what he was learning in real time," says McClellan.
Fantasy author Caitlin A. Sangster (BA '10) had already landed a book deal when she signed up for Sanderson's class, but she found community in her classmates. "He structures [writing groups] in a very specific way" that favors direct participation and feedback from all the workshop members rather than merely input from himself, "and that changed how I approached critiques and how I approached working with other writers."
Today the workshop section of the class admits only a few carefully chosen applicants. Aspiring writer Kira Christensen ('23) was struck by Sanderson's interactions with students.
"He has a very collaborative approach," Christensen says. "He treats everybody like an equal. And that helped me understand that we're all still part of the same cohort and we're all still working on things."
While Sanderson doesn't plan on retiring any time soon—he's only about a third of the way through architecting his MCU-esque "Cosmere" universe—his legacy as a teacher is, in many ways, already cemented. McClellan, Sangster, Holmberg, and others have the class to thank for expanding their view of writing professionally. Many of them have become teachers in their own right: attending conference panels, offering online courses, and launching podcasts that shed light on the writing life. 
After Sanderson finishes his lecture, he steps down from the stage and a line forms of students toting books, T-shirts, and other signable paraphernalia. He stops, pulls out a fountain pen, and signs offered items with a practiced flourish. While he signs, he visits with his students—laughing, asking questions, giving answers. The hall doesn't empty out for a long time.