---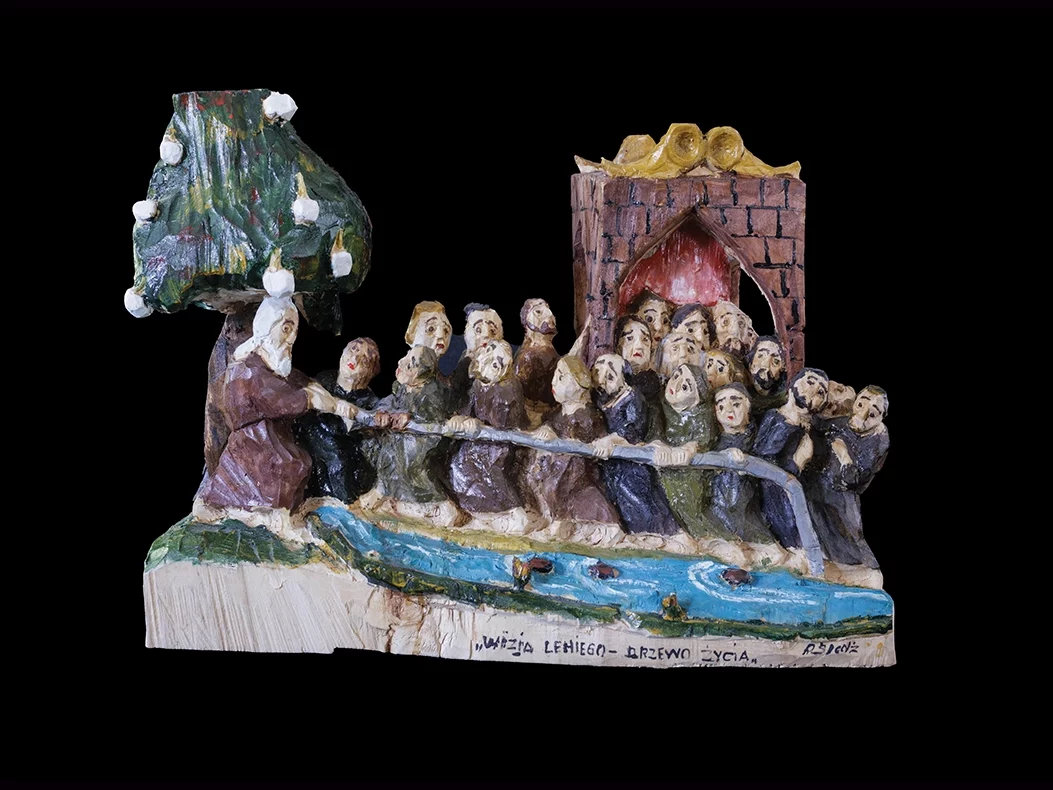 What happens when you give a Catholic woodcarver the Book of Mormon? You get art that depicts familiar scenes in surprising new ways, as in Roman Śledź's devotional carvings.
Śledź, an internationally renowned Polish folk artist, received a copy of the Book of Mormon in the early 1990s from Walter L. Whipple (BA '68, MM '69, MA '96), then serving as the first mission president in Poland. Whipple, later a BYU professor of Polish, fell in love with Polish art while serving and began purchasing carvings, hundreds of which now decorate every spare surface of his home. Among these are biblical sculptures he commissioned from Śledź.
Though he remained a devout Catholic, Śledź was moved by many of the stories he read in the Book of Mormon. He offered to carve additional scenes for Whipple, including Lehi's vision of the destruction of Jerusalem, Christ's ministry to the Nephite children, and the brother of Jared's encounter with the Lord.
Decades later Candace E. Brown (BA '23), an art-history major and BYU Museum of Art intern, was charged with interviewing Whipple and writing display labels for pieces he had loaned to the museum. She visited his home and loved the sculptures on display.
"They needed to be seen," says Brown. So for her senior capstone project and honors thesis, she curated a Harold B. Lee Library exhibit of Śledź's Book of Mormon sculptures from Whipple's collection.
Art-history professor and project coadvisor Elliott D. Wise (BA '07, MA '09) says it was moving to see Śledź's willingness to "treat another religion's text as sacred" and "read it devotionally." He hopes the pieces will open up the way Latter-day Saints see familiar stories and revitalize faith.