---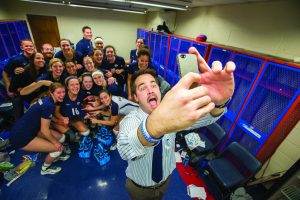 After a powerhouse run through the NCAA Tourney, BYU women's volleyball got a shot at a national title. The Cougars gave Penn State "a good fight," says coach Shawn L. Olmstead (BA '05), but lost in three sets to the defending champs.
With the battle cry "Why Not Us?", these Cougars made both national and school history by being, respectively, the first unseeded team ever to break through to the quarterfinals and the first to advance beyond the Final Four to compete in a championship match. The team's previous best finish was a quarterfinal appearance in 1993.
"I'm just happy to have been able to be along for the ride with these kids, especially the seniors," says Olmstead, who was named National Coach of the Year. "All the credit goes to them and my assistant coaches for getting us here. We've had a great run this year."
Three Cougars were named 2014 AVCA All-Americans: Jennifer D. Hamson (BS '14), first team; Alexa L. Gray ('16), second team; and Amy N. Boswell ('16), honorable mention. Boswell's 3.92 GPA in nursing also earned her recognition from the NCAA.
It was a season filled with arm-tingling digs, precision sets, powerful swings, and—heads and shoulders above the rest—kill-stopping blocks. BYU led the nation in blocking, with an average of 3.85 blocks per set, and featured the best two blockers in the nation, sophomores J. Whitney Young (1.89) and Boswell (1.68).
With a 16-2 West Coast Conference record, the women's team finished in first place. While the Cougars had no regular-season wins against ranked teams, they compensated quickly by notching four during the tournament—against no. 11 Arizona, no. 6 Florida State, no. 14 Nebraska, and no. 2 Texas.
In the post-season pressure, this Cinderella team appeared unfazed. Olmstead, says, "A lot of people have asked me, 'How are your kids?' They just look like it's no big deal." Olmstead says he helped keep his team loose by growing an admittedly "horrendous" but lucky mustache—aka OTS (Olmstead's Tournament 'Stache)—taking post-game selfies with the team in the background, and playing games with them. "I'll be quirky," says Olmstead. "I'll grow a stupid mustache. I'm not going to change the clothes I wear, and I didn't."
In the end, having won—and lost—championships as a player, Olmstead offers some perspective: "These kids didn't fail. They didn't lose. They competed and they're going to grow from this experience, and they're going to be better because of it."