---
By Jamie Montague Callister, '03
All is not fair in love and war.
Landon R. Jones, '04, received word on January 21 that his National Guard unit was being deployed in six days. He had proposed three weeks earlier to Amanda L. Williford, '02, and they planned to marry after his final exams in April.
The news of his activation put a rush on their plans—they were sealed four days later.
A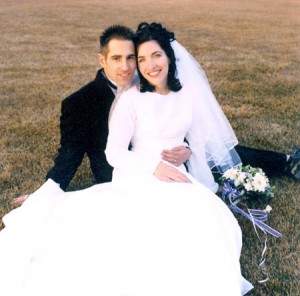 manda had originally wanted to wait to marry until Landon returned a year later. But when he knelt down to propose a second time, she said yes (again). The couple had 48 hours to plan the most important day of their lives.
Amanda's sister bought the bridal bouquet at BYU's Campus Craft and Floral on the morning of the wedding. Landon rented his tuxedo about an hour before the couple was sealed in the Mount Timpanogos Utah Temple.
After a very brief honeymoon, Landon left on January 27 for Fort Carson, Colo., where he prepared for his assignment to Kuwait. His military occupational specialty in the National Guard was French translation, but Landon was retrained to write reports on prisoner-of-war interrogations.
Although she hadn't previously been interested in foreign politics, Amanda pays attention now. "Sacrificing something so incredibly close for freedom makes it so much more meaningful," she says.
Amanda is currently living with her family in Yuba City, Calif. and plans to begin her health nurse practitioner degree in the fall. Until Landon returns from active duty, she and her husband just take life one day at a time.
"I daily ask for God to help it not be a burden," she says, "and it hasn't been."