---
Any day of the week, it's a sure bet that Ryan L. (BS '79) and Mary Benson Richards' (BMU '83) Pleasant Grove, Utah, home will be filled with the sound of music. That's because Mary has passed on her own musical passion to her six children, making their residence a conservatory of sorts filled with award-winning performers.
A lifelong musician, Richards graduated from BYU as a flute major and later earned a master's degree from the University of North Carolina at Chapel Hill.
"I always knew I would teach music, and I earned an advanced degree so I could eventually teach in an academic setting," says Richards. So far, though, it is her own children who have been her music students. "I hoped I could engender the same kind of love for music in my children that I felt as a child," she says.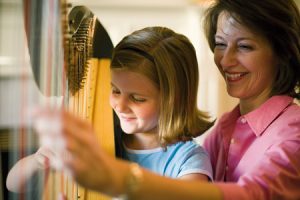 With the execption of her oldest daughter, Natalie, now 16, Richards allowed her children to select the intrument they wanted to play.
"At four, Natalie was too little to know whether she wanted to play the harp," Richards explains. "I wanted someone I could play chamber music with and decided if the instrument wasn't a good fit, I would introduce it to my other children until I found someone who liked the harp."
Natalie, however, loved the instrument and by third grade had soloed
at the Utah Symphony Salute to Youth concert. She won first place in the American Harp Society competition, and her harp has taken her to France and Ireland.
"This daughter is reserved and speaks through her harp," Richards says. "More than any of my other children Natalie sits down and plays for pleasure; it's a part of her soul."
Bethany, her 15-year-old, selected piano. She appeared with the Utah Valley Symphony and recently performed in the Utah Symphony's Salute to Youth concert. In 2004, she was a semifinalist in the prestigious Gina Bachauer Junior Piano Competition. In the months prior to the competition, she practiced up to eight hours a day and went to school half days. When the competition ended, her younger sister Abby placed a note on the piano that read, "Step away from the piano and no one will get hurt."
"She rises at 5:30 a.m. to practice and is my alarm clock," Richards says. "I wake to Haydn, Liszt, and Shostakovich."
Abigail, 14, selected the viola and studies with a violist in the Utah Symphony. "Music is a sweet part of her life," her mother says. "Abby loves the orchestra and chamber playing. For her, music is the big picture." Eleven-year-old Emily is a violinist her mother calls "exceptional," adding, "If any of my children major in music, I think it will be Emily." And at 9, Caroline is a harpist and violinist who traveled with her sister Natalie to help with teacher training.
Stephen, her oldest at 18, entered BYU this year on a Gordon B. Hinckley Scholarship. He has played violin and clarinet, was in a jazz band, and accompanies on piano.
Richards doesn't expect her children to choose musical careers, but sees great value in having music in their lives. "Music gives our family an opportunity to serve others by performing, our children learn to interact with adults, and they gain confidence. And because we don't have hay to haul or fields to plow, it provides invaluable focus, discipline, and a solid work ethic."
Richards credits her husband for making this musical lifestyle possible. "He is so supportive. He bought all these beautiful instruments, funds the lessons, and he and Stephen narrate when we play Christmas concerts and firesides."
Richards emphasizes that while music is integral to her family, they also have balanced lives that include many interests, including weekly family Scrabble games.
As for her personal achievements, Richards plays the flute with her friend, Lysa Wight Rytting (BA '84), a harpist in the Utah Symphony. Combining their talents—and names—they've formed the Amaryllys Duo and have made a CD and given concerts. For several years Richards was principal flutist with the Utah Valley Symphony.
Despite her own achievements, Richards says her greatest joy is playing chamber music at home with her children.