---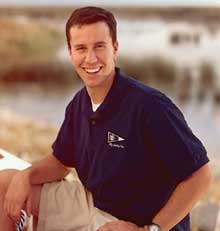 By Gordon Laws
Almost every Saturday while other students relax or study, Anthony "Tony" J. Portera goes sailing. Strange in land-locked Utah? Perhaps, but Portera, a master's student in accounting, has been sailing since he was an 11-year-old Boy Scout in southern California, and coming to BYU was certainly no reason to stop.
Portera, commodore of BYU's one-year-old sailing club, now sails on Utah Lake, Deer Creek Reservoir, and just about any place there's water. Though he trains members of the club on catamarans and other boats, he has raced a variety of small lightweight boats since he was young.
He says of his early experiences, "I was really small for my age," which is a problem if you're trying to handle a sailboat alone. "I had a rough experience down at the Boy Scout sea base because nobody thought I could succeed."
What he was trying to do was win races, and Portera did time after time by using his strengths and compensating for his small size. "I learned to be a good light-wind and downwind (wind at your back) sailor," says Portera, now six feet tall. "So I would often lose on the upwind but win on the downwind."
Portera eventually taught sailing at the Boy Scout sea base and sailed throughout high school, winning the Andy Fitzpatrick Regatta in Newport Beach three times (in '91, '93, and '94)—a record for that competition. So when BYU's Steven R. Morris, an avid sailor and the sailing club's advisor, started the club in 1999, Portera was a perfect fit.
"Tony is the kind of president any club would love to have," says Morris, who works for BYU Development. "He's so organized. He is absolutely gung-ho on sailing and loves to teach people how to sail."
But sailing is not the only thing Portera teaches—he is in his fourth year as a resident assistant at Deseret Towers, a job that requires him to set an example and help incoming freshmen adjust. "My job is to help them create their own community," says Portera. "I like being there when people need me."
Rachael K. Hawkins, '00, worked with Portera in the residence halls. "As the students walked by Tony, I noticed they all said 'Hi,'" she says. "Tony works at getting to know the people he is around, and he is always trying to bring them up."
Hawkins herself was influenced by Portera: though she had no sailing experience, he recruited her for the club and made her its public relations specialist. "I believe you have to give people responsibility right off the bat," says Portera. "We've had members who haven't even been to a meeting yet, and we've had them stand at a booth advertising for the club because that makes them loyal and because when people first take interest, they want to work."
The approach seems effective: Portera led the club to the 1999 Homecoming Spirit Award, given for the best parade display. The club also sponsored the February 2000 Rain-Gutter Regatta on campus, where students raced small boats. In addition, Portera and Morris have formed ties with Utah State University's sailing club; the two groups have raced and will do so again. The leaders' work has paid off—last year BYU's sailing club had 25 active members and 180 people on its mailing list; this year the club has 70 dues-paying members and 340 newsletter recipients.
Portera's leadership is grounded in compassion learned through adversity. When he was 16 his parents divorced, and during the next two years, he and his younger brother and sister moved seven times with their father. Those difficulties and the teasing brought on by his then-small size caused Portera to ponder deeply. He recalls watching sunsets with his father: "We'd think about why people did what they did. Why in the world would people tease other people?"
Such reflection helped Portera overcome teenage shyness and reach out to others. "He has a more compassionate side to him because of the trials he's been through," says Hawkins.
With these attributes, Portera has generated a spirit of service in the sailing club—enough that BYU's University Student Council awarded the club the first annual Zion Award. "It's not so much that you just perform service," Portera says of the award. "It's important to have people serving each other within the group."
Portera finishes his MAcc degree in April 2001, and though he interned last summer at PricewaterhouseCoopers, he has not decided where to begin his career. "I am working very hard right now not to seek after monetary rewards as the number one goal," he says. "I want to pick what's going to make me a better person."
Whatever he does in the future, Portera can fall back on his love of sailing. "Sailing is a release and a recharge," he says, "because it's a chance to think clearly. But also, you just feel. You can't sail well if you look at the signs and read them according to the book. You have to feel it."