---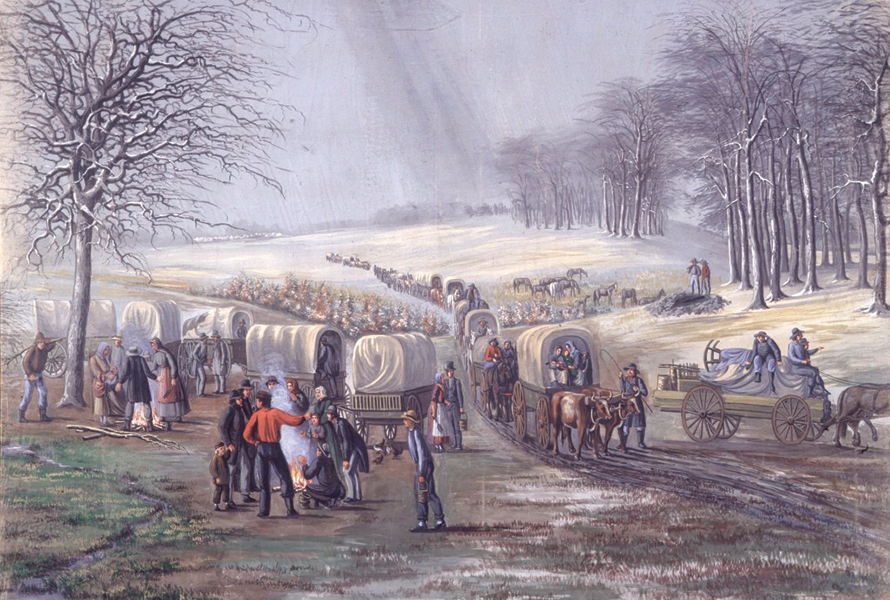 Pieces of C.C.A. Christensen's artwork have appeared in many publications—Ensign articles, the Encyclopedia of Mormonism, even the cover of Bloomberg Businessweek. But over the summer in the BYU Museum of Art (MOA), museumgoers could enjoy Christensen's Mormon Panorama, a collection of 22 monumental murals, just as the artist intended: in one place, all part of a sweeping visual narrative about early Latter-day Saints.
Depicting key events, persecutions, and sacrifices from early LDS history, these murals eventually made up a 175-foot panorama, which the artist began touring around Utah, Idaho, Wyoming, and Arizona in 1879.
"Panoramas were the precursor to the motion-picture experience," says Ashlee Whitaker (BA '05, MA '08), curator of Moving Pictures: C.C.A. Christensen's Mormon Panorama. Wound around two wooden rods, the panorama would have been accompanied by dramatic lighting and music while Christensen, a Danish convert, told the stories behind these images.
According to Whitaker, Christensen hoped that these "stories of sacrifice and blessings would be something that fueled [the rising generation's] testimonies"—a generation that hadn't experienced the persecutions of the early Church, nor pulled handcarts west, as Christensen and his wife had after joining the Church and immigrating to America. He relied on the accounts of living pioneers to re-create the scenes.
Today, the MOA owns the 22 surviving murals, of the original 23—a gift from the Christensens' descendants. Though the exhibit draws to a close this October, this treasured heritage piece will return for future display, as it has throughout the years, attesting to the ongoing fascination with this artist's work.