---
Auditioning for the Take Note Troupe theater company in Loomis, Calif., is not a typical tryout. Teenagers present on-stage monologues, but they also have to read The 7 Habits of Highly Effective People and write essays about giving back to their community.
"It's really more about their desire to serve than their acting skills," says founding artistic director Laree Fletcher Florence (BS '86). The 32 teens in her troupe collaborate in creating quality educational shows that promote family values. They perform in convalescent homes and entertain for school assemblies. They also teach community workshops and improvisational classes to children.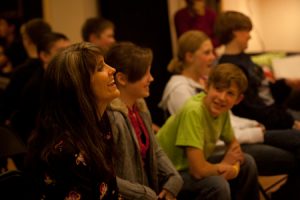 An emphasis on family values is Take Note's founding principle. Florence participated in a few high school plays but chose not to continue because many of the participants did not share her standards. Florence's daughter, Aurora G. Florence ('11), a BYU theater student, encountered the same dilemma when she entered high school, and they opted to start their own theater program. Florence's third child recently auditioned for the troupe, and the younger two plan to audition when they are older.
The troupe has been performing educational shows since 2002. Recently they worked on a show Florence wrote, called The Melodies and Memories of Laura Ingalls Wilder. For the young actors, it fulfilled a mandatory state curriculum requirement for western migration.
"Our company allows kids to develop their theater skills and serve at the same time," Florence says. "The most exciting part is that it's so synergetic at many levels for the kids and the audiences. Everyone benefits from each performance."
When casting a role, Florence says she tries to look for an actor who can grow into it. "It's got to be more about the process than the product," she says, a lesson she learned when she and her family performed in the Nauvoo pageant. "With most performance-based programs, it's all about the show. With kids, especially, it needs to be about the process."
Florence says she couldn't put on these productions without the support of the troupe members' families. Family members help with costuming, publicity, and grant writing, and all profits are used to fund performances and scholarships.
Florence says she has seen the troupe make a positive impact in the lives of many participants. "We have to learn to not underestimate these youth," she says. "Their opportunities to contribute are powerful."