---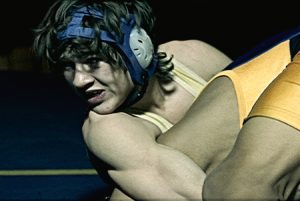 Jedediah H. Cowley (BA '06) did not think The Loss of the Wrestling Match—the short film he created as a BYU senior—had much of a chance of landing a spot in the Sundance Film Festival. But he decided to give it a try anyway. "I did not hear anything for weeks, and I had forgotten about it when the call came," Cowley says.
Some 5,000 filmmakers submitted entries, of which only 83 were selected for the festival. Cowley's film was shown five times at Sundance.
Inspiration for The Loss of a Wrestling Match came from an essay Cowley wrote for a freshman English class about one of his high school wrestling matches, he says. The semi-autobiographical film portrays a wrestler obsessed with winning.
Using students and other volunteers as crew members and actors and borrowing BYU equipment, Cowley made the film for just $3,000. "You don't have a lot of capital as a student filmmaker, and I had to ask a lot of favors," he says.
At the festival he met directors, such as Ryan Fleck (director of Half Nelson), and handed out DVDs of his film to celebrities like Sandra Oh from Grey's Anatomy. "As part of the experience, I learned how to promote myself as an artist," he says.
Cowley believes the short-film genre is gaining in popularity.
"It used to be difficult to distribute short films, but with the Internet they are getting noticed," says Cowley, who now attends Columbia University, where he is working on an MFA. He hopes to write, produce, and direct independent features, TV commercials, and music videos.