---
Museum Café
Makes one serving.
Prep and Cook: 60 min.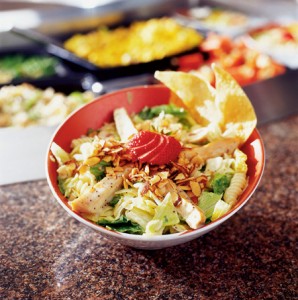 1/2 c. sliced almonds
1 Tbsp. sugar
1/2 Tbsp. butter, melted
1/2 c. cooked rotini or corkscrew pasta
1 boneless, skinless chicken breast
2 c. chopped lettuce greens (romaine and iceberg)
1/4 c. shredded Swiss cheese
1/4 c. (or to taste) sliced button mushrooms
1/2 c. (or to taste) poppyseed dressing
1 large strawberry
1. Prepare sugared almonds: Mix sugar and butter. Coat sliced almonds in sugar-butter mixture. Bake at 350 degrees for seven minutes. Stir and return to oven for seven more minutes. Let cool.
2. Cook pasta; drain.
3. Prepare chicken: Brush or pour about one tablespoon of poppyseed dressing on the chicken breast and sprinkle with about 1 teaspoon of sugar. Bake in 350-degree oven for 30 minutes or until the chicken is done.
4. Mix lettuce greens, Swiss cheese, mushrooms, and pasta in a large bowl and toss well with poppyseed dressing.
5. Slice chicken breast and strawberry and arrange slices in a fan on salad. Sprinkle with sugared almond slices.
Download PDF versions of this recipe in two sizes:
These documents are in Adobe Acrobat format. If you do not already have a copy of the Adobe Acrobat Reader, it is free and can be downloaded athttp://www.adobe.com/prodindex/acrobat/readstep.html
Related Article: 6 Bites of BYU