---
Skyroom Restaurant
Serves four
Prep and Cook: 60 min
1 lb. boneless, skinless chicken breast
8 oz. dry penne pasta
1 yellow onion, sliced
1 large tomato, diced
1 small bunch cilantro
Southwestern Pasta Sauce
5 Tbsp. butter
1/2 c. flour
2 1/2 c. half-and-half cream
1 tsp. salt
1/4 tsp. black pepper
3 oz. processed Swiss cheese slices
1/2 c. Parmesan cheese
1/2 c. sour cream
1 Tbsp. canned chipotle peppers, finely chopped
1 Tbsp. chopped fresh cilantro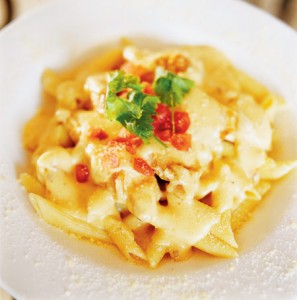 1. Grill chicken and slice into thin strips. Cook and drain pasta. Slowly cook onion in a little oil until onion is a rich brown.
2. Prepare southwestern pasta sauce: Melt butter; add flour. Stir until well combined. Add half-and-half, salt, and pepper. Stir with a whisk and continue cooking over medium-low heat until sauce is thickened and bubbly. Add cheeses and stir until blended. Add sour cream and mix well. Add chipotle peppers (chipotle peppers are hot; add more or less to taste) and chopped cilantro.
3. Pour four cups southwestern pasta sauce into a heated saute pan. Add pasta and chicken; toss to coat.
4. After mixture is heated through, pour into a serving bowl. Garnish with chopped tomatoes, caramelized onions, and cilantro.
Download PDF versions of this recipe in two sizes:
3×5 Four Corners Chicken and Pasta
4×6 Four Corners Chicken and Pasta
These documents are in Adobe Acrobat format. If you do not already have a copy of the Adobe Acrobat Reader, it is free and can be downloaded athttp://www.adobe.com/prodindex/acrobat/readstep.html
Related Article: 6 Bites of BYU