---
Pendulum Court
Serves eight.
Prep: 40 min Cook: 30 min. Sauce: 15 min.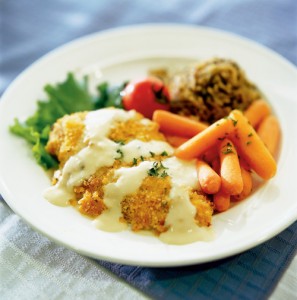 1 c. sour cream
2 tsp. salt
1 tsp. Worcestershire sauce
1 tsp. black pepper
2 Tbsp. lemon juice
1/2 tsp. celery salt
1 tsp. paprika
2 c. fine bread crumbs
8 boneless, skinless chicken breasts
3/8 c. margarine, melted
Cordon Bleu Sauce
1/2 c. sour cream
1 c. cream of chicken soup
2 tsp. lemon juice
1/2 c. mocha mix (nondairy creamer)
1. Mix first seven ingredients (sour cream through paprika) in a small bowl. Place bread crumbs in another small bowl or pan.
2. Dip chicken breasts in sour-cream mixture and coat in bread crumbs. Place chicken in a large pan, like a cookie sheet. Drizzle melted margarine over chicken, about two teaspoons per breast. (Alternate method: Dip chicken in sour-cream mixture and marinate overnight in the refrigerator. The next day, coat chicken in bread crumbs and continue.)
3. Bake chicken at 325 degrees for 30 minutes or until chicken is fully cooked. Bread crumbs should be golden brown.
4. Prepare cordon bleu sauce to serve with chicken: Blend all ingredients; heat on stove over medium heat until bubbling.
Download PDF versions of this recipe in two sizes:
These documents are in Adobe Acrobat format. If you do not already have a copy of the Adobe Acrobat Reader, it is free and can be downloaded athttp://www.adobe.com/prodindex/acrobat/readstep.html
Related Article: 6 Bites of BYU