---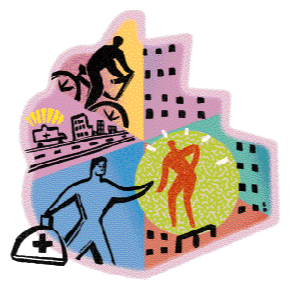 By Peter Gardner
With a BYU Emergency Medical Service (EMS) team just around the corner, volunteers hope students, professors, employees, and other campus dwellers will feel more secure as they go about their note taking, class lecturing, hall sweeping, and campus touring. The growing team of student volunteers can be there in a flash should anything go awry.
"In any place where there are 30,000 people in a given day, there's a high risk that problems will happen," says Heidi Spencer, EMS training officer and a senior majoring in nursing. According to Spencer, before the creation of the EMS program, an accident victim would have to wait up to 10 minutes for Provo emergency services to arrive. But a team of student emergency medical technicians (EMTs) can get from their first-floor office in the Wilkinson Center to any corner of campus in less than three minutes.
"Two or three minutes doesn't sound like a lot, but it's huge," says Spencer. In a serious situation like cardiac arrest, the victim's chances of survival drop from 30 percent to just 5 percent if not treated in those first few minutes.
Started as a student's technical writing paper, the EMS program finally got off the drawing board and onto campus in April 1997. More than a year later, the EMS program is healthy and strong. The program has gone from five students volunteering up to 20 hours a week and riding old bikes borrowed from the traffic office to 28 volunteers and a transport van. Still, Jerry L. Jensen, Open-Major Advisement coordinator and BYU EMS program coordinator, would like to see the program grow to 40 volunteers.
Jensen is quick to insist that the EMS program doesn't take the place of existing emergency services. "We're really trying to become an adjunct of Provo rescue crews."
With nearly 500 emergency calls made from campus each year, volunteers are becoming increasingly needed. In the program's first year, volunteers have seen a wide variety of emergency situations. They range from people falling out of a cart while on a campus tour to a woman going into labor during a football game at Cougar Stadium to heart attacks and car accidents.
"Some are quite serious. My very first call here at BYU was a baby that had gone into seizures," says volunteer Dee Mortensen, a senior from Sanford, Colo. "We also had a guy cut off his finger up at the Snell Building."
Arriving quickly on the scene of an accident, BYU's EMTs can assess the nature of the problem and in less serious cases, like cuts and twisted ankles, call off an ambulance. This keeps ambulances available for serious calls and saves students the cost of ambulance transport, which can run up to $500. In more serious incidents, EMS volunteers can begin administering life-saving techniques and prepare victims for paramedics.
The EMS program is building a close working relationship with Provo fire and police crews. "Our people are invited to ride along with their EMTs and paramedics to get additional experience working with them as a team," Jensen says.
Part of the struggle of introducing the EMS program has been misconceptions about students volunteering as EMTs. "Some people misjudge it," says Jensen. "They say, 'Oh, they're just learning how to do this.'" But volunteers go through stringent courses and testing to become licensed EMTs and then receive weekly training to keep their skills sharp.
Those who have received treatment from BYU EMTs don't seem to doubt volunteers' qualifications.
"I've not heard a bad thing from any of the patients we have taken care of," says Spencer.
The injured are not the only ones benefiting from BYU's EMS program.
Most of the volunteers want experience so they can build and maintain their skills as they prepare for future careers in medicine. Mortensen, a premed student, says the most important aspect of the program for him is helping people. Likewise, Jensen says the real benefit to the volunteers runs deeper than résumés and medical school applications.
"It teaches them humanity to man. It teaches them to care–to observe suffering and want to do something about it."