---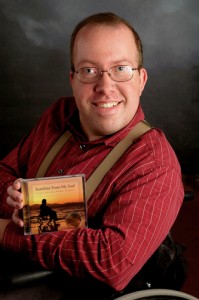 Despite being born with spina bifida, J. Ryan Moody, '00, has not let the congenital defect intrude on his passion for music. When he began piano lessons at age 7, Moody excelled, even though he used a wheelchair and could not reach the piano pedals.
By the fourth grade he was playing piano for elementary school talent shows and by age 10 had memorized the music to Saturday's Warrior. He also expanded his musical horizons by learning the violin and realizing he had perfect pitch.
"I started tuning the violin to the piano and told my mother the piano was flat," he says. "She was momentarily puzzled, but she stopped playing and told me to turn away from the piano. She played one note and asked me what it was. This was repeated several times, and I got every note correct."
At BYU, Moody's musical attention took two directions: performing and producing. He recently collaborated with Emmy-winning composer Sam Cardon, '93, to create a CD, Sunshine from My Soul,an assortment of Church songs and hymns arranged by Moody.