---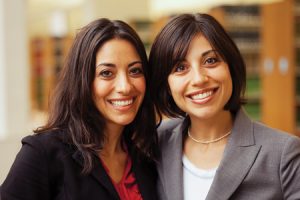 In fall 2010 Shima Baradaran (BS '01) and Mehrsa Baradaran (BA '02) became the first sibling professors in the history of the J. Reuben Clark Law School. The pair also brought increased diversity, in both gender and ethnicity, to the law faculty, which is roughly one-third female.
The sisters' father, a neurosurgeon, brought his family to the United States from Iran for a one-year post-residency program at UCLA. "This was 1986, during the war that was going to go on for another two years," says Shima. "It really made my parents think about taking their daughters back [to Iran]. That was the big reason they decided to sacrifice so much to stay here."
"They recognized that there were so many opportunities in America," adds Mehrsa.
Staying wasn't easy. Since the girls spoke only Farsi, their initial inability to communicate made school frustrating. And until their father could recertify as a doctor, he worked at casinos, drove delivery trucks, and did whatever work he could get to support the family. "We felt this obligation [because] they sacrificed all this for us," says Shima. "If we didn't do all we could, we'd be letting them down."
In that effort, Shima, the younger of the two, graduated magna cum laude from the Y and went on to graduate first in her class at the J. Reuben Clark Law School. She later served as a Fulbright Senior Scholar at the University of Malawi.
Mehrsa chose law after serving a Spanish-speaking mission in Houston and feeling a desire to help immigrants like herself gain footing in a new country. She graduated cum laude from BYU and cum laude from the New York University School of Law, then worked as a corporate law associate in New York.
"We brought you out of Iran to become something great," Shima recalls hearing from her parents. After 25 years of hard work and accomplishment, they get to pass the challenge of greatness on to BYU students.