---
Sandi Jensen Griffiths (BA '99) first became nationally known on the Lawrence Welk Show for her duets with her BYU singing partner, Sally Flynn (later Hart) ('68). But it was a solo experience in Salt Lake City that Griffiths counts among her happiest memories from the show.
"It was the early '70s, and we were planning a Salt Palace show," she explains. "I asked Lawrence Welk if I could sing a solo in Salt Lake City. He agreed, and
I prepared a medley of Primary songs that included 'I Am a Child of God.'
I invited the audience to sing the last verse, and, upon finishing, the crowd erupted in an ovation. Afterward Mr. Welk stared at me strangely and asked, 'Sandi, when was this a hit?' He couldn't believe he had somehow missed a popular song."
He just didn't know the Utah audience.
Griffiths says the singing gene is embedded in her DNA. "I think I sang before I spoke," says the vocalist who performed with BYU's Program Bureau in the 1960s before a 13-year run with the Lawrence Welk Show. "My uncles all sang, and my dad, who's 89, sings his way through Costco in an electric cart. He taught me how to harmonize."
The outgoing youngster once sang on Art Linkletter's show House Party. Through Janie Thompson's (BA '43) Program Bureau at BYU, Griffiths performed for General Authorities, entertained during a Defense Department tour of Asia, recorded for Capitol Records, and sang at Disneyland for a summer with Flynn. The duo performed a Disney medley in the Smith Fieldhouse to what Griffiths calls "the warmest ovation of our BYU experience. It was magic. Besides meeting my future husband, Brent, it was my favorite BYU moment."
Later Griffiths and Flynn were invited to entertain military troops in Vietnam with the 3 Ds, a BYU alumni group. They sang at hospital bedsides, in jungles, and on aircraft carriers. When they returned, Griffiths and Flynn sang in Las Vegas and auditioned as backup singers for Jack Jones. After landing the job, they tried out for the Lawrence Welk Show at the only open audition Welk ever held.
"He was seeking a replacement for the Lennon Sisters," Griffiths says. "More than 200 acts auditioned, and we were thrilled to be the ones selected." They became regulars and sang together until Flynn left the show in 1973 to pursue a solo career. Griffiths became part of a popular trio that featured Gail Farrell and Mary Lou Metzger.
It took two-and-a-half days a week to tape the show, so, except for a several-week annual tour, it was a part-time job.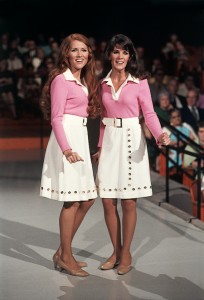 "Brent and I always said when this opportunity to sing became a liability for our family instead of a blessing, we would change paths," Griffiths says. "I went through four pregnancies on camera and wasn't fired, although my popularity with the costume department was strained. After the birth of our fourth child in late 1978, we felt it was time to change our journey. Later that year, Brent was called as a bishop, and it was my turn to fully support him. I only made guest appearances in 1980 and afterward performed only a handful of concerts each year."
Welk retired in 1982, but the show—and Griffiths—have stayed on the air, thanks to PBS. She occasionally hosts a segment and has recently begun performing again in concert with Farrell and Metzger.
The Griffithses added four additional children, including a foster daughter, and Sandi laughed whenever people asked her, "What do you do now that you don't work?" In addition to raising her family, she has served in Church leadership, taught seminary, recorded a CD, done family history, trained as a master herbalist, traveled, and finished her bachelor's degree in psychology.
Her children sing, and the family has performed several times at the Los Angeles Temple Visitors Center. Six children have attended BYU, and seven have served missions. Griffiths and her husband hope to serve missions as well.
"My real joy is my family," she says.
"I have been so blessed. I have my own precious family as well as a musical family that provided role models to millions of viewers."