BYU gymnast deftly—and deafly—tackles the uneven bars.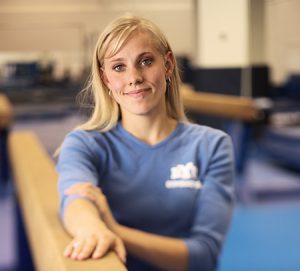 When she was 7, Aimee Walker ('08) decided to be a gymnast. After watching her cousins compete one day, she asked her mom, "Can I do it? It looks really easy, and I do flips on the couch all the time." Her mother agreed and called the gym.
Yes, they were accepting new students. Yes, they had classes for 7-year-olds. Then Aimee's mom said, "Oh, she's deaf, and she's blind in one eye. Is that a problem?" Yes, it was. No one at the gym knew sign language, and they had to turn her down.
Two weeks later, one of Aimee's cousins broke a leg, and Aimee's aunt offered Aimee the prepaid spot in the gymnastics class. "Just don't tell them you're deaf," her aunt reasoned. And don't sign, added her mom. Aimee admits, "That was really hard, because I like to talk a lot."
She was a natural. The first day of class went perfectly, until someone tapped Aimee on the shoulder and pointed to the coach, who was trying to talk to her. She watched her coach's lips moving but understood nothing. "I got a really white face. I looked back at my mom and signed, 'What's she saying?'" When the coach realized what was going on, she walked over to Mrs. Walker, who expected the worst. The first words out of the coach's mouth were, "I want to teach your daughter gymnastics, and maybe she can teach me to sign."
Hour after hour, year after year, Aimee trained herself to be a haptic gymnast—to feel her way through the complicated maneuvers rather than use her eyes. By the year 2000 she'd reached the distinguished status of international elite. She was invited to start training for the Olympics but was unable to join the team because of injuries.
After high school, Aimee joined the gymnastics team at UCLA, near her hometown of Valley Village, Calif. The team won the national championship her freshman year, but the school's deaf program didn't provide the academic support she desired. She transferred to BYU in 2005.
In her two years on the Cougar gymnastics team, Aimee (now Aimee Walker Pond) has excelled, despite her challenges. "She has an unbelievable ability," says coach Bradley A. Cattermole (BA '74). To illustrate the difficulty of performing gymnastics with impaired depth perception, he explains, "Try just standing up on a ladder and closing one eye. Then try walking down."
At last season's regional meet, Pond represented the team on the uneven bars. She hopes to compete on vault this year, but she took a hard landing in the event last year. Pond's whole ankle had to be rebuilt. "She'd been walking on it all weekend before going to the doctor, with just some ibuprofen," says Cattermole. "The kid's tough." Aimee's medical file also includes elbow sprains, wrist problems, and surgery on both knees. True to form, however, they didn't set her back for long. Says Cattermole, "After the last ankle thing, the doctor said, 'You're done with gymnastics.' But she came back and did wonderfully."
To those who know Pond best, the real story isn't just in the gym. "She's always been a good gymnast," Cattermole says. "The part I'm most proud of is that she's become a student."
"I realized that school comes first, not gymnastics," Pond says. "So I switched my priorities." She now has a 3.55 GPA and lots of ambition. She plans to coach gymnastics and participate in programs for the physically challenged. "I want to help people with disabilities. I want to show deaf kids that they can be a part of the world and encourage them to have new experiences."