---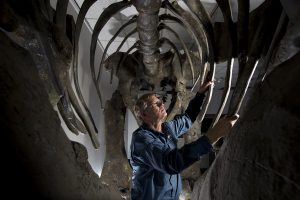 Forty years ago, Brooks B. Britt (BS '82, MS '87) arrived at the Dalton Wells Quarry, near Moab, Utah, in search of dinosaur bones. Britt had been digging up fossils since age 14 and was thrilled to attend BYU and to work with world-famous paleontologist James "Dinosaur Jim" Jensen.
The team had no idea when they began digging that they were unearthing a new dinosaur species. Now a professor of geology at BYU, Britt has published details on the 125-million-year-old dino—Moabosaurus utahensis.
The long-necked giant has taken so long to study, Britt explains, because the fossils they find often "are only broken-up bits and pieces." Thousands of bones from more than 18 individual dinosaurs make up the full skeleton that now stands in the BYU Museum of Paleontology.
Check out more species discoveries by the BYU community.