---
A trio of BYU alumni helped ignite an endurance running trend.
The idea sounded a little crazy: a 12-man, 200-mile overnight relay race on Utah's backcountry roads. Roommates Tanner S. Bell (BS '05) and Daniel J. Hill ('05) were making big dreams in their BYU apartment for an endurance adventure race unlike anything in the state.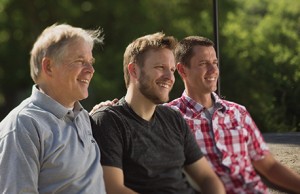 What Bell and Hill didn't realize until runners toed up to the start line of their Logan–to–Park City course was that they had unknowingly discovered an endurance-racing niche. It was 2004, and they were at the forefront of a boom in long-distance running. And the Wasatch Back, with legs of varying distances for runners of all types, was positioned in a prime space between a 5K and a marathon.
That first year, 260 runners signed up for the Wasatch Back. Ten years later it has expanded into the largest relay race series in the nation, the Ragnar Relay Series, named after a Viking king and conqueror. The feet of more than 95,000 runners will hit the pavement in Ragnar's 21 races this year.
Childhood friends, Tanner and Dan grew up hearing Dan's father, Stephen J. Hill (BA '73, JD '77), regale them with legends of an epic race, the Hood to Coast in Oregon. The concept was thrilling for two Farmington boys—running as a team for more than 24 hours through the Northwestern wilderness.
But Steve had his own course in mind: a race across Utah's mountains. He took then-12-year-old Dan driving around northern Utah to map out potential routes. But family and a budding law career kept Steve preoccupied, and the idea was shelved for more than a decade.
It wasn't until Dan's junior year at BYU that the idea was reignited. Dan met with his father's mission friend, Kim B. Clark ('74), then the dean of Harvard Business School and now president of BYU–Idaho. Clark's advice for getting into Harvard's prestigious program: start a business—the more interesting, the better.
So Dan, Steve, and Tanner organized their first relay. Tanner and Dan were admittedly inexperienced, and they were trying to launch a race business while working other jobs and going to school full-time. But they had drive. "My grandest goals at the time were to put on this relay and maybe make enough money to pay for grad school," Dan says. "I don't even think we were aware that a running trend had started. But people were definitely captivated by [the race]."
The relay hit on an intimate social experience humans crave: camaraderie. A relay turns the solitary activity of running into a team sport, and the ambitious distances forge a fellowship of shared endurance. Teams of 12 runners split into two vans and leapfrog through a roller-coaster mountain course, each runner tackling three legs, each from 3 to 11 miles long.
The early morning, surprisingly, tends to be the runners' favorite time of the race. Functioning on a diet of carbs and adrenaline, a run in the dark on the rural mountain roads transforms Ragnar skeptics into converts. Competitors run under the light of the moon, the road illuminated by the glow of a headlamp, until the headlights of the team van catch up. Bleary-eyed faces of tired teammates peer out the windows to cheer the runner on, delighting in the shared bucket-list triumph of finishing a mega 200-mile course.
"The finish line of the very first Wasatch Back is etched into my mind," Tanner says. "It was really, really small, but we knew something special happened."
Deseret News reporter Amy Donaldson ran that first race with a group of local media and wrote in her column that it was "the best experience I've had in sports since I was a little kid." She adds: "I told my boss 'This is going to be big. We are going to be covering this race year after year after year.'"
By year two, the race had already doubled in size. Tanner had graduated, and Dan, just a few credits shy of a degree, entered the BYU Student Entrepreneur of the Year competition. Though he placed second, one of the judges was Eric Jacobsen of the Utah private equity group Dolphin Capital. Jacobsen invested in Wasatch Back, and the Utah race expanded into a relay series in markets all over the states.
With the mantra to "Connect, Conquer, Celebrate," Ragnar has attracted a loyal following of athletes they call "Ragnarians." "Ragnar has a wonderful take on the market. Their big thing is they know how to take care of their participants," says Susan Weeks, CEOof Running USA, a nonprofit organization that tracks running trends. Their research has found that participation in such group-running events has increased every year for the past 15 years. "The key thing that keeps people coming to your event is how you treat your customer. Ragnar knows how to do it right."
Giving back is also a major part of Ragnar's business model, a value Tanner says he learned at BYU. "I saw a lot of mentors and professors at BYU, and the ones that were the most successful were happy not just from monetary means but because they gave as much as they got," Tanner says. To date, Ragnar has helped raise more than $2 million for charity.
Modeled after the Hood to Coast relay, Ragnar was the first series of endurance relay races. Though dozens of similar races have since become popular across the country, Ragnar organizes more endurance relays than anyone. "The dream was to make Ragnar one of those brand names that would define the category," says Steve, who, like Dan, has moved on from Ragnar to other ventures. "It turned out to be a bigger brand than I ever imagined."
Wasatch Back, still Ragnar's most popular race, celebrated its 10th anniversary in June 2013, and the race was extended a day to allow for some 18,000 runners. Ragnar also launched a trail relay series in 2013.
Though Ragnar has done well elsewhere, it's been particularly embraced in Utah. "It's practically a state holiday," says Dan.
— Amelia Nielson-Stowell (BA '05)