---
Telling stories about a recluse, an action figure, and an exile, three standout flicks provide a window into the BYU film program's success in fiction.
The winners at this year's College Television Awards included film-school legends like the American Film Institute Conservatory and the University of Southern California. But the school that walked away with the biggest haul was BYU, a school far from the lights of Hollywood that's causing buzz nonetheless. The BYU student film Mr. Bellpond took home best comedy and best director; another, My Hero, won best children's program. Yet these are just a few of the honors that BYU's media arts program has racked up this year. The quirky Mr. Bellpond also made it to the finals of the Student Academy Awards—one of only nine films nationwide to do so. And another production—Redemption: For Robbing the Dead, a feature-length film pulled off by BYU professors and more than a hundred students—won rave reviews. Rare for a film made in an undergraduate program, Redemption stars Hollywood actors.
Each of these standouts—Mr. Bellpond, My Hero, and Redemption—illustrate reasons why Cougar filmmakers are cause to roll out the red carpet.
A Recluse on a Budget
With only $7,000—the limit BYU places on all capstone films—Mr. Bellpond is a lesson on resourcefulness. Set in a turn-of-the-century mansion, Mr. Bellpond tells the story of kooky Quentin L. Bellpond, "a man unbeguiled by hope." After his young wife disappears, the once-great composer boards himself in for 23.7 years—a hermithood the film's director, A. Todd Smith (BA '11), created in a house under renovation—ongoing hammering and all. The owners of the Ogden, Utah, home let Smith use the space for free.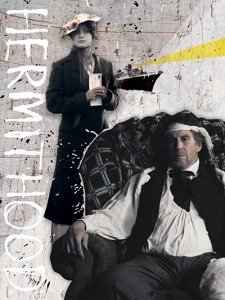 To clutter the shut-in Bellpond's shelves on a dime, Amy Nelson Smith (BA '11), production designer and the director's wife, had the student crew check out some 400 old books from the Harold B. Lee Library; the fifth floor, says Todd, is a gold mine.
Finding such creative solutions to stay under budget makes for better filmmakers, says Courtney Russell, media arts adjunct professor and a mentor on the film. "Their imaginations are really pushed," she says. "When you are placed in a situation like that, you either sink or you swim."
On a next-to-nothing budget, many BYU films have not only stayed afloat—they've made waves. For example, the student film Peluca, the short-film predecessor to Napoleon Dynamite, was shot with just $500.
Finding Everyday Heroes
Tapping the BYU community's faith and culture, say film students and faculty, gives them a storytelling edge. "We seek after good things when we worship, when we live our lives," says documentary film professor Brad A. K. Barber (BA '01). "That's part of who we are. . . . So we really try to communicate that to our students."
Sharing "good things" is what Brandon W. Ho ('12) set out to do in My Hero, a story about Kevin and his action figure, Super Hero. Kevin hides Super Hero away after reading a school bully's note: "Kevin plays with dolls." But in his own heroic moment, Kevin plasters the note across his chest for all to see. Ho says the film is about celebrating everyday heroes. "Exalting the everyday is something we talk about in the film school," he says. Other BYU projects also highlight the power of the commonplace, like the student-produced Beehive Stories, a documentary series that aims to feature everyday Utahns.
"My specific experience in the film program has taught me how to see the gospel in everything, especially in storytelling," says My Hero coproducer Erin L. Anderson (BA '12). She says it was the worthwhile story that gained My Hero acknowledgement. "This innately good film is getting recognized. It's not a showy film, and it's not a 'cool' film, but we won an Emmy."
Freedom to Fail
Not many undergraduates get to work on a feature film in a motion picture studio—with Screen Actors Guild (SAG) actors. But that's just what BYU students did in filming Redemption: For Robbing the Dead. The project, imagined up by married film faculty Courtney and Thomas B. Russell (BA '88) and funded by First Light Independent, provided mentoring for some 130 students.
"In some cases, education is about failing," says Thomas J. Lefler (BA '73, MA '96), associate chair of the Department of Theatre and Media Arts. And a mentoredenvironment offers the freedom to fail. Working on Redemption allowed students to make and learn from mistakes, faculty say, that might have gotten them fired on a professional set. Redemption also provided perspective, "a more complete vision," says Lefler, of how you create something complex, from start to finish.
Redemption is based on the true story of 1862 Utah sheriff Henry Heath, who "captured the notorious ghoul, Jean Baptiste, a robber of 300 graves." According to Heath's fictional back-story in the movie, he's known for being tough, killing "more men down in Texas than you ever cussed," says one character. But in caring for Baptiste, a man exiled to Antelope Island, Heath finds forgiveness for Baptiste and for himself.
Margot Kidder, a SAG actor who played Lois Lane in the original Superman movies and Baptiste's wife in Redemption, was impressed by the student crew. "If people had not told me I was working with students, I wouldn't have known. These kids were just phenomenal," she says. "The set was smooth, well organized, and a fine example of what students can do when they don't have keggers every weekend."