---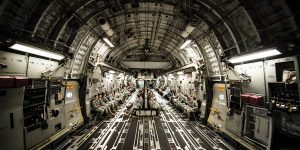 BYU ROTC cadets join in a combined training in the belly of a C-17 military plane in Provo. Though these cadets may go on to see war, a new study by BYU social work professor David S. Wood and two military colleagues shows most veterans of post-2001 combat do not experience PTSD, contrary to popular belief.
"We tend to have this view that anyone who serves in combat is irreparably damaged," says Wood, an officer himself in the Utah Army National Guard. "All service members who serve in combat experience stress. But the veterans who served in the latest wars are, as a whole, quite resilient and do quite well."
Roughly 15 to 25 percent of those who return from combat or deployment suffer from PTSD, compared to 5 to 8 percent in the general population, says Wood. His study specifically looked at life view and motivation in vets with combat-related amputations, finding most returned successfully to their original mental state or improved their position.