When earning and learning and living all happen in the same space, boundaries can blur. Here's what to do about it.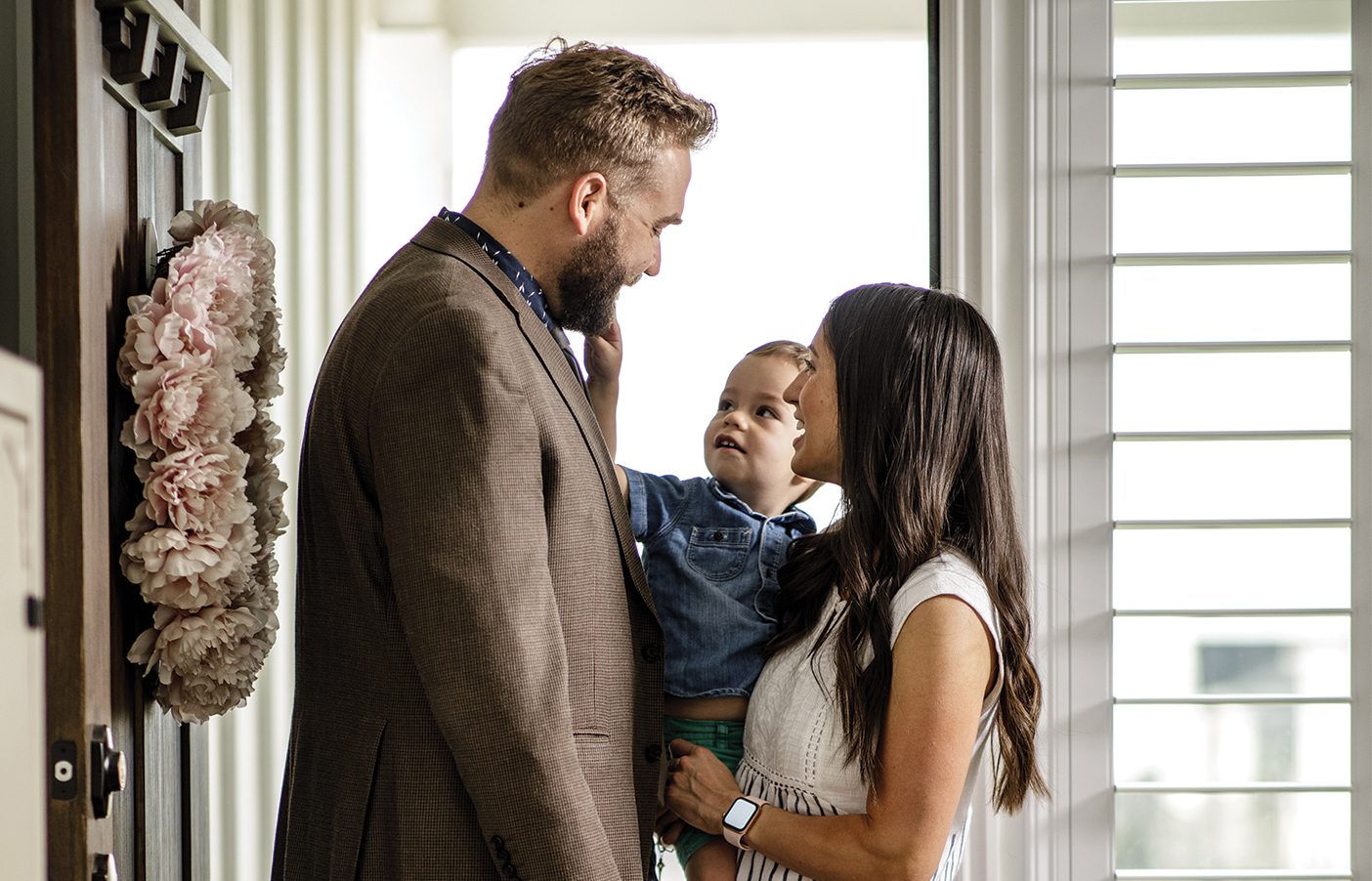 For Lonnie T. (MS '03) and Alisa Allred Mercer ('02), early 2020 was shaping up as a normal year of full-time work for both of them and full-time public school for their three children—twins who are 12 and a 9-year-old with autism. But when COVID-19 delivered its one-two punch, everyone's routines and expectations were wildly disrupted.
Lonnie, a geologist for an environmental-consulting firm, is now working from home, while Alisa continues working in-person as a client-services manager for a food pantry. The children attend school in person just two days a week, so Alisa and Lonnie have had to craft a patchwork schedule of work hours, homeschooling hours, in-home therapy time for their youngest, and non-school childcare hours—with the help of Alisa's father. The family schedule is highly organized but delicate. Even a small change can have a domino effect, unsettling everyone's day.
"No one has gotten COVID yet or broken down or burned out," says Alisa, "but everyone has had their meltdown moments."
BYU professor of family life E. Jeffrey Hill (BA '77, MOB '84), who was one of the original telecommuters in the early 1990s, has studied work-life balance for 30 years. With so many parents now working from home, he warns that work and home life can melt into each other in ways that compromise one or both. "Life during a pandemic can become chaotic and unpredictable, resulting in stress, physical illness, and emotional struggles."
But, Hill says, with a little planning and a few proactive measures, families don't have to be at the mercy of circumstances.
Get Organized with Schedules
Not everyone is naturally inclined to planning ahead, but Hill says schedules and routines matter right now more than ever. "The more scheduled you can be, the less stress you and your children will experience. Being organized can cover a multitude of sins," he says.
When Hill first began working from home as an IBM employee with six young children, his kids interrupted him often. Together, they came up with a solution—putting an outside lock on his office door and setting up a routine for locking and unlocking it. "I would have my kids lock me in, and I'd say, 'I'm going to work for two hours, and then I'm going to play basketball with you for 20 minutes.' They would unlock the door and we'd play, and then I would go back to work. They thought it was fun to tell Daddy what to do." This routine worked well for his family for many years.
For Alisa and Lonnie, hammering out a family schedule and posting it around the house has helped everyone stay organized. "I'm in charge of keeping the schedule and running interference when things go out of kilter," Lonnie says, "like kids fighting or our youngest refusing to engage with his in-home therapist."
Checks and Balance
According to Hill's research, some people are well-suited for working at home. Others? Not so much. About 25 percent say they are more focused and productive, 50 percent do roughly the same as in the office, and 25 percent work too much. "Giving a workaholic a computer to work from home is like giving an alcoholic a bottle of gin," he says. "If you're a workaholic and you get put in a team where you're expected to respond quickly, 24/7, that can be very damaging to you and to your family relationships."
Hill recommends getting dressed for the day rather than hanging out in pajamas. Work attire sends you physical cues that you're going to your job. "You have to put yourself in a mindset that you're at work even though the physical cues say you're at home," he says.
He says workers used to heading to an office might even benefit from physically mimicking their former routine: kiss or hug your loved ones goodbye, walk out the front door or garage door, come in the back door, and start working. When you're done working, you go out the back door, come in the front door, and kiss your spouse hello.
The same principle can help children who are now homeschooling full- or part-time. "Take the kids on a short walk or bike ride that tells them, 'We're going to school now,'" says Hill. "After 15 minutes, come back and help them see your home as their school for the next hour and a half."
The bottom line is to set boundaries around the many different activities that are all taking place at home right now. Know when you're homeschooling, know when you're working for your employer, know when you're relaxing and having family time, says Hill. "Don't blur those together as much as you can prevent it. They're going to blur, but with some thought, you can blur them less."
When boundaries are broken, parents can avoid overreacting. Alisa accepts that her family's boundaries "are much more blurry than they were before," and she and Lonnie try to roll with breaches. "Does it ever happen that I just barely get on a conference call and the kids storm my office? Yes, it does," says Lonnie.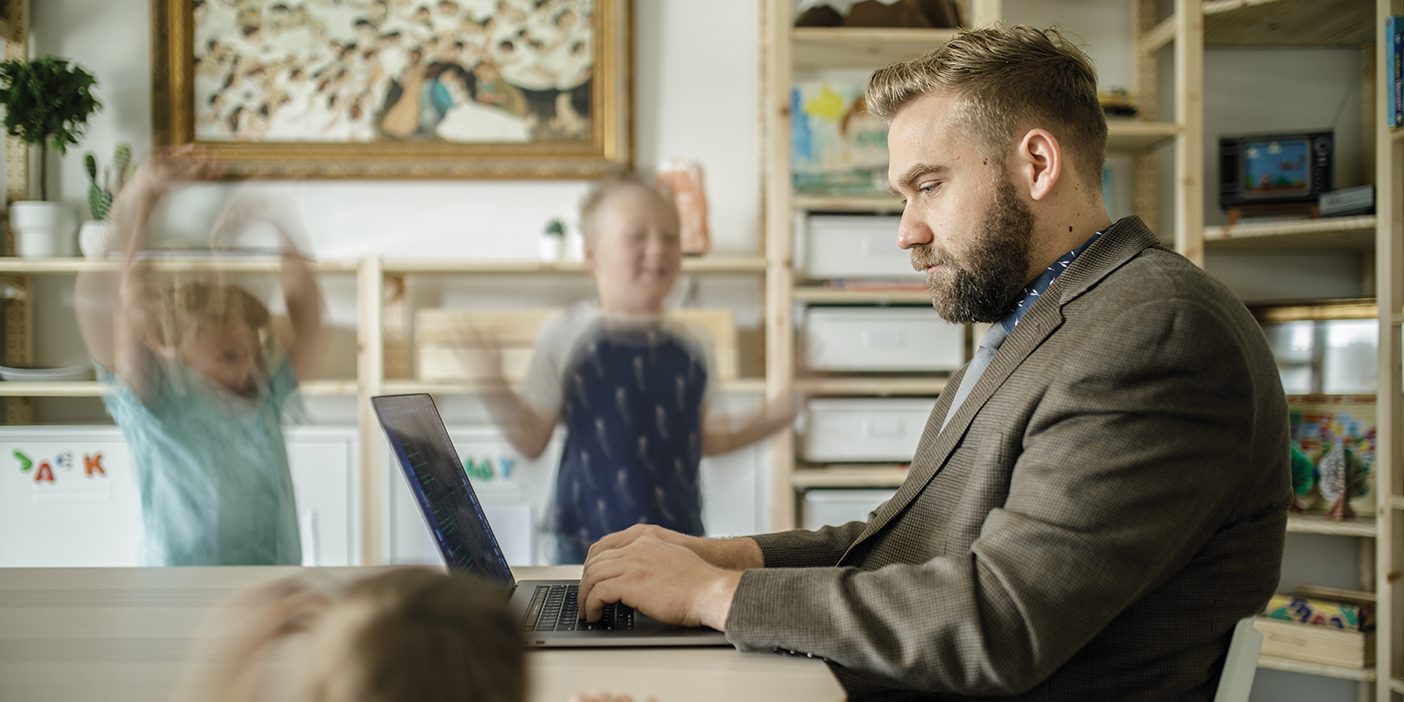 Take Care of Your Marriage and Yourself
A crisis of any kind puts stress on relationships, particularly marriages. Hill says couples can use that stress to strengthen their marriage, or they can let the stress pull their marriage apart. When a couple is apart due to work away from home, the separation of many hours per day means there's a tendency to let conflict slide. But with couples in the same space 24/7, "you have to buckle down and learn to communicate directly," he says. "The key is to learn to express difficult thoughts and feelings without anger. Those who do learn will come out of the pandemic with a stronger marriage."
Spouses also need to take care of themselves and each other. When the entire family is home much more than usual, parents are "on" all the time and don't have a chance for rejuvenation. "You need to take care of yourself. Each of you needs time to not be on."
When both spouses are at-home earners, Hill says each spouse needs equal access to work space, preferably one with a door that closes. His wife is a marriage and family therapist who now conducts therapy online, but limited bandwidth means they have to split internet time. "It's very clear from the research that marriages thrive much more when each spouse has equal access to the resource of money, and I believe the same is true of any household resource," says Hill. It's also true when parents share responsibility for household chores, homeschooling, and childcare.
Enjoy the Pandemic's Upsides
Hill and the Allred Mercers all think the pandemic has silver linings, especially for family life. "Our kids have pulled together for the most part and learned to really enjoy being together," says Alisa. She also appreciates Lonnie's increased involvement. He says he's doing more to take care of the kids and the house, "and that's good for our marriage."
Hill loves seeing so many children get more interaction with their fathers. And he believes it's a great opportunity for couples to move closer to an egalitarian marriage, which studies say boosts the happiness of both spouses. "This is the time for gender equity—the time we need to share this whole load. If we don't share the load, one of us is going to crash and burn. If we do share the load, we'll thrive."
Sue Bergin is a writer and Marriott School adjunct instructor.