These BYU biologists are fishing for answers to climate change.
The commute to class was an adventure: it involved a six-hour plane ride to Juneau, then an hour-long flight in a puddle jumper, landing beside a tree-covered coastline. And then the jaunt in a small fishing boat in the waters of Alaska's Inside Passage. "I was in heaven the whole time," says biology student Taylor S. Bly (BS '17). "It was just gorgeous."
In July Bly and several other students traveled with biology professors Mark C. Belk (BS '85, MS '87) and Dennis K. Shiozawa (MS '75) to Pybus Point Lodge on Alaska's Admiralty Island for a weeklong fishing expedition. They fished for almost every moment of daylight amid sightings of bald eagles and humpback whale flukes. Geared up in overalls, boots, and coats, the group caught fish of all shapes and sizes and colors, from dusky gray to bright orange.
Their goal? Ironically, to protect the fish—rockfish, specifically. For the fifth year in a 10-year project, the group collected specimens of rockfish, a common West Coast seafood, to determine whether current fishing limits are keeping the population alive and well.
With support from the Roger and Victoria Sant Foundation and lodge owners Scott L. ('84) and Jody Kekauoha Jorgensen (BS '86), students gained firsthand experience conducting environmental research. From more than 100 rockfish specimens, they extracted ear bones called otoliths, whose ring-like layers record changes in climate and other factors. "We . . . got really good at it," says Bly. By learning from the otoliths how climate change affects the rockfish population, the group will be able to supply information to local organizations that will be helpful in managing the fish resource.
In terms of longevity, rockfish are the redwoods of the ocean. Some live for 200 years, which makes it difficult to recover them quickly after a severe population loss, Belk says. "You can't go in and clear half the population and expect them to be back in 20 years."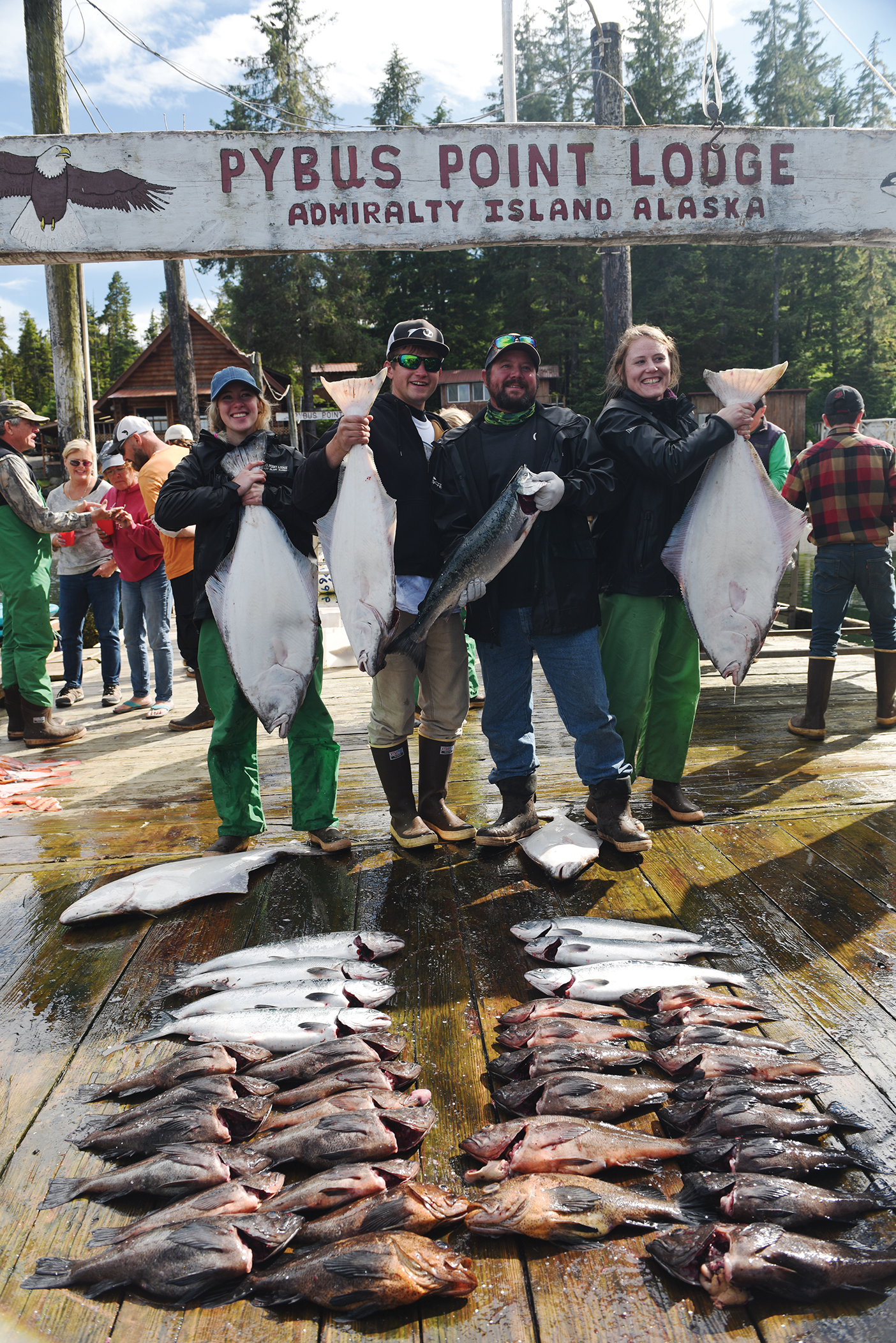 When the team caught their limit of rockfish each day, they switched to other fish, like halibut and salmon. "Catching a halibut is probably the most exhausting thing," says Bly. "It's this huge fish, . . . heavy in the first place, and where you fish at, it's anywhere between 100 to 300 feet below your boat." One of Bly's fish, which was so heavy her team thought her line was just stuck to the ocean floor, eventually surfaced, the size of a car door.
For biology student Samantha A. Tilden ('18), the experience, funded in part by BYU's Learning Initiative, was a natural supplement to her traditional academic learning. "Sometimes it feels a little ironic being a biology major and nature lover and being stuck inside all day studying and going to class," she says. "I learn so much more by experience than in a classroom." Belk adds, "That's our goal—to involve [the students] in the research. . . . They get an experience that lasts forever."