---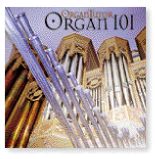 Ross Updegraff was the organist for his LDS ward in Pittsburgh from seventh grade through high school. When he left Pennsylvania to go to college, there was no one to take his place. "People could play the piano, but not the organ," he says.
The problem Updegraff's ward faced is a common one for congregations of any denomination, and in the LDS Church it develops in every new ward. With thousands of wards and branches worldwide, the Church needs thousands of organists.
Now a second-year graduate student in organ performance at BYU, Updegraff is helping to meet the need for church organists by teaching three organ courses. He and other teaching assistants help BYU's two organ professors in the struggle to train competent organists. And now these teachers have a new ally: a built-in student tutor.
The tutor is actually a CD-ROM called OrganTutor. Developed by R. Don Cook, an associate professor of music and the university's carillonneur, the program uses text, video, and sound clips to give students the functional, theoretical, and pedagogical background they need to learn organ technique. The computerized lessons are the first of their kind in the organ field and earned Cook the university's 1998 Creative Works Recognition Award.
Cook, whose interest in instructional technology began with his arrival at BYU in 1991, sees his organ classes as instruments in shoring up the shortage of church organists.
During winter semester 1999, 125 students took the basic organ skills course, and each class used OrganTutor (installed on computers in the group organ lab) to supplement students' in-class playing time.
The program is designed for pianists who want to play the organ. Students work through 62 lessons accompanied by 147 video examples, 248 audio samples, drills and tests with feedback, and hundreds of photos and illustrations. The CD-ROM teaches the fundamental skills needed to play both classical and traditional, sacred organ music. But most important, Cook says, OrganTutor teaches students how to listen to the subtleties of organ music–hymns in particular, for Cook says hymn playing is an art.
OrganTutor teaches hymns and organ basics in connection with a live teacher. "Students are demonstrated the techniques through video examples during the practice time. The teacher later helps them adjust any little item they haven't learned correctly," says Cook, who earned bachelor's and master's degrees in organ at BYU and a doctorate in organ performance from the University of Kansas. In addition to helping students prepare for their time with a teacher, he says, OrganTutor maximizes teaching effectiveness in his 50-minute class periods. By reducing the need for lecture and demonstration in class, it gives teachers more time for listening to students play and for discussion.
Updegraff says the program helps to "fill in gaps" that haven't been explained thoroughly in private lessons. As for the beginning organ sections, "It just wouldn't be possible to teach this many people the organ if we were doing it one on one," he says.
Linda Furuto, a junior from Hawaii and a music minor who uses OrganTutor in private lessons, says it's an excellent program. "The demos are really good because it sounds almost live–like someone's right next to you playing the organ."
That's what OrganTutor was designed to be–a handy, personal example. The disk has been used at BYU since 1996 and was recently licensed through BYU's Creative Works office to Rodgers Instrument Corp. and the Allen Organ Co. for commercial distribution. Creative Works has also marketed the product through the Organ Historical Society.
Cook hopes OrganTutor will help inspire organ interest outside of the LDS Church as well, and Joyce Jones, an active concert organist and faculty member at Baylor University in Waco, Texas, believes it will.
"I'm always interested in innovative approaches to teaching organ," says Jones. "With the use of computers in teaching music theory, it was certainly time for the computer to assist in organ instruction."
Ultimately Cook hopes OrganTutor will motivate students to build on the basics the program gives them. He says, "We aren't reaching as many people as we'd like to, and we'd like to have more time with them, but we are exposing them to excellent organ playing on the most foundational levels."
Cook also helps to instruct potential Church organists by coordinating organ classes for the BYU Workshop on Church Music each summer, and he regularly appears as a guest organist in the Salt Lake Tabernacle. He says the beginning organ course, using OrganTutor, is a good training ground for ward organists because it gives them the skills needed to play a hymn well on the organ.
"This class is the only organ instruction many of our students will ever get, so I have this motivation to teach as much as I can in the first semester," Cook says. "I want them to be a blessing to the Church when they leave BYU."