---
Daniel H. Walker (BS '02) is not wealthy, neither are the others who have donated to the Jason Hoyt Memorial Scholarship fund. These donors don't have grand financial contributions to make, but they do share a profound love and reverence for the memory of their friend, Jason D. Hoyt ('99).
"The impression you were left with after meeting Hoyt was, 'This guy is too good to be on Earth,'" Walker says.
Walker, Hoyt, and several others became close friends while teaching at the Missionary Training Center in Provo together in the late 1990s. Then Hoyt was killed in a car accident on the way home from a BYU volleyball game in 1999. Years later, Walker began thinking of ways to honor Hoyt. The idea of endowing a scholarship came to mind.
"We reached out to some of our friends and the leadership at the MTC," Walker says. "In time, they have embraced the idea." When Walker approached Bruce M. Snow (BS '70), executive director of LDS Philanthropies BYU, about the idea, Snow told him scholarships like this usually die off quickly because they don't meet their funding goals.
The Jason Hoyt Memorial Scholarship, however, proved to be an exception. Walker and his friends began raising funds on April 29, 2009, the 10-year anniversary of Hoyt's death. Their goal was to raise $50,000 to endow a half scholarship; BYU's policy requires the money to be raised in five years, but within two months they had surpassed their objective. "Our goal is now to raise $150,000 in the next year or two," says Walker.
"[The scholarship is] designed to benefit a full-time BYU student who also teaches at the MTC," he says, "someone who reflects the life and the virtues that Jason stood for."
Donations have come from about 200 people, most giving $50 here and $10 there. "None of these individuals would probably ever make it onto the radar of someone trying to endow a scholarship at BYU," Walker says. "I never thought we would endow a scholarship in our mid-30s."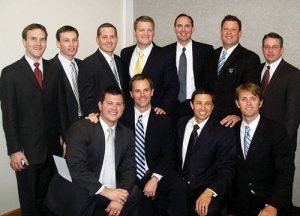 David M. Sedgwick (BS '00), one of Hoyt's companions in the Argentina Rosario Mission, said it was Hoyt who made this endowment possible because he lived a life worth honoring. He remembers his mission president pointing Hoyt out to him for the first time.
"He said Hoyt walked and talked like a man of God, as opposed to me who apparently walked around like some wannabe jock who hadn't really gotten a clue that there's more to life than a strut. I started observing Jason that day. I've been trying to walk like him ever since," says Sedgwick, who also taught at the MTC with Hoyt and Walker.
In April 2010 the first two Hoyt scholarships were awarded to MTC student employees, one to Bulgarian teacher Cole P. Crowther ('12) and one to Spanish teacher Scott T. Catt ('13).
"My mom is a single mother putting three sons through school," Catt says. "She's done so much for us, and we've been able to work really hard to help provide for the family as well. This scholarship will take financial pressure off my brothers as well as me."
Crowther's and Catt's names will be the first on the Jason Hoyt Memorial Scholarship plaque displayed in the MTC, establishing what Walker hopes will be an integral part of the MTC for years to come.