BYU photographer Mark Philbrick retired in August after serving for 40 years—and under six BYU presidents.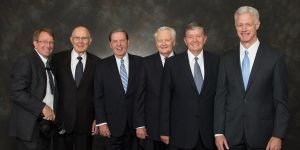 It's a question Mark A. Philbrick (BA '75, MEd '78) gets asked a lot: "I can't believe you just take pictures. You get paid to do that?"
He did—for 40 years, working under six BYU presidents: Dallin H. Oaks (BS '54), Jeffrey R. Holland (BS '65, MA '66), the late Rex E. Lee (BA '60), Merrill J. Bateman, Cecil O. Samuelson, and Kevin J Worthen (BA '79, JD '82). He retired in August, having captured millions of BYU images and a record eight Photographer of the Year awards from the University Photographers' Association of America (UPAA).
Of the images he took at BYU, says Philbrick, "I've got a few that are good."
More than a few. Says UPAA president Glenn Carpenter, "Mark set the bar incredibly high. When you look at his body of work, it's just amazing."
In recognition of that work, the UPAA announced it is renaming its top honor the Mark A. Philbrick Photographer of the Year award.