---
In the aftermath of Sept. 11, 2001, George Tenet, then the head of the Central Intelligence Agency, asked the CIA's Directorate for Intelligence to create a "Red Cell," a team of analysts that would be encouraged to think unconventionally and to identify weaknesses in U.S. defenses.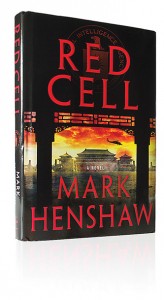 CIA senior analyst Mark E. Henshaw (BA '95, MA '99, MBA '99) of Leesburg, Va., participated on the team for three years and provided think pieces and memos without actually creating CIA policy. His job was to provoke new thinking and suggest alternate possibilities about an expansive range of national security issues. He could look at any subject and say whatever he wanted without constraint.
"I found this highly liberating," Henshaw says. "The job is not to be right or wrong or to predict the future. Rather, it is to make people consider things they might have overlooked. Even if we start an argument and have people yelling, we have them thinking and talking about other options—even if they try to debunk them."
This is the kind of job Henshaw dreamed of having while studying international studies and business at BYU, and he has enjoyed more than a dozen years working for the agency.
Henshaw's work in Red Cell led him to concoct a compelling fictional story that uses his extensive knowledge of espionage, military science, and technology. He got a boost for writing the story when he received the Director of National Intelligence's Galileo Award in 2007 for innovation in intelligence analysis. The honor included a cash prize, with which he purchased a personal computer to write his novel, Red Cell.
"I thought we would apply the funds to school loans," he says, "but my wife insisted I needed a computer to write the book I had always been talking about. I was naïve to think it was a one-year project, but five years later I have a book published by Simon and Schuster in May that has also been optioned for a motion picture."
The story focuses on two CIA Red Cell outcasts and a team of others who must race to stop a secret foreign weapon that threatens to incite a world war. While the book is fictional, the threats, challenges, and international disputes it contains are realistic, and some of his characters are inspired by real people. Henshaw conveys the story, which at times is sobering and frightening, as a believable account.
"I have a real passion for research, and I love the detail," he says. "I like moving the pieces on the board, and
I don't like to leave stories or details dangling. When I describe something, it's a real place, and I make it as accurate as possible. I think it adds a level of realism."
One of Henshaw's reasons for writing Red Cell was to demonstrate the strengths of the CIA. "When something bad happens with the CIA, it often becomes public, but hearing about successes is rare," Henshaw says. "I hope the readers perceive an agency full of people like them with similar dreams and aspirations. But in one sense, they are not average. They work for a cause bigger than themselves and are very good at what they do. If people could be privy to [the CIA's] successes, particularly in the last decade, they would see how smart and competent people are quietly and secretly protecting the United States of America."