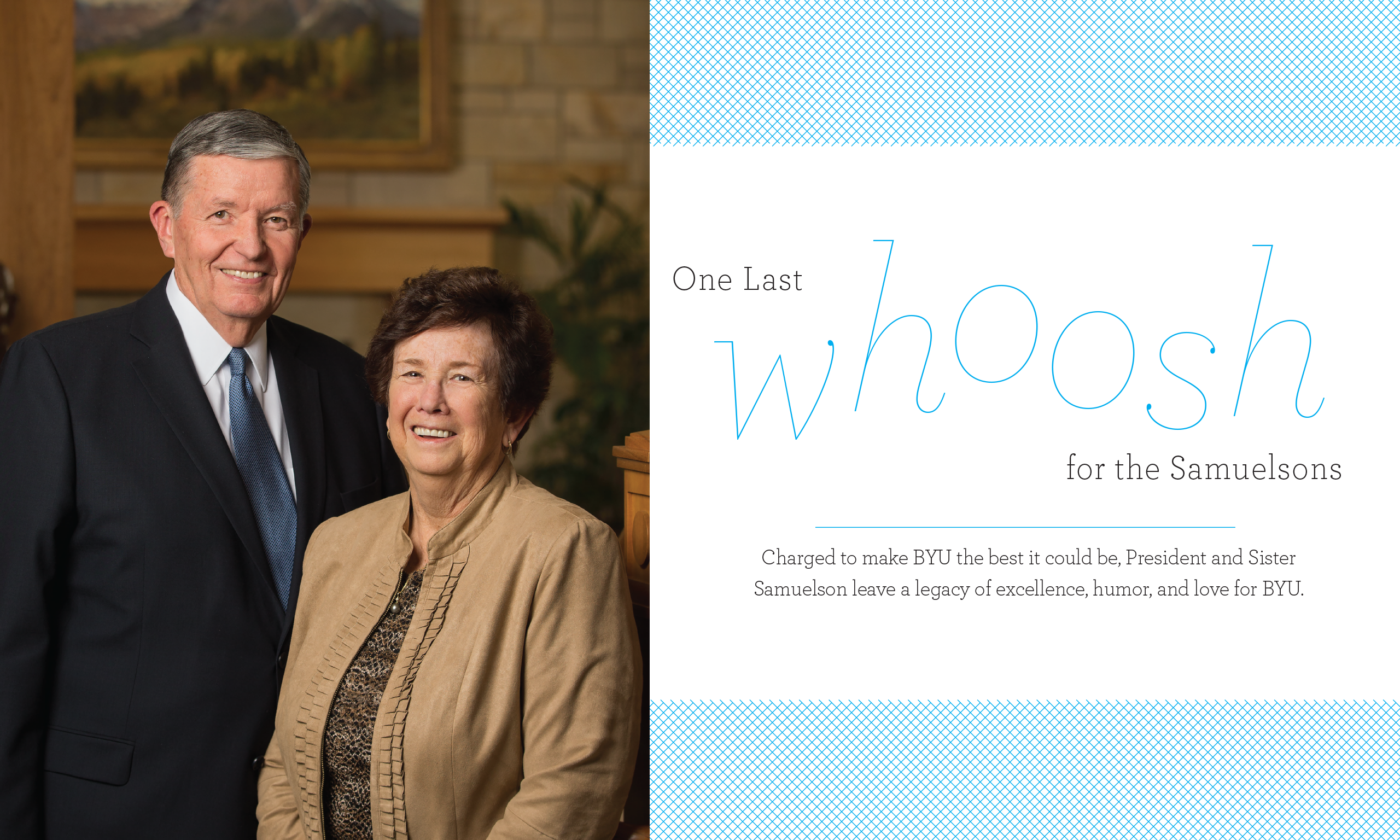 He may be remembered best by two words: Whoosh, Cecil!
The refrain, at least, will stick with the 80,000-some students who attended BYU under President Cecil O. Samuelson's watch. The chant started organically within the student body, who yelled the words after every successful Cougar basketball free throw. Samuelson, in turn, would punctuate their call with two thumbs up.
But Samuelson says he hopes he goes down in the books for only one thing—his efforts to fulfill President Gordon B. Hinckley's directive to make BYU the best it could be.
"He didn't ask if I was interested," Samuelson says, recalling his 2003 meeting in the prophet's office. "I was out of there in about five minutes." Samuelson, who was then a member of the Presidency of the Seventy, adds, "When the prophet asks you to do something, I don't know how you feel about it, but we feel we go ahead and do it."
And with that, as President Hinckley would later say, Samuelson—who had grown up in the shadow of and worked 20 years at the University of Utah—"put on a blue coat" as BYU's 12th president. And if President and Sister Sharon Samuelson's loyalty was questioned when he was appointed, one thing is clear now: "We bleed blue," says Sharon.
In his 11 years in the president's office, Samuelson expended great effort to fulfill President Hinckley's mandate. Through a recession, through dramatic changes to campus and to athletics, through ever-increasing student applications—and much more—he set high expectations for faculty, for administrators, and for himself. And in May, he passed the responsibility to make BYU the best it can be to one of his vice presidents, new president Kevin J Worthen (BA '79, JD '82).
Worthen notes how Samuelson maintained the full faith and confidence of the BYU Board of Trustees during his tenure; that relationship is what members of his inner cabinet point to as the hallmark of the Samuelson era. He displayed and often pointed to a picture of the First Presidency in his office. "When things would come up, we'd all hear this," says Jan Scharman, vice president of student life: "I don't want to disappoint you, but if it's a choice between disappointing you and disappointing them, it's not a hard choice for me."
"He didn't take anything to the board that he was not convinced beforehand that they would approve," says academic vice president Brent W. Webb (BS '81, MS '82). "He didn't want to put them into a position where they have to say no to something he should have said no to. He doesn't throw the decision over the wall to somebody else." Samuelson was known for his extraordinarily thorough study of needs and issues, says Webb, "and that's why he bats 1,000." Or at least close to it.
His "home teaching" didn't hurt. Any formal proposal Samuelson would make was preceded by dozens of informal visits with members of the Board of Trustees and others.
It took some home teaching, for example, for Samuelson to convince President Hinckley to allow a new alumni house to carry the prophet's name. "We were able to bring President Monson and President Faust into collusion with us," says Samuelson—they softened President Hinckley to the idea. Seeing the Gordon B. Hinckley Alumni and Visitors Center finished in one year, in time for the prophet's 97th birthday, is a cherished memory for Samuelson.
To complement his administrative experiences, Samuelson got a hearty welcome into student life—and a taste of things generational. He was the first BYU president to navigate the age of camera-phone-wielding students and has surely set the record for student photo ops, posing dozens of times in a single trek across campus. Then came the student-made "Cecil Is My Homeboy" T-shirts. "I said, 'Well, now is that a criticism or is that a compliment?'" Samuelson recalls asking. He was reassured, "Oh, I think they mean it to be a good thing." One of Samuelson's brothers outfitted their entire extended family in the shirt for a reunion.
The Samuelsons' devoted attendance at Cougar sports events further solidified his homeboy status. "President Samuelson, he knows all of our players," says athletic director Thomas A. Holmoe (BS '83, MS '95). "He'll go into the locker room after every game, win or lose, and he's going to shake every one of their hands." Even so, Holmoe continues, President Samuelson had nothing on Sharon: "Sharon puts the fan in fanatic." She'd be at one game with smartphone in hand, constantly checking the scores of other BYU contests. "BYU is part of our heart," says Sharon.
BYU rose in national prominence over the last decade with a number of high-profile sports successes (and first-name stars like Jimmer and Ziggy). But, as Samuelson emphatically points out, the university is also increasingly recognized for achievements in a variety of fields, including animation, law, and business. And then there's BYU's no. 5 ranking for churning out students who attend grad school, an alumnus who ran for president, and BYU faculty being published in top journals.
"People attempt to recruit [our faculty members] away," says Samuelson. "A few go, but not many do, because . . . they believe in the mission of this university."
Samuelson is grateful for the faculty members who stayed during a two-year hiring freeze prompted by the nationwide recession—despite retirement opportunities or other offers—"so as not to disadvantage their departments." Samuelson credits "a great spirit of cooperation across the whole campus" for the university's success in weathering the recession. But, notes Webb, Samuelson was able to effectively navigate the situation because he had potential austerity plans in place before the recession hit. Scharman says Samuelson, her brother, is frugal by nature. When asked about his frugality, Samuelson raises his shoes into view and explains that he has resoled the same pair of shoes for more than 20 years.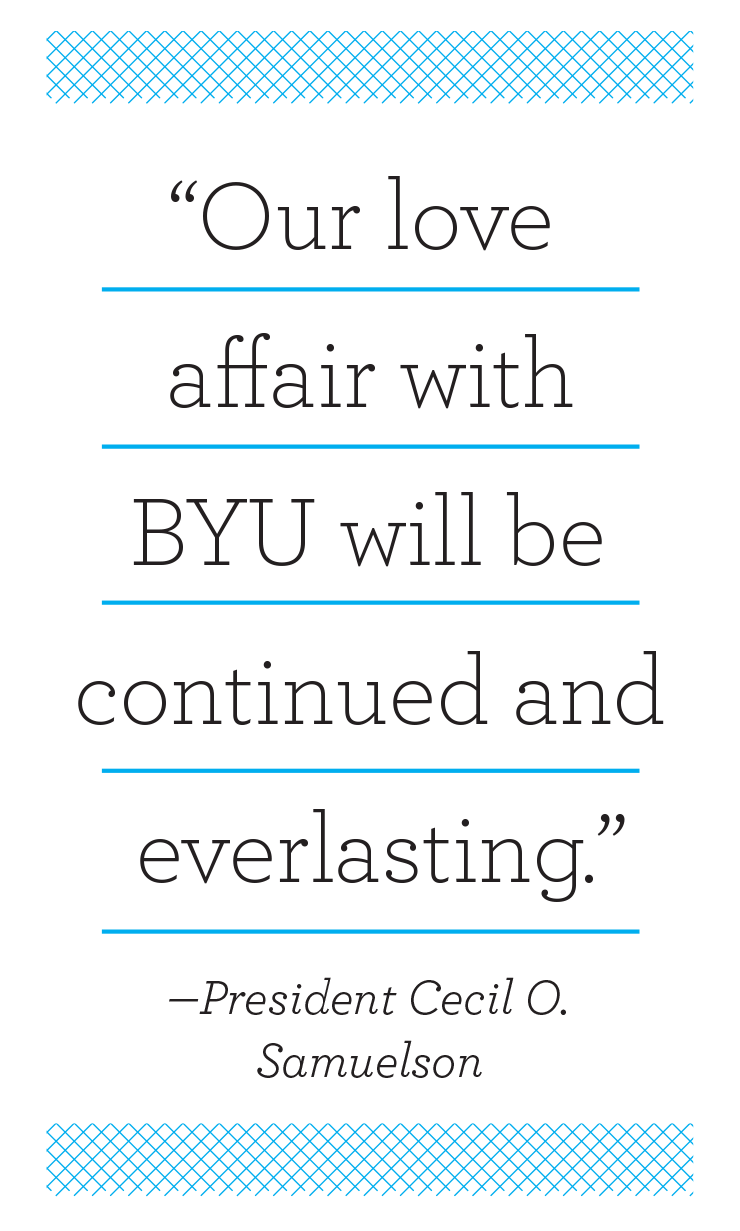 And just as President Hinckley did in his office, Samuelson kept a widow's mite on his desk at BYU. "It's a very good reminder of where the money comes from," he says. "I don't think you can overdo the gratitude that we all ought to feel for this very special place."
Looking back over 11 years, the Samuelsons say they depart with a constellation of happy memories. They'll never forget the kindness of students who wrote them notes and baked them cookies, the lasting friendships they made with colleagues, and the experiences, says Samuelson, "that clearly indicate the inspiration of heaven here."
Having passed the baton to the Worthens, they're moving on to their next assignment—as president and matron of the Salt Lake Temple. They are also excited to spend more time with family, with whom they will celebrate their 50th anniversary this year on a cruise. "None of our grandchildren has known us other than being at BYU," says Sharon; Grandma and Grandpa Samuelson have always been Cougars.
And though his tenure as president is complete, Samuelson has no plans to retire his blue coat: "Our love affair with BYU will be continued and everlasting."
Feedback: Send comments on this article to magazine@byu.edu.
---
The Samuelson Years
Take a look at events big and small that shaped life at BYU during Cecil O. Samuelson's 11-year tenure.
2003
May 1: Cecil O. Samuelson begins service as BYU's 12th president.
May 2: BYU men's soccer plays its first game in the semi-professional Premier Development League, becoming the first college team to compete in the league.
Sept. 9: President Gordon B. Hinckley speaks at President Samuelson's inauguration: "As the president leads, so goes the institution. May those associated with you in the administration march to the same drum in moving toward a greater future than this school has ever known."
October: BYU's spacious Indoor Practice Facility opens, followed four months later by the 116,000-square-foot Student Athlete Building.
November: Led by four-time All-American Aleisha Cramer Rose (BS '05), the BYU women's soccer team makes it to the NCAA Elite Eight, the highest finish in the program's history.
Nov. 6: The college of engineering is renamed to honor Ira A. Fulton. Donations from Fulton and his wife, Mary Lou, climbed to more than $50 million, funding research, teaching, scholarships, mentoring, and more—including one of the nation's fastest supercomputers, named for Mary Lou.
2004
January: Napoleon Dynamite—starring student Jonathan J. Heder (BFA '10) and directed by Jared L. Hess ('02), who co-wrote the film with his wife, Jerusha Demke Hess (BA '10)—premieres at the Sundance Film Festival and goes on to become an indy classic.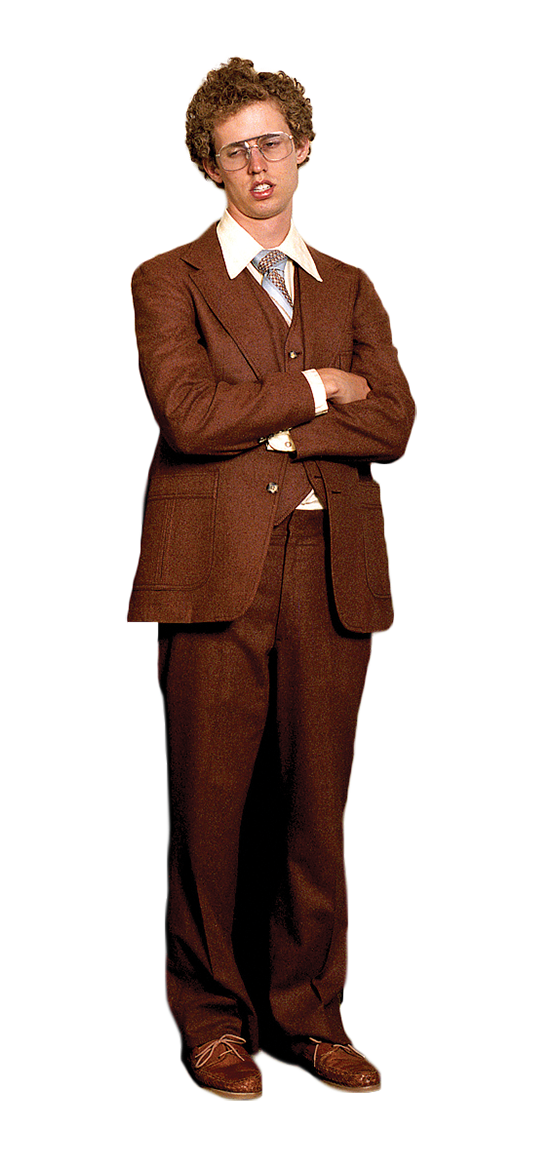 March 24: Lemmings, the first computer-animated short film produced at BYU, wins a student Emmy. By 2014 BYU animation students would receive 16 student Emmys and become a recruiting target of major Hollywood studios.
May 8: Men's volleyball snags its third NCAA national championship in five years.
June 2: Kenneth W. Jennings III (BS '00) begins his 74-game winning streak on Jeopardy!
June: JDawgs, a hotdog grill run by Jayson G. Edwards ('05), opens for business in a red shack south of campus and draws crowds of students in lines streaming around the block.
August: BYU's Harold B. Lee Library ranks no. 1 on the Princeton Review's list of great college libraries.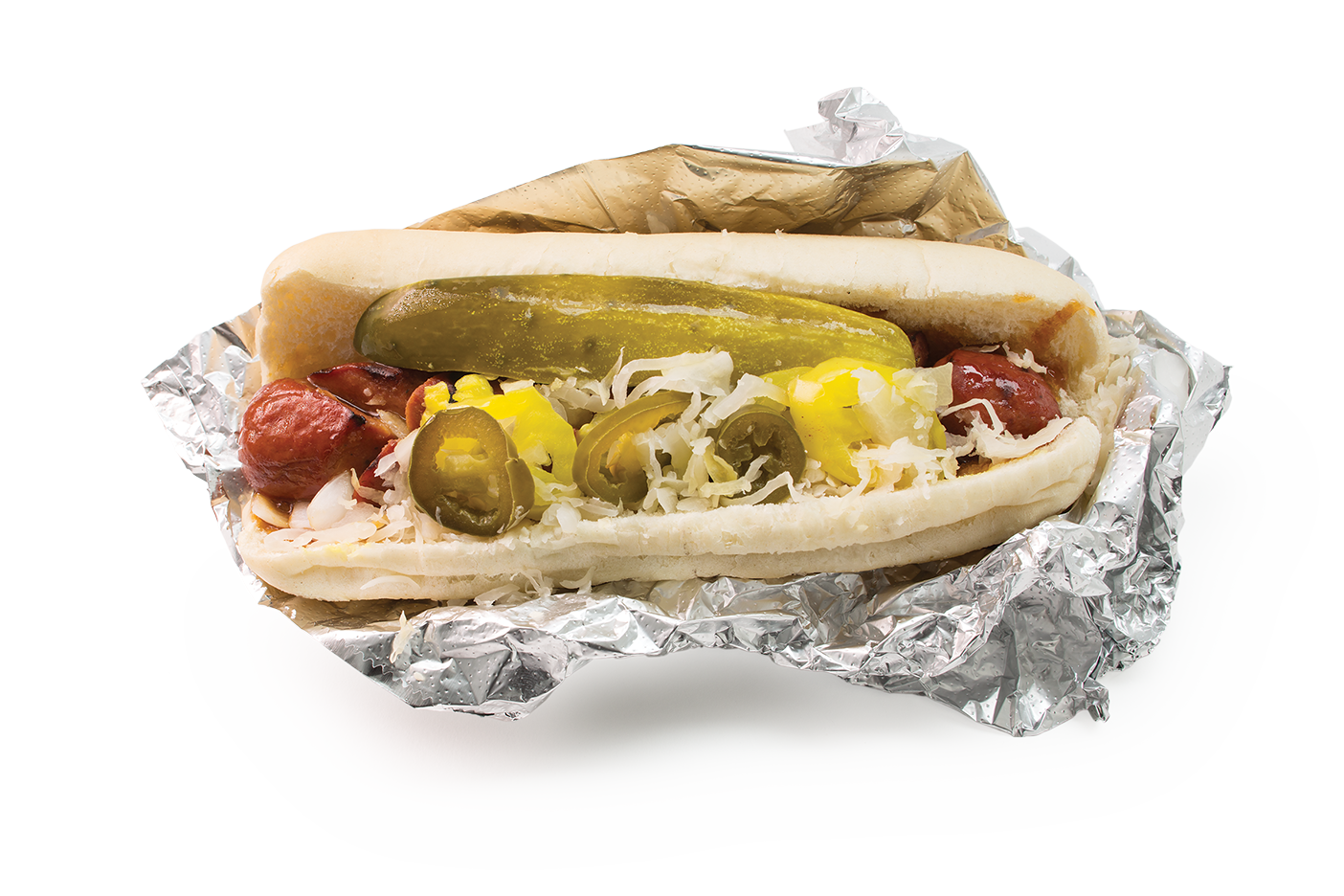 Sept. 8 BYU announces it will combine its men's and women's athletics programs.
Sept. 14 Addressing students in the first campus devotional of the new school year, President Samuelson says, "Growing through your experiences and efforts while at BYU, you will . . . have the high privilege of making real and substantive differences in your families, in the Church, in your communities, in your countries, and in your chosen professions."
Dec. 13 Bronco Mendenhall is named BYU's head football coach.
2005
January: During the 2004–05 basketball season, a group of freshman friends starts shouting, "Whoosh, Cecil!" when the Cougars make a free throw.
March: The Physics and Astronomy Department unveils a rebuilt planetarium, complete with a 3-D projector and optimized acoustics.
April 1: The stretch Y is reinstituted as a primary logo on BYU football uniforms.
April 11: Dave Rose is named head coach of the BYU men's basketball team.
June 11: BYU's electric vehicle racing team sets a quarter-mile-acceleration record with a time of 14.08 seconds at 93 miles per hour.
June 14: President George W. Bush appoints BYU general counsel Thomas B. Griffith (BA '78) to the United States Court of Appeals for the District of Columbia Circuit.
Sept. 20: President Hinckley dedicates the 312,000-square-foot Joseph F. Smith Building, which houses BYU's College of Humanities and College of Family, Home, and Social Sciences.
Sept. 27: David McCullough, two-time Pulitzer Prize–winning author of 1776 and John Adams, delivers a forum address at BYU.
November: Students Austin M. Craig (BA '09), Landon J. Pratt (BS '09, MS '13), and Roger H. Pimentel (BA '07) create the first 5480"Cecil Is My Homeboy" T-shirts.
2006
Nov. 25: Quarterback John D. Beck (BA '06) hurls a desperate pass into the hands of Jonny P. Harline (BA '08), kneeling in the end zone. The "answered prayer" secures BYU's 33–31 win over Utah.
Dec. 12: Two Deseret Towers buildings are demolished. The remaining five '60s-era buildings would be razed by May 2008.
2007
January: The BYU Jerusalem Center program starts back up after a nearly six-year hiatus due to security concerns.
April 26: U.S. vice president Dick Cheney speaks at a packed commencement.
June 23: The Gordon B. Hinckley Alumni and Visitors Center is dedicated on President Hinckley's 97th birthday, just one year after its groundbreaking. More than 70,000 people made donations to pay for the 83,000-square-foot building.
October: The Wheatley Institution, named for longtime donors Jack and Mary Lois Wheatley, is founded. The institution promotes scholarship on family, education, and ethics.
October: U.S. Senate majority leader Harry Reid addresses students in a university forum. He is followed two weeks later by U.S. Supreme Court chief justice John G. Roberts Jr.
2008
Jan. 27: President Gordon B. Hinckley dies.
Feb. 3: Thomas S. Monson becomes President of The Church of Jesus Christ of Latter-day Saints and chair of the BYU Board of Trustees.
Aug. 24: Team USA takes Olympic gold in volleyball at Beijing with help from former BYU players Richard E. Lambourne ('99) and Ryan M. Millar (BS '03). The team is coached by former Cougar Hugh D. McCutcheon (BS '93, MS '98, MBA '99).
Oct. 24: President Monson dedicates a 76,000-square-foot addition to the N. Eldon Tanner Building, home to the Marriott School of Management.
2009
May 2: Men's rugby caps a perfect season with its first national championship, beating out longtime champion UC–Berkeley.
June: Men's basketball coach Dave Rose is diagnosed with pancreatic cancer. Rose would fight the disease and recover enough to continue coaching.
Sept. 8: In a campus devotional, President Samuelson tells students, "Your futures are bright . . . because of who you are as children of God. . . . He has great expectations for you and of you, and we are grateful to be in your company and have the privilege of witnessing your growth and development in the relatively short time you are at Brigham Young University."
2010
Feb. 23: His Eminence Francis Cardinal George, president of the U.S. Conference of Catholic Bishops, speaks at a university forum on Catholics' and Mormons' shared responsibility to defend religious freedom.
March 5: BYU overtakes Harvard University as the nation's most popular university, according to U.S. News & World Report (measuring the percentage of accepted students who go on to enroll).
July 15: The Harold B. Lee Library's "New Spice" parody promo, starring Stephen C. Jones (BS '11)—the man your grades could be like—is posted on YouTube, eventually racking up more than 3 million views.
July 23: With 3,927 participants and 120,021 balloons, BYU students pop the record for the world's biggest water balloon fight in a just-for-fun summer campus event.
Sept. 1: BYU declares football independence, announcing it will break ties with the Mountain West Conference in summer 2011. The Cougars also enter into an eight-year contract with ESPN to have all home games broadcast nationally. Other BYU teams would join the West Coast Conference.
Sept. 23: The first LaVell Edwards Stadium Farmers Market opens in the stadium parking lot.
Nov. 12: The Museum of Art opens Carl Bloch: The Master's Hand, a hugely popular exhibit of massive altarpieces of the Savior and other works by Bloch.

2011
Jan. 13: Condoleezza Rice, former U.S. secretary of state, speaks at a university forum. "You are fortunate that you are in a place here at Brigham Young University . . . that does not see your intellect and your faith as enemies of each other, but sees them as integrally related in what you are," she tells students.
March: "Jimmermania" sweeps the nation as Jimmer T. Fredette ('11) leads the BYU men's basketball team to the Sweet 16 for the first time since 1981. In April, Fredette wins all the major national Player of the Year awards, including the Wooden and Naismith Awards.
March 25: Facebook founder and CEO Mark Zuckerberg joins Senator Orrin G. Hatch (BA '59) to discuss technology and education at a campus forum.
June 2: Following his unsuccessful 2008 bid, alum W. Mitt Romney (BA '71) announces his candidacy for president of the United States and goes on to claim the Republican nomination.
August: Featuring apartment-style living, two new Heritage student residence halls open—the first of 12 four-story buildings to be built on the old Heritage Halls and Deseret Towers sites.
Aug. 12: President Henry B. Eyring dedicates the 100,000-square-foot BYU Broadcasting Building. By 2014, BYUtv's programs would be available in more than 53 million homes.
Nov. 9: BYU announces the construction of a new Life Sciences Building on the south end of campus, to be completed and occupied fall 2014.
Nov. 15: The singing group Vocal Point reaches the final five before bowing out on NBC's a cappella competition The Sing-Off.
2012
Feb. 11: Track star Miles B. Batty (BS '12) sets the collegiate indoor mile record with a blazing time of 3:54.54.
April: The Daily Universe, the campus student-run newspaper, goes digital. The renamed Universe begins to publish content online daily with a weekly print issue.
September: New HD LED video screens light up LaVell Edwards Stadium, and the student cheering section is renamed the ROC: Roar of Cougars.
Oct. 6: President Monson announces changes to missionary-age requirements, allowing men and women to serve at 18 and 19, respectively. BYU experiences related shifts, including a dramatic decrease in first-year male students, as many men defer their first year of college until after their missions.
Oct. 9: BYUtv airs the first episode of its original sketch comedy show, Studio C.
Nov. 6: BYU Democrats and Republicans throw a presidential election-night pizza party in the Varsity Theatre. The event draws reporters from the Washington Post and New York Times, part of the media blitz surrounding the "Mormon moment" catalyzed by Mitt Romney's 2012 presidential campaign.
2013
Jan. 11: The Wall, a student hangout with live music, food, a bar for the stone-cold sober, and a fireplace, opens on the first floor of the Wilkinson Student Center.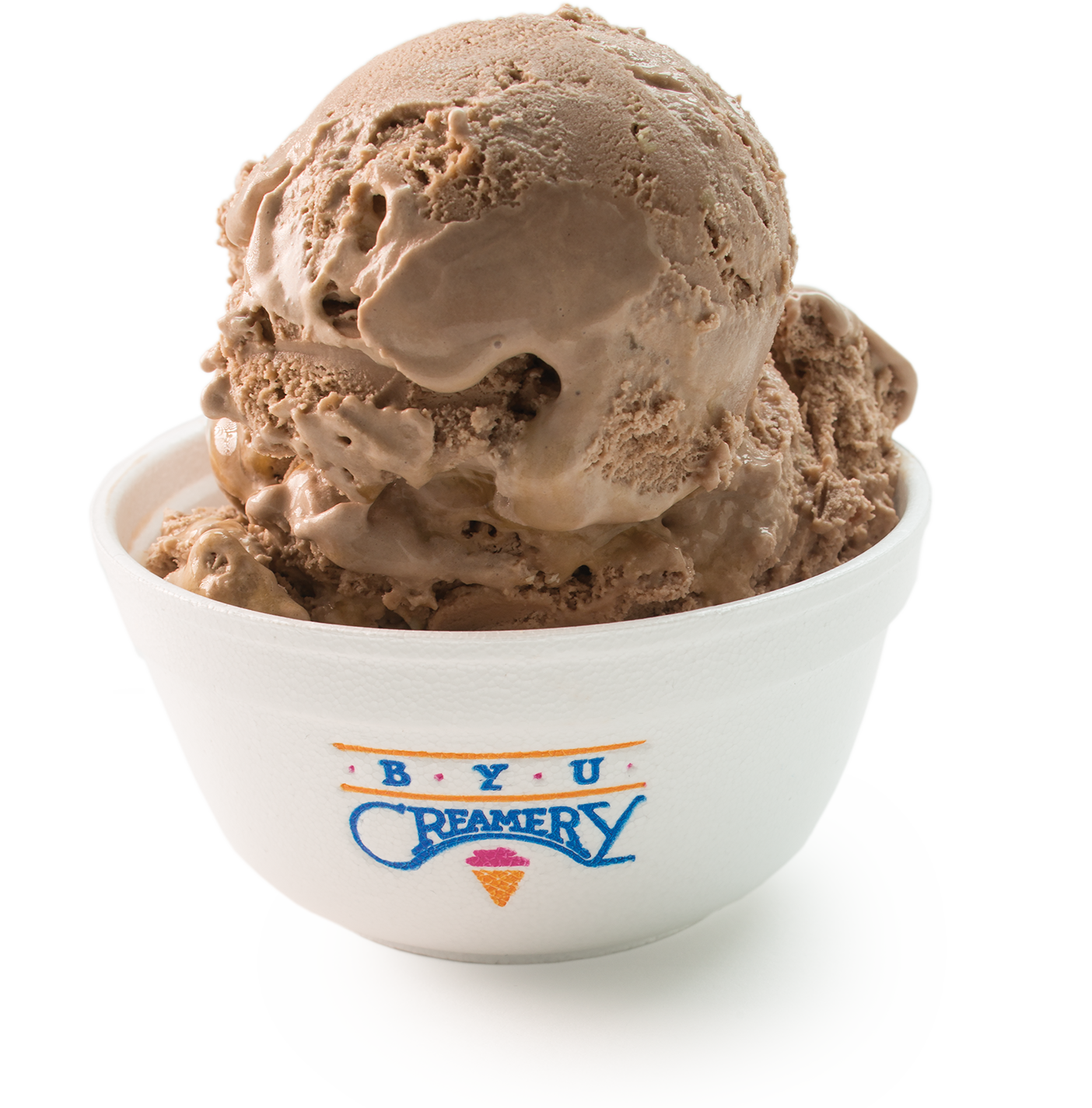 March 19: Samuelson joins LaVell Edwards and Bronco Mendenhall in the BYU Creamery ice cream flavor club. Whoosh Cecil! ice cream features Samuelson's favorite treats—chocolate, caramel, and cashews.
April 1: BYU math students take seventh in the William Lowell Putnam Mathematical Competition, beating out powerhouses Stanford, Caltech, Duke, and UC–Berkeley.
April 25: BYU defensive end Ezekiel "Ziggy" Ansah (BS '13) joins the Detroit Lions as the NFL draft's no. 5 overall pick.
May: A portion of Wyview Park campus housing—along with the Raintree Commons apartment complex northwest of BYU—becomes a temporary MTC outpost to house and train growing numbers of missionaries.
August: BYU gets an MRI facility to support research in disciplines including psychology, neuroscience, biology, and linguistics.
Nov. 15: The Sacred Gifts exhibit opens at the Museum of Art, displaying paintings of the Savior by artists from Germany, Sweden, and Denmark.
2014
February: As part of a basketball media campaign, Samuelson, Holmoe, and Kevin J Worthen (BA '79, JD '82) lip sync to Tom Jones's "It's Not Unusual" in a video played on the Marriott Center jumbo screen.
March 11: President Henry B. Eyring announces President Samuelson's release at a campus devotional. After Eyring's remarks, the audience rises in a spontaneous standing ovation for the Samuelsons.
May 1: Kevin J Worthen becomes BYU's 13th president.