In an educational journey, there is often no clearly labeled map. There are, however, people along the path who can point the way.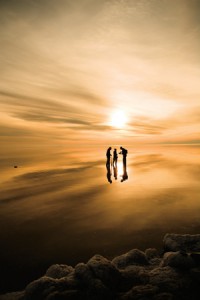 In an educational journey, there is often no clearly labeled map. There are, however, people farther down the path who can point out a better way. According to Greek myth, when King Odysseus left Ithaca to fight in the Trojan War, he left his palace and his son, Telemachus, in the care of his trusted friend Mentor. While the specific guidance Mentor provided Telemachus is largely unknown, history has affixed his name to those trusted individuals who freely educate, counsel, encourage, and care for inquisitive youth.
Did you find a college mentor—a thoughtful professor, an awe-inspiring grad student, or a trusting employer who helped you gain experience, skills, or confidence in the challenges of higher education? Students, professors, and alumni, in the following essays, share the value they found in mentoring relationships at BYU.
---
THE SELF-STANDING PANTS GROUP

By Emily Kellogg Haws (BS '04)
Here we are the Great Salt Lake! Absolutely beautiful, huh? I turned to the two BYU professors I had accompanied and could see the anticipation in their eyes. They had been planning our trip to the Great Salt Lake for weeks, and, listening to them talk during the long drive, I could see they viewed experiences like this as the highlight of their jobs. All four of us students jumped out of the van to help unload our equipment and get a better view of the lake we would be studying. Pink water stretched out to meet the clear blue May sky, interrupted now and then by the occasional island or mountain.
Why were we a group of young biologists choosing to leave at 6 a.m. on a Friday to spend the day at one of the saltiest and most barren lakes in the world? These two professors were the reason. They were going to help us learn about a world unseen by most, a microbial world where organisms lived and grew in one of the most hostile environments imaginable. The professors enthusiasm spread and I felt the excitement of having my first scientific field experience. It was my first chance to go out and actually do the things we talked about in class. However, I was about to discover that reality was a lot messier than I imagined.
Everyone grabbed waders, sampling bags, and tools. We were at the northeastern part of the lake at Rozel Point the site of a natural petroleum seep. As we trudged toward the water we could see and smell the black tar sticking to all the rocks and salt deposits. The first few samples were fairly easy to take, though the thick lake mud soon coated our arms, clothes, and equipment. One of the professors pointed out a maze of different sands and clay on the lake floor. I learned quickly if I made the mistake of stepping in the clay, I had an exciting time trying not to sink while I unstuck my boot. It got much more challenging to sample as we got farther from the shore. Splash! The water level had finally crept over my wader; so much for staying dry.
The hike back to the van was more arduous with two waders full of water and a backpack full of samples. There was a jug of fresh water to wash ourselves off and replenish our water bottles. For me, the water was made all the more desirable by contrasting it to the salt-saturated environment surrounding us. Our professors asked us about what we had observed while we waited for our pants to dry (I wasn t the only one with wader problems). After our discussion, I realized the salt had crusted the pants so much it was impossible to move in them. One of my professors nicknamed us the self-standing pants group. After we returned to BYU, the professors helped us analyze and study these samples, giving me a chance to understand a world so different from my own.
I treasure and thank my professors for this day of dirt, labor, and ruined attire because they gave me an opportunity to think like a scientist. They took me out of the college world into a new arena where just looking at a salt crystal could give rise to all sorts of questions. They showed me how to take those questions and actually answer them. I was motivated by their words What makes science so interesting? It s how much we don t know. That s for you to go out and try to answer. The classes I took at BYU gave me knowledge to succeed as a scientist, but it was outside the class in these mentoring moments that I got a chance to actually be a scientist. When I graduate it won t seem strange to go into the real scientific world and perform, because it has already become a world I am familiar with.
---
FEEDBACK: Send comments on this article to magazine@byu.edu.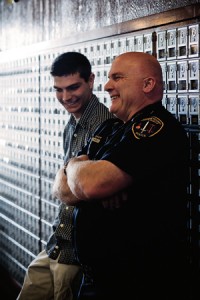 WALKING THE BYU BEAT

By Robert L. Rookhuyzen (BS '98)
Officer Wayne L. Beck (MA '04) of the BYU Police Department had not yet been promoted to sergeant when I met him back in 1993. We met the same way Beck met thousands of other BYU freshmen through his foot patrols in residence halls.
His laid-back, approachable demeanor made him an instant hit during every visit to university housing. Officer Wayne was always quick with a joke, a listening ear, and good advice.
I entered BYU knowing that I wanted to become a police officer. For me, it is a way I could be in the service of [my] fellow beings and, therefore, in the service of [my] God (Mosiah 2:17). After serving in the Netherlands Amsterdam Mission, I returned to BYU and was happy to see Wayne again. I was truly startled when he remembered my name.
As I studied sociology, Wayne worked on finishing his master s degree in Spanish. While I taught Dutch at the Missionary Training Center, Wayne taught undergraduate Spanish students and defended his thesis. He encouraged higher education for police officers. Wayne arranged for me to go on patrol ride-alongs with BYU police officers, and he answered innumerable questions about his chosen profession, making it clear that his family and his faith came first.
I walked the BYU beat with Wayne, listening and learning as he interacted with students, faculty, and staff. No other police officer was better known on campus. Everyone felt Wayne s genuine desire to help them. Wayne was the impetus behind community policing at BYU, a new movement in modern-day law enforcement to have officers in closer contact with those they serve. I watched, listened, and learned.
During my final year at BYU, I worked as a building security officer with the University Police. Wayne took over as the director of security for the Harold B. Lee Library, where I regularly dropped in during study breaks. When I wrote class papers on current law enforcement topics, Wayne was often one of my sources. Wayne helped me network with colleagues, who were of great benefit to me as I did research papers on the police use-of-force continuum and gender perceptions in policing.
When I bought my first gun, it was Wayne who showed me how to clean and maintain it. I bought the same kind of gun the BYU officers carried. Wayne stressed personal and officer safety. He had a special way of making others feel at ease.
I learned from Wayne to be innovative. For example, when he was reassigned from the patrol division to be BYU s crime prevention officer, Wayne partnered with a graphic design student to create eye-catching posters to deter theft in areas such as the Richards Building and Smith Fieldhouse locker rooms.
In August 2001 I began working for the Washington County (Oregon) Sheriff s Office. Since then, I have patrolled the suburbs of Portland. I have made countless arrests and have had a myriad of odd experiences. Some investigations have involved incarcerating suspected drunk drivers the potentially life-saving nature of the Word of Wisdom has steeled my testimony.
I remember Wayne telling me that it would take five years to become a proficient patrol officer. Five years was necessary, he said, to service a broad number of calls and interact with all kinds of people.
I recently reached my five-year mark with the sheriff s office. Wayne was right: I am now confident in my abilities. I serve as a field-training officer for new recruits and as an FBI-trained hostage negotiator.
To this day, I don t have Wayne s memory for names, nor do I share his infinite patience. I try my best to treat people how I saw Wayne treat them with kindness, respect, and genuine interest. I show empathy for the unfortunate circumstances that have oftentimes preceded our contact. I am a better police officer today because of my BYU mentor, Officer Wayne.
---
FEEDBACK: Send comments on this article to magazine@byu.edu.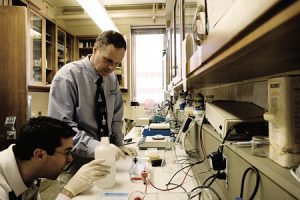 RECOMMENDED EXPERIENCE
By James P. Porter (BS '76)
As a senior in college, I decided to apply for graduate school. I remember how excited I was to begin the process of filling out the application form until I came across the part asking for three letters of recommendation from professors. I couldn t think of even one professor who knew me well enough to comment on my abilities or whom I felt comfortable approaching with a request for a letter. Ultimately, I chose a few professors who had taught me in more than one course, and I fearfully asked each of them for a letter. I am confident that even today this scenario, or one like it, is repeated over and over on university campuses. Some students may never have a close personal relationship with even one professor.
I was accepted into graduate school and began work in the Department of Zoology at BYU with Professor Ward Rhees. For the first time, I developed a close relationship with a faculty mentor. We worked shoulder-to-shoulder in the lab. We discussed our research on a regular basis. We even traveled together to attend a scientific meeting. What a difference it made in my life to finally have a mentor. Later, when I applied for PhD programs and postdoctoral fellowships, I never had the problem of wondering whom to ask for a letter of recommendation. Over the years, Professor Rhees and I maintained contact. We would meet up occasionally at scientific meetings or I would drop by his office if I was visiting Provo. When I joined the faculty of BYU s Department of Zoology as an associate professor, I enjoyed now having Dr. Rhees as my colleague. During the past nine years, he has continued to be my mentor.
Our department and college emphasize providing a mentored experience to every student who wants one. In fact, when we created a bachelor s degree program in physiology and developmental biology in 2001, the faculty decided to make the mentored experience a requirement for all of our majors. I have the opportunity to work closely with many undergraduate students. Some of these are considering a career in medicine and are looking for a research experience to enhance their application to medical school. Others hope to go on to graduate school and want a head start by learning research skills as an undergraduate. Many are just fulfilling the requirement for their degree. Whatever the reason for coming to the lab, every student gets an opportunity to learn through hands-on experiences that supplement the learning that occurs in the classroom. It s one thing to hear a lecture about a Western blot; it s another thing to actually perform a Western blot. Students see practical biological applications of the knowledge they have picked up in mathematics, chemistry, physics, and other disciplines.
A highlight of my mentor experiences is including undergraduate students as co-authors on papers or abstracts that are presented at national scientific meetings. The more advanced students, who have been around long enough to make significant contributions to the research, get the chance to contribute to the writing of the abstract, the creation of the poster, and the presentation of the work at the meeting. I enjoy watching these students progress during a four-hour poster session from timid, uncertain presenters to confident scientists capable of handling even the toughest questions. An enjoyable bonus of this experience is the interaction with students as we travel, eat, prepare, and sightsee together.
The mentoring experience is not all peaches and cream. Mentoring is hard work and takes a tremendous amount of time. Finding meaningful projects for all of my students, as well as the time to work side-by-side with them, is a daunting task.
But I hope that no student who has worked with me will ever have to worry about where to go for at least one letter of recommendation. In a mentor they have someone who knows them personally, who has observed their character and work ethic up close, and who will continue to look out for them for years to come. They have more than a professor; they have a friend.
---
James Porter is a professor of physiology and developmental biology and chair of the Department of Physiology and Developmental Biology at BYU.
FEEDBACK: Send comments on this article to magazine@byu.edu.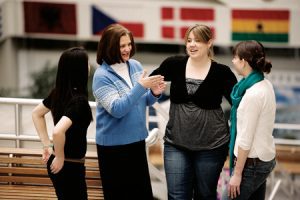 THE CONFIDENCE THAT COMES FROM COMPETENCE
By Kristie Woodland Seawright (BS '77)
Sitting high atop Victoria Peak, I joined about two dozen study-abroad students in enjoying the evening view of Hong Kong s colorfully lit skyline. As we surveyed the city below, we discussed perceptions of our four-week visit to multiple Asian locations. The business study-abroad program was designed to enhance students awareness of the diverse economic, political, and cultural environments in which multinational corporations operate. Included in the program were trips to regions where religious expression was discouraged. While observing the brightly illuminated buildings mirrored in the water of Hong Kong harbor, the students reflected on the increased awareness they gained from the mentored-learning environment of this study-abroad trip.
As students looked to the horizon beyond the harbor, they noticed a few lights in an area that was otherwise obscure. This observation prompted several students to share their feelings of gratitude for the educational experience they were completing and for their strengthened appreciation for the blessings of the gospel in their lives. They related a desire to be as those observed lights, shining in the darkness. When the students finished talking, the entire group began to sing, spontaneously and a capella, the hymn How Great Thou Art.
That evening the students felt spiritual witnesses of their membership in a global community of brothers and sisters. At the same time, the spirit that I felt from these BYU students taught me, their professor, that mentoring is a powerful means for the simultaneous achievement of all four aims of a BYU education. Mentored learning offers experiences that instruct students both intellectually and spiritually and that build character while encouraging students to continue serving and learning throughout their lives. Another example from my experience illustrates the power of mentoring.
With my guidance, four Marriott School undergraduate students recently joined an MPA student in a research project to study entrepreneurs in developing countries. The project focused on entrepreneurs who were able to grow their small businesses to a point where they had positive impact on the local economy. The objective was to discover experiences, characteristics, and issues that might help others who want to start a small business.
We began data collection for the project in the Philippines. Every evening we debriefed the day s activities and discussed what we were learning. Some of the experiences created deep emotional responses in team members, while others caused the students to stretch intellectually. One evening, after a meeting with Filipino entrepreneurs, Quan A. Mai (BS 06), then an undergraduate finance major from Vietnam, explained that his father had started businesses in similar circumstances two decades earlier. Mai s affinity for the people with whom we worked deepened his appreciation for the sacrifices made by his family to allow him to obtain a university education.
After one week together in the Philippines, the students divided into teams to collect data in Fiji and Vietnam. The students worked together for several months analyzing data and writing a paper that they recently presented at an academic conference. They are now preparing a manuscript for submission to an academic journal.
The students repeatedly expressed gratitude for the chance to participate in a mentoring environment that was not in their normal curriculum. And all of them told me that this experience came up in every job interview they had. It differentiated them from other graduating students across the country, giving them skills and perspectives not shared by others. These students exhibit the confidence that comes from competence.
The joy of scholarly inquiry also distilled upon this mentored student team. One undergraduate team member, Benjamin D. Wanamaker (BS 06), discovered that he enjoys research; this is something he would have never realized in his regular coursework. Upon graduation, Ben accepted a consulting position at PricewaterhouseCoopers, but he has continued to work on a research project that he began as a student. He has taken vacation time to meet with me to complete the research, and last December we jointly presented a paper on the research at an international conference. His experience, he says, has made me more willing and able to give of my time and talents in efforts to mentor others.
Mentoring truly offers students exceptional experiences that are concurrently spiritually enlarging, intellectually stimulating, and character building. Students grow in ways that encourage lifelong learning and service. When students and faculty can explore academic inquiry in an environment that promotes the sharing of values and faith, the purposes of Brigham Young University are brought to fruition for all who participate.
---
Kristie Seawright is an associate professor in the Marriott School's Romney Institute of Public Management.
FEEDBACK: Send comments on this article to magazine@byu.edu.
PROFESSIONAL ACQUISITION

By John M. Murphy (BA '94)
Five years ago a young man approached me regarding a possible internship in the L. Tom Perry Special Collections. Benjamin J. Bahlmann (BA '99) indicated that he was interested in archival and curatorial studies as a possible career choice but had no clear idea what was required to enter the profession. We sat down together and discussed professional opportunities in the field. We identified the post-baccalaureate educational requirements, we discussed internship opportunities in Special Collections, and we outlined a series of extended projects, assignments, and learning objectives he would need to complete as part of his semester-long internship.
A talented and bright student of the humanities and history, and familiar with the latest developments in computer technology, Ben threw himself into the internship. He quickly demonstrated a real talent for all things curatorial, and the quality of his work was outstanding. It was extraordinarily rewarding to witness a student grasp not only basic curatorial techniques and methods, but also develop a vision of the humanistic nature of the curatorial discipline.
Following the completion of his internship experience, Ben applied and was accepted to the University of Texas at Austin where he completed his graduate degree in preservation administration of library and Archival Materials. Ben credits his Special Collections internship as instrumental in his admission to graduate school, and his instructors were impressed by his professional maturity and his general level of preparation. According to his graduate school advisor, himself a leader in the profession, Ben was one of the best students he had ever worked with. Ben is now a preservation specialist at the Library of Congress.
That initial experience with an intern led to the creation and development of the L. Tom Perry Special Collections Archival Internship Program. Since the creation of the internship program, my colleagues and I have mentored 17 interns. Interns, who can receive academic credit for their internship experience, must complete a series of readings and written assignments, and they have the opportunity to work with manuscript collections and rare books. They can also design exhibits, develop collection registers, provide public service, assist in the design of Web pages, work in the Harold B. Lee Library's conservation lab, and create metadata and catalog records for historical collections.
Ten L. Tom Perry Special Collections interns have been accepted to graduate programs in disciplines related to their internship. Others have been accepted to law school, business school, and PhD programs. Regardless of the various career paths they have chosen, our interns report that their internship experience has benefited them professionally. Elizabeth A. Tanner (BA '06), a graduate in English and former Special Collections intern, is now enrolled in the UCLA graduate program in library and information science. During her Special Collections internship, Biz worked on a series of collections documenting the history of women's social clubs in Utah and the American West. According to Biz, the skills and knowledge gained in her BYU internship not only prepared her for the challenges of graduate school but gave her an academic advantage in her graduate coursework. As Biz explains, "I took an archives course last quarter and I was able to understand the materials so much better than I would have if I hadn't worked [in Special Collections.]" "Hands on . . . experience is hard to come by for many people in my program." but because she had that experience, she "could imagine how the theories . . . discussed [in class] worked in practice." The Special Collections internship experience was, concludes Biz, "worth its weight in gold."
Tyler V. Snow (BA '05), a history major, approached me regarding an internship in Special Collections during winter semester 2004. Over the course of his internship, Tyler worked on a collection documenting the history of a large Utah ranch. Now a law student at the J. Reuben Clark Law School, Tyler notes that his semester-long internship "helped me to develop skills that will not only benefit me as a student of history but also as a future lawyer." As a result of his internship, Tyler developed a better understanding of how history is preserved. He also developed an increased awareness of the intrinsic value of historical materials and documents. According to Tyler, the internship taught him "how to be a document detective." These are skills that Tyler was able to use in undergraduate history courses: The internship, he says, "helped me research and look for information in previously unthought-of areas. This internship has enriched my education so much that I would recommend an academic internship to every history major."
The student interns I have mentored have all suggested that one of the most rewarding and satisfying aspects of their internship experience has been the opportunity to work directly with historical materials, including, among other things, journals, letters, scrapbooks, business records, and photographs. BYU students are bright, motivated, and hard working, and their enthusiasm and excitement serve as a constant reminder to me of how these extraordinary historical materials and collections—items that document our collective history—can and do enrich the lives of students.
---
John Murphy is the curator of twentieth- and twenty-first-century Western and Mormon Americana in the L. Tom Perry Special Collections.
FEEDBACK: Send comments on this article to magazine@byu.edu.
LAB WORK

By Scott C. Steffensen
Although there remains a place for formal classroom teaching at a university, I believe that the most meaningful learning experience for college-age students of science, especially in their senior year, comes in the laboratory. This is where mentoring takes places in the sciences, where both student and mentor learn jointly as we discover things together. Shared discovery is double joy. The research laboratory is where students experience how to put their learning into creative practice. They formulate hypotheses, design experiments to test their hypotheses, develop the technology to perform the experiments, interpret the results of those experiments, and get credit for their findings. The teaching, mentoring, and possibly the inspiring of students within the laboratory setting have become a source of joy to me, because I can make a difference in the lives of these motivated young adults.
I have mentored hundreds of undergraduate students in my laboratory. The majority of them are in medical or dental school or are aspire to such. However, I've noticed a trend over the past several years. Some of them are now considering combined professional/academic graduate degrees and many of them are going on to graduate school. Twenty such students, while undergraduates, have attended international scientific conferences with me, where each presented research. Five have coauthored peer-reviewed papers. Sixteen have published abstracts. Twenty-one have presented research posters at BYU.
I presently mentor 27 students. The research associates and graduate students who work under me know how important I consider our stewardship. I want these undergraduate students to have a meaningful learning experience in a nurturing, yet rigorous, mentoring environment. I have had the opportunity to develop personal and professional relationships with the students. Besides daily informal discussions, the students meet together three times each semester as a group for a luncheon, a journal club, and a discussion of the progress on different projects. One social gathering per semester at my home is the norm.
I hope to instill in the students the joy of science by encouraging more active student participation, from the development of hypotheses to the presentation of findings. Because of the high demand for research work, we have to be selective in choosing those students who demonstrate that they are most engaged in the work. We allow some students to work a few hours a week their first semester until they demonstrate an active interest in the work. They are given ample opportunity to increase in responsibility on projects and develop new skills as they are taught electrophysiological, behavioral and neuropsychological methods and become familiar with the technology. The more seasoned students are made stewards over their experiments, taking on responsibility for the technical and analytical outcomes. This fall, four graduate students and four undergraduate students of mine will attend and present our research findings at the Society for Neuroscience meetings in San Diego.
We have vested interest in the future of our students. Not a week goes by that I don't write at least one letter of recommendation for a student applying to a professional or graduate school or seeking employment. I even employ them myself. For example, I have employed three former neuroscience students as faculty research associates on a full-time basis. I wish I could hire more. The students are highly motivated, brilliant young people, with a spiritual bent to boot. I feel honored and privileged to work beside them.
---
Scott Steffensen is an associate professor of neuroscience.
FEEDBACK: Send comments on this article to magazine@byu.edu.
MENTORING AND THE MISSION OF BYU

By Jamison Noorlander and David L. Paulsen (BS '61)
BYU is emphatic about mentoring for at least two reasons. First, mentoring is a generative, revivifying activity that blesses students and teachers alike. Second, BYU owes its very existence to mentoring. Mentors such as Joseph Smith, Brigham Young, and Karl G. Maeser laid the foundations for BYU and prepared future generations to build on them.
We don't usually think of Joseph Smith as one of BYU's founders, but this is a mistake. Joseph was a great mentor because he learned from great mentors. According to George Q. Cannon, Joseph "was visited constantly by angels . . . in order that his mind might be fully saturated with knowledge of the things of God."1
"When I saw Joseph Smith," said Brigham Young, "he took heaven, figuratively speaking, and brought it down to earth; and he took the earth, brought it up, and opened up, in plainness and simplicity, the things of God."2
Joseph's learning at the feet of angels prepared him to mentor the Latter-day Saints. Prominent literary and cultural critic Harold Bloom, in an insightful passage, says that "Brigham Young is Joseph's finest creation."3 It was Brigham who rallied the Saints after Joseph's death. It was Brigham who encouraged the Saints to cram their covered wagons with
every valuable treatise on education—every book, map, chart, or diagram that may contain interesting, useful, and attractive matter, to gain the attention of children and cause them to love to learn to read; and, also every historical, mathematical, philosophical, geographical, geological, astronomical, scientific, practical and all other variety of useful and interesting writings, maps, etc., to present to the General Church Recorder, when they shall arrive at their destination, from which important and interesting matter may be gleaned to compile the most valuable works, on every science and subject, for the benefit of the rising generation.4
Brigham took no part in the School of the Prophets. Early on, he rarely evinced enthusiasm for learning in his letters or journals. Years at Joseph's side, however, made their mark. Brigham became arguably the most outspoken, elegant proponent of education in the history of the Church.5 Joseph awoke in Brigham a "sense of destiny and special responsibility that encouraged and fostered him."6
Brigham Young shepherded a similar progression in Karl G. Maeser. Maeser spent valuable months in Brigham's home before being dispatched to Provo with the admonition to "teach not even the alphabet and multiplication tables without the Spirit of the Lord" ringing in his ears.7 Maeser proceeded to "infuse the teachings of the Church into virtually every aspect of secular learning"8—and went on to mentor James E. Talmage, George Albert Smith Jr., J. Golden Kimball, George H. Brimhall, Reed Smoot, Bryant S. Hinckley, Alice Louise Reynolds, Susan Young Gates, and many others. We owe decades of BYU and Church leadership to Maeser's personality and philosophy.
Elder Heber J. Grant, while traveling with Maeser on a statewide inspection of Church schools, presided one night over a large conference in Mesa, Ariz. Maeser brought Elder Grant's attention to four young men seated in the audience. Maeser was confident that the young men would greet him after the meeting. Three of them did; one disappeared. Later, Elder Grant asked Maeser about the missing young man. Maeser explained that he had "got some mud on him," and was ashamed to face his former teacher. Maeser told Elder Grant not to worry—"I will hunt him up; I will wash it off." Later, as the two men prepared to continue their journey, Elder Grant asked Maeser whether he had been successful. Maeser had indeed found his young man, and had done what he could to get him pointed in a happier direction.9
The image of an old man going out into the night to find and comfort a former student illustrates the range and depth of Maeser's achievement. He recorded a famous dream of "Temple Hill filled with buildings—great temples of learning," and one doesn't have to walk far from campus to look back and see the fulfillment of that dream.
In 1975, President Spencer W. Kimball taught that BYU's faculty "has a double heritage that they must pass along: the secular knowledge that history has washed to the feet of mankind along with the new knowledge brought by scholarly research, and also the vital and revealed truths that have been sent to us from heaven."10
My personal experiences with mentoring, though not as dramatic or influential as those described above, have convinced me that President Kimball's vision can be realized by any teacher who cares to share his or her "double heritage."
NOTES:
1. Quoted in Alexander Baugh, "The visions of Joseph Smith," BYU Studies, 28.
2. Brigham Young, Journal of Discourses, 5:332..
3. Harold Bloom, The American Religion, 117.
4. Quoted in Susa Young Gates, Life Story of Brigham Young, 282.
5. See especially Hugh Nibley, "Brigham Young on Education," and "More Brigham Young on Education," in Brother Brigham Challenges the Saints.
6. Ronald K. Esplin, "Discipleship: Brigham Young and Joseph Smith," Susan Easton Black and Charles D. Tate ed., Joseph: The Prophet, The Man, 246.
7. Gates, Life Story, 291-292.
8. Richard E. Bennett, "Brigham Young University," Encyclopedia of Latter-day Saint History, 8.
9. Heber J. Grant, "Honoring Karl G. Maeser," Improvement Era, June, 1935, No. 6.
10. Spencer W. Kimball, "The Second Century of Brigham Young University," https://speeches.byu.edu/reader/reader.php?id=6058.
---
David Paulsen is a professor of philosophy.
FEEDBACK: Send comments on this article to magazine@byu.edu.
---
BEST PRACTICES
By Janelle M. Johns ('08)
By setting an example for freshman, a student mentor sets a new standard for herself.
After a two-day training session, I became a mentor with Freshman Academy, a one-semester program that supports transitioning freshmen. I have always been a good student, so I figured I would be a decent model for freshmen. But it wasn't long before I was knee deep in worry about late-sleepers, stressed-out overachievers, avoidant loners, and absent athletes. "How will they survive?" I wondered as papers and tests seemed to sweep over them with a vengeance. I feared they would all be on academic probation by the end of the semester.
Of course, there were some who took it all in stride. I was relieved when these students continually arrived to class on time, completed assignments, and participated in class discussion. I gained a new respect for teachers who shrugged off potentially offensive vibes from the students who neglected to come to class. But as a mentor, it was my job to be concerned about these students.
As the semester wore on and some of my students continued to struggle, I turned back to my notes from the two-day dose of mentor preparation. I had heard the phrase "best practices" a number of times and decided that would be a good place to begin. When I met with students, we discussed the list of best practices for students: use a planner, study in groups, think of school as a job, commit yourself to a BYU education, set and stick to priorities, visit your academic advisement center, evaluate your time management, practice deep learning instead of surface learning, attend class. I asked guiding questions to help them think of avenues for improvement, but all the while I'd be thinking, "Quit procrastinating. It's that simple!"
As it turns out, those "best practice" ideas begin to sink in if you review them 20 or 30 times. And all of the sudden, I realized I was a hypocrite—I wasn't practicing the principles I spent all day preaching. The shock drove me to action, and I began experimenting. I found that I remembered more from assigned readings when I annotated in the margins. This was a catalyst to feeling more comfortable with class discussion and, remarkably, I started enjoying class more. Instead of slinking out of class quickly to avoid being caught alone with a professor, I attended office hours and approached teachers for feedback. Above all, I started to learn how to learn—and found that I have a passion for it.
As the semester ended, I wished my students good luck and wondered if I'd done any good. The only progress I could pinpoint was my own. In March, I received my mission call and imagined I was moving on to a whole new ballgame. To my surprise, my old mentoring experiences resurfaced as I worked with investigators and recent converts. I again sought for personal improvement while modeling best practices of a Latter-day Saint.
Entering a third-story classroom of the Clyde Building at 8 a.m. on my first post-mission day of school, I came face-to-face with one of my former students. Through the semester, I saw the good habits that my now-classmate had acquired. I continued to bump into students I mentored and found it refreshing to stop and catch up on their lives. They were juniors and seniors, and the newness of freshman year had long since passed.
I wish I could say I had a life-changing impact on some of them, but when it comes down to it, taking a position as a mentor really blessed me. By acting upon the suggestions I handed out so freely, I improved as a person. I have discovered that unless my actions match my words, the puffs of air don't hold much weight. Employing best practices is about moving beyond all-too-comfortable plateaus—whether as a first-year student struggling to stay afloat, a recent convert grasping the gospel message, or a mentor attempting to be an example.
THAT'S MY JOB
By Becca Lee Jensen ('08)
A student works to improve the world, one Bio 100 research paper at a time.
"Welcome to the Writing Center. How can I help you today?" I lean casually against a creaking seat back—one of the many groaning furnishings we nurse in the basement of the Joseph F. Smith Building (JFSB). "Not another BIO 100 research paper," I think to myself. "Please not another BIO 100 research paper." The chair's creaks seem to echo my thoughts.
"It's a research paper for BIO 100." A thick-armed young man in sweats and a beanie slaps down a sloppily stapled packet on the table. "You've probably seen a lot of these."
I force a smile and shrug, "That's my job." It's my longest shift. I've been reading research papers since 9 a.m., regurgitating the same advice on MLA style and content balance.
"What's your topic?" The chair creaks again as I glance over his first page. Short paragraphs. That's never a good sign.
"It's about wolves," he says, scratching his neck with a hand seemingly the size of my torso.
I can already count five formatting errors and several uncited quotes with little to no commentary. "Interesting. What about wolves did you choose to talk about?"
Leaning over his formatting errors and short paragraphs, he rattles off a few random facts about wolf families and their habitats. He is even less excited to be there than I am. I start taking him through the steps of an average tutorial.
"What we'll do is read it out loud and make some marks as we go," I say, readjusting my metal nametag and trying to shift without creaking. "Would you like to start?"
"I guess." He clears his throat and takes off: "Throughout history, wolves have been a good example of natural communities. Unknown to many, wolves have very strong packs . . ."
My pencil squeaks softly as I make small checks in the margins. There are seven in just the first paragraph. This will be a long tutorial.
"Due to neglect, wolf habitats are rapidly declining as men use their forest homes for lumber and wood." He blushes. "I guess that's a little repetitive." Fishing a pencil from his pocket, he draws a careful line through the phrase and wood.
I'm surprised; this kind of student, the "it's about wolves" student, doesn't usually blush over writing and doesn't usually make marks.
He reads on, keeping his pencil at the ready. His perceptions are keen, even though his sentences are a little awkward and his citations aren't quite correct. He takes me through pack behavior, deforestation, and the rapidly declining wolf population.
"In conclusion, wolves are an important species and we should stop destroying their habitat before it is too late." He lets out a sigh.
I start in with the usual damage control: throw in some quick compliments and move on. "I think you have an interesting topic," I offer, skimming over my many marks. "It's pretty different, and I like it—," I take a deep breath, getting ready to level a hard blow.
"Really?" He leans forward.
At little stunned by his sincerity, I kindly assure him, "Sure. I think this is the first paper I've seen on wolves," which is true. Most have brought in papers on muscular dystrophy or global warming. Wolves seem to have escaped the radar of BIO 100 students.
"Thanks," he says. For the first time the well-toned muscles in his neck relax. "I've been working really hard on this paper."
"Well, I've made some marks here. We can talk about yours, too." He nods appreciatively. The creaking seat seems less audible as we start talking through his paper.
As we discuss transitions and wolf-pack behavior for the next half hour, his nods become more appreciative and his neck more relaxed. Soon he is stuffing his paper into his backpack and thanking me for my time. I shrug it off and wave him out the door.
Another student is waiting to be helped. I call her name on the waiting list and sit down.
"How can I help you today?"
Shifting in her creaky seat, she slides her paper in front of me apologetically. "It's a research paper for BIO 100. You've probably seen like a thousand of these."
The chair creaks again. I smile and shrug, "That's my job."
---
FEEDBACK: Send comments on this article to magazine@byu.edu.