2010 graduates find satisfaction in the climb.
Utah County residents ma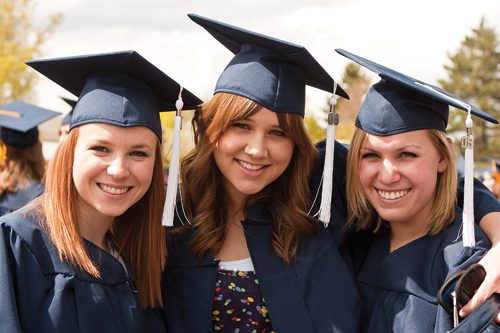 y owe more credit than they think to BYU for keeping Happy Valley, well … happy. According to a 2006 study by the Pew Research Center, college graduates are roughly 10 percent happier than college students without degrees and 12 percent happier than people with only high school diplomas. Considering that BYU fills Utah County with nearly 33,000 students and 68,000 alums, the valley may be a happier place because of its Cougars.
"I definitely think that college graduates are happier on the whole," says Bryan U. Gividen ('10), a graduating senior studying economics. "There are the statistical and logical reasons it would apply—graduation is probably correlated with better health, income, and social status—but beyond that, I think that college gives students a better perspective on life and how they can help the people around them."
Not all students agree. O. Kyle Freebairn ('10), from Tucson, Ariz., thinks happiness is a decision and a function of the friends and family relationships one has. "After graduating from the MBA program, I don't think I'll be any happier than I was before—I'll just eat better food," he jokes.
But others say the years of effort and planning required to earn a college degree bring a sense of satisfaction in the achievement. "I think that I will be happier to have my degree, because it means so much more than just a piece of paper," says Deborah Packer Erikson ('10), from Phoenix. "They should sign that thing with ink made of a mixture of my blood, sweat, and tears, because that is what it took to earn it."