---
The starter's pistol sounded, and the runners sped away down the track. All but one. Tiffany Lott-Hogan, '98, stepped slowly from her blocks, disbelief etched on her face. She had clearly raised her hand before the start, a signal to the judge to stop and reset the 200-meter race. "I thought I was done for, that my Olympic experience was over," she says. A worldwide audience then witnessed her reaction.
"I didn't go scream at anybody. I did finally go and talk to the starter, try to plead my case, but I wasn't yelling at him. I wasn't swearing at him. I tried to control my emotions."
The judges listened and allowed the Team USA heptathlete to race in a later heat. After her seven Olympic events were tallied, Lott-Hogan finished 20th.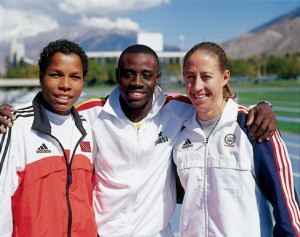 Here was a lesson learned, not only by Lott-Hogan but also by the host of athletes she works with as an assistant strength and conditioning coach at BYU. But her example extends beyond athletics.
"Through being an Olympian, I get the chance to speak at firesides and assemblies, where I encourage kids to work hard and achieve their goals," she says.
Another Olympic role model, heptathlete Marsha Mark Baird, '97, represented Trinidad and Tobago in Sydney and Athens, where she finished 22nd and 25th, respectively. Baird works with Provo School District youth, telling them, "You work hard for anything you want; all things are possible."
"Many of the at-risk kids that I visit with are pretty excited about me going to the Olympics," she says. "That their counselor could do that gives them hope to seek after their dreams and goals."
Assistant BYU track coach and two-time NCAA champion Leonard Myles-Mills, '99, represented Ghana, finishing sixth in early heats of both the men's 4×100-meter relay and 100-meter sprint. In spite of his impressive performances at the highest levels of competition, Myles-Mills says he continues to learn from others.
"I think the athletes I coach influence me more than I influence them. I see them come out every day to a tedious workout. They always say, 'I want to see you run because you are fast.' But I tell them, 'I want to see you run. I started where you started, I went through the same things you are going through right now, and I want you to run faster than I did.'"