---
When Karen Bellessa Petersen's (BS '02) husband took her on a cruise last year, he told her if she brought her Crock-Pot, he was sailing without her.
That's because the Woods Cross, Utah, mother of two spent a year making 365 slow-cooker recipes, one for every day of the year, and blogging about them. She developed a following that at its peak topped 18,000. She also published a cookbook and appeared on several television shows.
"I don't really like cooking all that much, but with a husband and preschoolers, I figure meal preparation comes with the job," she says. "One day I thought I could save time if I used my Crock-Pot. I tried the one recipe I had, which took about 20 minutes to prepare. It cooked all day, and my family really liked it."
Petersen decided to see if she could do slow-cooker meals for a week, and when it was over, she challenged herself to do it for a year and then publish a cookbook.
"People have compared me to the movie Julie and Julia, but I'm not any kind of a chef," she says. "I just found a way to save a lot of time and have a meal ready when my husband comes home."
She may not be a chef, but along the way she learned a lot of tricks. She says the amount of food put in a cooker is ideal if it uses two-thirds or three-fourths of the space. She learned when you cook roasts, you put the root vegetables—carrots, potatoes, onions—in the bottom because they cook more slowly than the roast. "Anything with fat is going to cook a lot quicker," she says. She also learned that spices enhance slow-cooked foods and that cheap cuts of meat become so tender they fall off the bone.
Petersen says she didn't get tired of cooking during her year-long project, but she did get tired of cooking different recipes every day. It became more fun when people discovered what she was doing. The television show Good Things Utah featured her five times. She appeared on the Studio Five cooking segment and was highlighted in the Deseret News and the Salt Lake Tribune.
While Petersen is glad she did the project, she says it took over her life. Yet, she says, "This was a great way to be a stay-at-home mom and have a network of people who are there for you. They read my blog and made comments, and I felt as if I had a lot of friends out there."
More at 365daysofcrockpot.com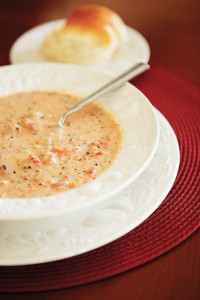 Tomato-Basil Parmesan Soup
5 stars
Makes about 2 quarts
2 (14 oz) cans diced tomatoes, with juice
1 cup finely diced celery
1 cup finely diced carrots
4 cups chicken broth
1 cup finely diced onions
1/2 bay leaf
1 tsp dried oregano or 1 Tbsp fresh oregano
1 Tbsp dried basil or 1/4 cup fresh basil
1/2 cup butter
1/2 cup flour
1 cup Parmesan cheese
2 cups half and half, warmed
1 tsp salt
1/4 tsp black pepper
In a large slow cooker, combine tomatoes, celery, carrots, chicken broth, onions, bay leaf, oregano, and basil (if using fresh oregano and basil; if using dried oregano and basil add those two ingredients in the last hour of cook time). Cover and cook on low for 5 to 7 hours, until flavors are blended and vegetables are soft.
About an hour before serving prepare a roux: Melt butter over low heat in a skillet and add flour; stir constantly with a whisk for 5 to 7 minutes. Slowly stir in 1 cup hot soup from the slow cooker. Add another 3 cups soup and stir until smooth.
Add all back into the slow cooker. Stir and add Parmesan cheese, warmed half and half, salt, and pepper. Cover and cook on low for another hour until ready to serve.